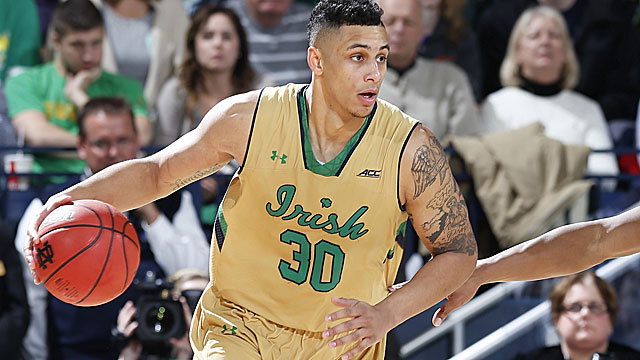 Now a senior, Zach Auguste has come a long way since his early days at Notre Dame, channeling his emotions and high energy to be Fighting Irish's leader entering Sweet 16. (Photo courtesy of CBS Sports)
PHILADELPHIA -- Once upon a time, Zach Auguste was defined as a precocious young forward with mounds of potential, but had difficulty harnessing it during his earlier years in South Bend.
"I think Zach as a young player in our program was a great over-reactor," head coach Mike Brey remarked one day before the Fighting Irish compete in their second straight Sweet 16, meeting Wisconsin in Friday's East Regional semifinal. "He plays with great emotion, and I wanted to be careful because the energy and emotion and passion he plays with drives our team, and is contagious many times."
But sometimes, the competitive fire in his senior forward produced negative effects, such as a practice incident in Auguste's freshman season where he suffered a broken hand when punching the basket stanchion at the Joyce Center.
"I think it was just that he was having a frustrating practice," Brey recounted of Auguste's mishap. "He had turned it over a couple of times, and then he turned it over again and thought he got fouled. The assistant coaches reffed in practice, and he didn't get a call. He just turned around in frustration with a closed fist and punched the stanchion, broke his hand, was out six weeks."
The Auguste you see today, however, is a reformed and much more efficient one, with 21 double-doubles in 34 games, hoping to lead the Irish to their first Final Four since 1978 and just the second in program history.
"I think I've matured a lot and grown individually as a player and as a man, both on and off the court," Auguste said in a pregame press conference Thursday. "Coach Brey took me aside, and we watched some film. I was an emotional player and sometimes I let it get the best of me, but over the course of the past few years, I learned to channel it in a positive way and really use it to play my game at a high level."
Brey's teaching tools included clips of Auguste's on-court body language, when the big man allowed his frustrations to simmer past their boiling point. While such a tactic may prove to have negative effects to some, it resonated with Notre Dame's rim protector.
"We put a bunch of clips together from the past games, some practices where I had some bad body language," Auguste explained. "I let my frustration get the best of me. You see my body language after certain plays, and really, just watching that really helped. Sometimes you can't really notice it until you can see it."
Since the film sessions, Auguste has learned to unleash his high-energy game in moderation, and what it has yielded is an intelligent decision maker and shot taker, one whose 57 percent field goal mark over his career is hardly an accident.
"He's been a 'bright lights' deliverer," Brey gushed. "When the lights are brightest, big-time regular season games, he's really delivered. I'm very, very proud of him, but he gave himself to us."

"Here's a four-year guy who let us coach him," the coach continued. "He didn't get distracted with 'am I good enough to leave early,' or 'I need to play a certain way.' He knows how to play in our system. He plays to his strengths, and he doesn't try to do things he shouldn't do. That's why he's been amazingly efficient, and he's going to make a good living playing the game after his college career is over."
Before that enters the realm of conversation, though, Notre Dame has business at hand to settle, and Auguste's teammates are counting on his infectious energy to make itself established early and often.
"Every time we step on the court, I think it's a new memory made," said point guard Demetrius Jackson. "And with Zach, he plays with a lot of passion, has a lot of passion for the game. He gets fired up, he makes these big-time blocks and big-time defensive plays or offensive plays, and we really feed off that energy. It's contagious, but in a good way, so we just try to feed off this guy and keep him rolling."