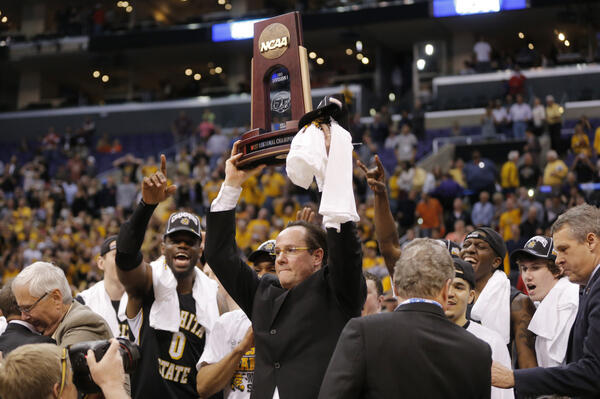 Gregg Marshall raises West Regional championship trophy as Wichita State becomes first Missouri Valley representative in Final Four since Indiana State in 1979. (Photo courtesy of the Wichita Eagle)
It began on November 16th, 1998, on a Monday evening far removed from the national spotlight that he was belatedly thrust into around 9:40 p.m. Eastern time last night.
On that night some fourteen and a half years ago, the career of a then-35-year-old rookie head coach took flight in the city of Rock Hill, South Carolina, a town tucked just inside the northern boundaries of the Palmetto State. Forty minutes after the opening tip, Gregg Marshall won his debut game at Winthrop University after a thirteen-year apprenticeship as an assistant at four different institutions, with his Eagles defeating Mercer University by the final of 79-63 to give Marshall his first of many victories on a path of quiet success in the coaching ranks, a yellow brick road of sorts that; although somewhat delayed, has finally reached the Emerald City in the wake of the 333rd victory of his long career.
For the first nine of his fifteen seasons in the collegiate coaching fraternity, Gregg Marshall turned Winthrop into the Gonzaga of the South, a low-major program with only three winning seasons in its first twelve years at the Division I level before Marshall was tabbed to take the reins from previous coach Dan Kenney. From there, all he did was guide the Eagles to the NCAA Tournament in each of his first four seasons and seven times overall in his nine-year tenure, not letting up until he had racked up a 194-83 record in Rock Hill, with his worst showing being a 16-12 campaign in the 2003-04 season. By the time Marshall was through, Winthrop had reached heights that programs of its small stature spend eternities dreaming of: A Top 25 ranking, a regular-season win over a BCS conference; and most importantly, an NCAA Tournament win, which the Eagles picked up as a No. 11 seed in 2007 over a Notre Dame team that featured the likes of Russell Carter and Colin Falls starting for Mike Brey and the Fighting Irish that season, with future stars such as Luke Harangody, Kyle McAlarney and Tory Jackson just beginning their own careers in South Bend. After turning down offers from Tennessee and North Carolina State, not to mention his change of heart at College of Charleston, Marshall arrived at his second; and only other, destination to date in the aftermath of Winthrop's run to the final 32, succeeding current Maryland boss Mark Turgeon at Wichita State after the former Jayhawk point guard departed the largest city in Kansas to take over a Texas A&M program that Billy Gillispie left for a failed stint at Kentucky.
Despite an 11-20 inaugural run at Wichita State in a 2007-08 season where in-state rival Kansas won its first national championship in two decades, Marshall built the Shockers the same way he turned Winthrop into a Southern powerhouse, recruiting diamonds in the rough and working the junior college transfer room as well as anyone to bring an NIT championship to the Plains in 2011, a Missouri Valley regular season crown the year after, and delivering Wichita State's first Final Four appearance since 1965; when Marshall was just two years old, upon narrowly escaping Ohio State by the final of 70-66 in a game the Shockers led for most of the night.
Marshall's approach, one that has both kept his teams in every game they have played (in 485 career games, Marshall's teams have lost by double digits just 58 times, or 12 percent of the time) and made him among the best in the world at what he does; even if he is content to conduct business in the shadows, has just now been brought to the national forefront by virtue of Wichita State's unexpected road to the national semifinals. Coming into the year, Marshall had to replace each of his top five scorers on the heels of a crushing one-and-done NCAA Tournament loss to Shaka Smart and Virginia Commonwealth last season. What followed was a retooling job that would make certain other coaches in much more prestigious conferences blush. Joe Ragland, Toure' Murry, David Kyles, Ben Smith and Garrett Stutz are gone, replaced by Malcolm Armstead, Tekele Cotton, Fred Van Vleet, Carl Hall and Cleanthony Early, with three more wins to show for it than the Shockers' 27-6 efforts of one year ago thanks to this year's group heeding a two-word call to action:
The mantra served as Marshall's final words of encouragement during last night's West Regional final against Ohio State, a team looking to advance to its third Final Four in seven seasons for coach Thad Matta. Yet Marshall's skill at building and executing a well-rounded and carefully constructed game plan won out over the Buckeyes' determination, giving Wichita State a decided edge in a matchup they led by 20 points midway through the second half before Ohio State found a way to make it interesting with a 23-6 run that brought them within three points before the Shockers ultimately closed the game out and gave the Missouri Valley its first Final Four participant since that magical Indiana State team Larry Bird took into the national championship game against Magic Johnson and Michigan State in 1979.
Wichita State is on their way to the Final Four, and the spotlight is finally on Gregg Marshall, but more so for whether or not he will leave the Shockers to fill the vacancies at either Southern California or Minnesota, as opposed to being recognized for his status as one of the nation's premier tacticians is getting overlooked during his team's march toward destiny. It may not be the most desirable means to introduce him to the masses, but it is Marshall's reluctance to leave for the bigger payday, and reverence to the job he is currently entrusted with, that makes him perhaps an even bigger star than any amount of wins and losses can let on.
Now, Gregg Marshall's star has never shone brighter, and it guides him and his team to Atlanta, where awaiting Wichita State will be either Louisville or Duke, depending on the outcome of today's Midwest Regional final.
At halftime of the West Regional final, Marshall imparted one last set of words of encouragement to his team before Wichita State emerged from the locker room and capped off one of the bigger upsets of this year's NCAA Tournament:
"If we believe more, and we belong, THEN THIS IS OUR TIME. IT'S GOING TO HAPPEN."
The same statement can now be used to justify Gregg Marshall's career. He already belongs, it is clearly his time; in fact, it has been since he made a name for himself at Winthrop, and it is already happening.
Now the rest of the nation needs to catch up and start believing in him. You don't always need a surname synonymous with greatness and rich history, like a Krzyzewski, Smith, Pitino, Calhoun, Boeheim, Knight, Izzo, or Calipari; and over the course of time, a Stevens or Smart.
There are some instances in life where the boy or girl next door is more attractive than the prom king or queen. Maybe what we were looking for in a successful coach has been here the whole time, with most of the nation too oblivious to open its eyes.
Give Gregg Marshall forty minutes, and his skill set and teams will show you that he, too, belongs in the same room with the aforementioned greats rather than being the man who opens the door for them, even if his success comes at a mid-major.