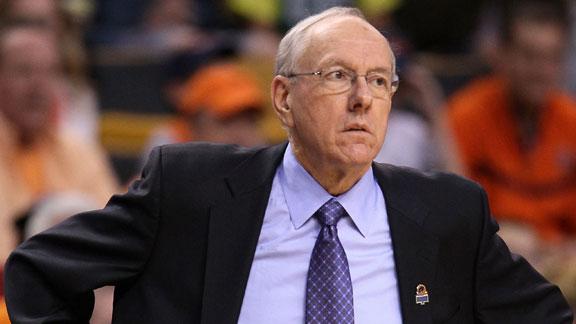 Following run to East regional final, Jim Boeheim brings one of deepest and most talented teams back to Syracuse in Big East swan song for the Orange. (Photo courtesy of ESPN)
Our series of Big East previews concludes today with the biggest and deepest threat to Rick Pitino and Louisville, who were profiled yesterday.
The 2011-12 campaign was one of survival for Jim Boeheim and Syracuse. From the sexual abuse allegations involving longtime assistant coach Bernie Fine to playing undefeated and as the No. 1 team in the nation for most of the season, the Orange found a way to rise above the pressure more often than not, battling their way to a 34-3 record that included an appearance in the East regional final in Boston, where they were the No. 1 seed despite falling to Ohio State with a trip to New Orleans at stake. This time around, Syracuse prepares to end a legendary era; but at the same time create memories for a new one to come, as the Orange will depart the Big East at the end of the season in favor of the Atlantic Coast Conference.
Not very often do you find programs that return deeper and stronger after losing three starters, but Boeheim and Syracuse are not your average bear in college basketball. Gone are swingman Kris Joseph, point guard Scoop Jardine, and center Fab Melo; not to mention sixth man Dion Waiters, who was selected fourth overall in the NBA Draft by the Cleveland Cavaliers, but the Orange will see their abundance of riches pay off this season. Michael Carter-Williams will replace Jardine at the controls in the backcourt after only playing an average of ten minutes per game in his rookie season. Even with the lack of action and experience in front of him on the depth chart, Carter-Williams still racked up 54 assists on the season, an average of over five helpers per minute. The sophomore's passing ability will almost certainly give senior shooting guard Brandon Triche the confidence he needs to finally step up and become the unquestioned leader of this team, and it will come on the heels of a season where Triche shot 35 percent from three-point range, but failed to average double figures in scoring. Redshirt freshman Trevor Cooney, who was another victim of the tremendous depth Syracuse enjoyed last season, should see significant minutes as Triche's backup.
In Joseph's absence, expect to see equal doses of C.J. Fair and James Southerland as each looks to add their name to the long and storied list of great Syracuse wings. As a sophomore last season, Fair averaged over eight points and five rebounds per game, and will finally get a chance to show off his length and athleticism in the starting lineup on a full-time basis. Southerland, a local product who was a one-time standout for Ron Naclerio at Cardozo High School in Bayside, averaged nearly seven points per contest with an average of just sixteen minutes a night, which equates to 17.5 points per game when adjusted for a full contest. Fair and Southerland will be joined up front by junior Baye Keita and sophomore Rakeem Christmas, whose contributions on both the offensive end and in the middle of Syracuse's world-famous 2-3 zone defense will be magnified in the absence of Melo, who was drafted by the Boston Celtics this past June.
The Orange also welcome a pair of highly touted newcomers into the fold, as DaJuan Coleman comes to Boeheim by way of the same Jamesville-DeWitt High School program that the Hall of Famer successfully recruited the aforementioned Triche and former sharpshooter Andy Rautins from; as well as Jerami Grant, a 6-8 (and growing) swingman from DeMatha Catholic whose older brother Jerian is already in the Big East as the starting shooting guard at Notre Dame. Both have been praised by Boeheim before the season has even started, as the coach mentioned that each was "going to surprise a lot of people," and that Coleman, a physically imposing 6-9 specimen, was "in the best shape of his life."
The Orange will open their season on November 9th against Steve Fisher and San Diego State in the "Battle on the Midway," with Wagner and new coach Bashir Mason serving as the opening act in the Carrier Dome nine days later. Princeton (November 21st) and Colgate (November 25th) are next for Syracuse at home before they hit the road in an uncharacteristically early true road game, taking on Arkansas November 30th as part of the SEC/Big East Challenge.
Syracuse enjoys five more home games to open December, starting with Eastern Michigan on the 3rd and continuing with Long Beach State, (December 6th) Monmouth, (December 8th) Canisius (December 15th) and Detroit (December 17th) before the Orange make their annual in-season trip to the venue that is a de facto second home court for them. No program and its fan base take over an arena anywhere near as much as Syracuse and "Orange Nation" do Madison Square Garden, and the experience will be put on full display when New York's College Team battles Temple inside the "World's Most Famous Arena" on December 22nd. Alcorn State makes their way into the Carrier Dome a week later, with Central Connecticut State serving as Syracuse's final nonconference opponent when they invade the Dome on New Year's Eve.
The Orange open 2013 at home on January 2nd when Mike Rice and Rutgers are their first opponent on the Big East ledger, with a road trip to USF (January 6th) and Providence (January 9th) immediately following before Jay Wright and Villanova come into the Carrier Dome on the 12th of January. A week off ensues prior to Syracuse traveling to Louisville, with a home date against Cincinnati on the schedule two days later. From there, the Orange close out the first month of the calendar year with a January 26th collision with Villanova inside the Wells Fargo Center in Philadelphia that will wrap up a home-and-home series with the Wildcats.
Boeheim and Syracuse make the trip to the Petersen Center on the 2nd of February to face Jamie Dixon and Pittsburgh before returning home to host Notre Dame (February 4th) and longtime adversary St. John's (February 10th) in a precursor to a two-game road swing to Hartford for a matchup with Kevin Ollie and UConn on February 13th, and Kevin Willard's Seton Hall Pirates at the Prudential Center in Newark three days later. The Orange complete a home-and-home series with Providence inside the Dome on the 20th, just prior to hosting Georgetown three days later. Syracuse will then travel to Milwaukee for a February 25th showdown with Buzz Williams and Marquette.
Syracuse has three games in March to close out the regular season, the first of which coming on the 2nd in the back end of a home-and-home series with Rick Pitino and Louisville that will be played at the Yum! Center. Following the final home game of the season on March 6th against DePaul, the Orange will contest their regular season finale three days later at the Verizon Center when they take on Georgetown in a noon matinee.