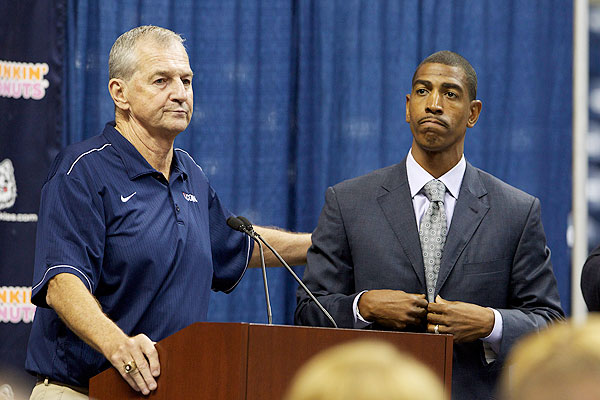 On paper, Kevin Ollie has monumental task in front of him replacing Jim Calhoun, but all indications are new UConn coach is just as much a fighter as his predecessor. (Photo courtesy of ESPN)
Mike Rice and Rutgers were profiled most recently in our series of Big East previews, and next on the list is the Big East powerhouse who bids adieu to a legend while welcoming back a former soldier as its new leader.
At just 39 years old, Kevin Ollie enters his new career as the University of Connecticut head men's basketball coach, and prepares to tip off the impending season, albeit with a one-year contract before he is evaluated at the end of the season. Upon his hire, Ollie became the second-youngest of the fifteen coaches in the Big East, with only 37-year-old Kevin Willard at Seton Hall having not been alive as long. However, what Ollie lacks in age, he more than makes up for in experience; not only being a one-time UConn student-athlete coached by Calhoun in the early 1990s, but more importantly a former NBA player whose career at the professional level will only guide the young men he will lead into battle even further as the Huskies prepare to take the court despite the NCAA edict that precludes them from postseason play as a result of not meeting minimum APR requirements.
"At the end of the day, we've got a great school that we represent," Ollie said at his first Big East media day this past Wednesday, a surreal experience in the eyes of this writer being that Calhoun; a legend whose career I followed closely as a young boy here in New York before getting the opportunity to broadcast and cover his games, was not at the helm of the Huskies for the first time in my life. (he became the head coach at UConn in May of 1986, three months before I was born) Ollie also remarked of the task ahead of him: "It's a great opportunity. I don't see it as an obstacle."
Calhoun's successor inherits a team more than capable of winning twenty games with the talent left to him. Said Cincinnati coach Mick Cronin of his counterpart's chances: "He'll do a great job. He's not rebuilding a program, he has some good players." The most integral of these players can be found in the same backcourt Ollie himself once occupied two decades ago, this time around in junior Shabazz Napier and sophomore Ryan Boatright; both of whom are combo guards that can play just as well off the ball as they can at the point, and who will both be featured more prominently in the offense following the departure of Jeremy Lamb to the NBA. "It's the same kind of versatility that we had with Jeremy and Kemba, (Walker)" Ollie said of his guards' aptitude to man both positions. Freshman Omar Calhoun, a one-time standout at Christ The King, will see significant minutes alongside Napier and Boatright, as will Holy Cross transfer R.J. Evans and swingman Niels Giffey, who brings experience from UConn's national championship team in 2011 into his junior campaign.
Up front, UConn will have a much different look following the transfers of Alex Oriakhi and Roscoe Smith to Missouri and UNLV, respectively, coupled with the departure of Andre Drummond to the NBA after just one season. Look for Tyler Olander to be a bigger component of the Huskies' offense in his junior campaign after only averaging four points and four rebounds per game last season in just eighteen minutes per contest. Olander and sophomore DeAndre Daniels will see a considerable uptick in playing time this season, as will 7-1 center Enosch Wolf and incoming freshman Phillip Nolan, who chose the Huskies over fellow Big East programs such as St. John's and his hometown team of Marquette.
The Huskies open their season in Germany against Michigan State at Ramstein Air Force Base in the Armed Forces Classic, and their new leader has taken meticulous steps to ensure that his team will be ready for not just the Spartans, but everyone else who takes the court against them. "I want our guys to know they're going to be prepared for everything that comes their way," said Ollie; who when asked about what his emotions would be like as he coaches his first game, likens his practices to an in-game atmosphere. UConn will return home to face reigning America East champion Vermont at Gampel Pavilion on November 13th before heading to the Virgin Islands for the Paradise Jam, where they will first play Wake Forest before meeting either Quinnipiac or Iona, with one more game against an opponent to be determined prior to returning home to square off against former UConn player and assistant coach Steve Pikiell, who brings Stony Brook into Storrs on November 25th.
UConn's first home date in Hartford's XL Center comes four days later against New Hampshire, and the Huskies will open December in the Jimmy V Classic at Madison Square Garden against NC State. A December 7th meeting with Tommy Amaker and Harvard at Gampel awaits Ollie's bunch next, with three straight nonconference games in Hartford to follow against Maryland-Eastern Shore, (December 17th) Fordham, (December 21st) and Washington. (December 29th) The Huskies will open 2013 on New Year's Day, facing Buzz Williams and Marquette in Milwaukee's Bradley Center.
After a week off, UConn welcomes DePaul into Gampel on January 8th before hitting the road to face Notre Dame four days later, with Louisville coming into Hartford on the 14th of January. The Huskies will contest their final Big East game in the Petersen Center five days later against Jamie Dixon and Pittsburgh before an eight-day hiatus that ends with Rutgers invading the XL Center on January 27th. A trip to Providence for the front end of a home-and-home matchup with Ed Cooley's Friars closes out January, with USF playing their first of two with the Huskies at Gampel on February 3rd. UConn then takes their talents to the New York metropolitan area for a Garden party with St. John's (February 6th) and collision with Seton Hall (February 10th) at the Prudential Center before a three-game homestand at the XL Center. Jim Boeheim and Syracuse will face the Huskies for the final time in Big East regular season play on February 13th in Hartford, with Villanova (February 16th) and Cincinnati (February 21st) next to come the former home of the Hartford Whalers.
A road trip to the Allstate Arena to wrap up a home-and-home series with DePaul on February 23rd is UConn's first game removed from the three straight at home, with a February 27th home date with Georgetown at Gampel serving as the precursor to road battles with Cincinnati (March 2nd) and USF. (March 6th) The Huskies close Ollie's first regular season on March 9th, when Providence makes their way into Storrs.
"UConn is the only brotherhood I know," Ollie declared emphatically at Big East media day last week. "I'm loving every minute of it because I've got a great group of players right here with me."
He definitely has the right attitude for the job. Hopefully, Kevin Ollie has the right stuff to show he will be the head man at UConn for a long time to come.