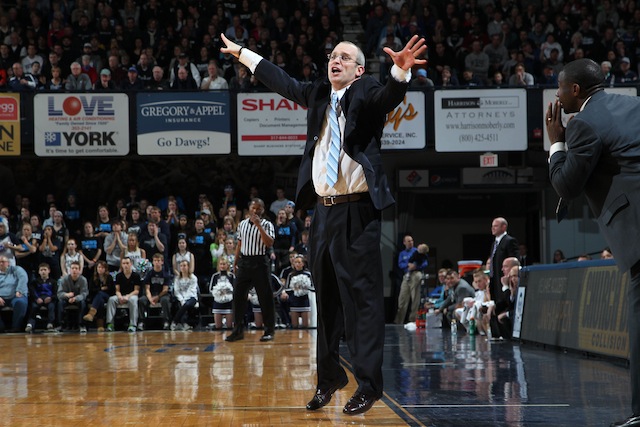 Fordham seeks second Atlantic 10 win when it hosts Rhode Island and oft-controversial Dan Hurley at Rose Hill Gym tomorrow. (Photo courtesy of CBS Sports)
Following two road losses, with the second slightly better than the first, Fordham returns home tomorrow evening, taking on a Rhode Island team that the Rams have defeated in each of the last two meetings at Rose Hill Gym.
At 11-10, Dan Hurley's team is much better than they were a year ago, but the Rams of New England have still had some bumps in the road under their fiery and often emotional second-year leader. With that said, Rhode Island has developed a solid backcourt duo of leading scorer Xavier Munford and freshman E.C. Matthews to back Rutgers transfer Gilvydas Biruta, who anchors the front line alongside Staten Island freshman Hassan Martin.
With two Atlantic 10 wins, one against a George Mason team that Fordham garnered its lone conference victory against, as well as a somewhat huge win over Dayton, Rhode Island is still looking for another major step forward. With that said, we turn it over to a higher authority on all things URI, that being the ubiquitous college basketball insider Vin Parise, who covers Hurley's Rams among his many talents for Cox Sports Rhode Island, as well as his color commentary and studio analyst work on SNY; where he will be calling this game alongside Dave Raymond, and WBBR-AM in New York. Here's what Vin had to say about the team who has lost its last two games in the Bronx by a grand total of just five points:
Jaden Daly: Most critics expected this year to be one in which Dan Hurley took a significant leap forward. At 11-10, has the delay in reaching the summit been attributed more to the overall strength of the Atlantic 10 than it has the youth on Hurley's roster?
Vin Parise: Good question, and I honestly think it's a combination of both. As much as Dan Hurley relies on veterans Xavier Munford and Gilvydas Biruta; two of their better players are freshmen in E.C. Matthews and Hassan Martin. And in terms of the league; nobody could expect the conference to be this strong. The fact that the A-10 can get just as many teams, if not more teams, to the NCAA Tournament in March than the Big East proves that. We knew VCU and Saint Louis would be strong - but nobody had UMass being ranked - and nobody had George Washington as a postseason team. The Colonials were picked 10th! And look at St. Bonaventure who is only a game up on Rhode Island - they just beat UMass.
JD: The majority of Fordham fans will not know of E.C. Matthews right away, so what is it about the freshman shooting guard that makes him such a lethal weapon for Rhode Island?
VP: He's just so efficient, mature and durable for Dan Hurley right now, and that's not always something that is said for freshmen. He's playing over 30 minutes and night and is still putting up good numbers when many freshmen are hitting that 'Freshman Wall.' Matthews had 20 points last week when URI beat Dayton.
JD: With Rhode Island's front line being almost as thin as Fordham is up front, how much more valuable has Gilvydas Biruta been in his first year back after transferring from Rutgers?
VP: Biruta has brought a lot of toughness and experience down low; something that Rhode Island really needed since Hurley took over, but they're also getting terrific minutes from local standout Hassan Martin, who is the 2nd leading rebounder on this team. That being said, I still think this matchup between URI and Fordham will be a guard's game. Some great perimeter play potentially between Frazier, Severe and Munford.
JD: Seeing that VCU and UMass immediately follow on the schedule for Rhode Island, could this be a trap game of sorts for Hurley's team, and what are the keys to victory for the visitors?
VP: I honestly don't feel Rhode Island is at the point yet where they could have a trap game and I feel Hurley would agree. This is still the rebuilding stage for this program, and Hurley preaches every day that anyone can beat anyone in that league if you're not ready to play.
JD: Considering Rhode Island has yet to win on the road in A-10 play this year, and have lost two consecutive games at Rose Hill Gym by a grand total of five points, how important is this game for the Rams, and how strong of a homecourt advantage does Fordham possess?
VP: I feel any game on the road is a grind in the A-10; and UMass losing at St. Bonaventure recently just proved that. And when you have two teams that are under .500 in the league battling it out, it's a huge game for both programs with February about to begin. That being said, I do feel Fordham's guards shoot well at home and the team overall runs a bit more in Rose Hill.
JD: Ultimately, where do you see Rhode Island finishing in the A-10, taking into consideration the handful of winnable games remaining on the schedule?
VP: Yes, but Rhode Island still has to play VCU and UMass twice moving forward. Right now, URI is right about where they were picked in the preseason polls; which is 9th, but this team has continued to improve, the freshmen are showing that the future is bright and Xavier Munford is one of the toughest covers in the league - so I definitely feel this team can overachieve with how they finish. Ultimately, they'll be judged like everyone else - how they play in late February and early March.