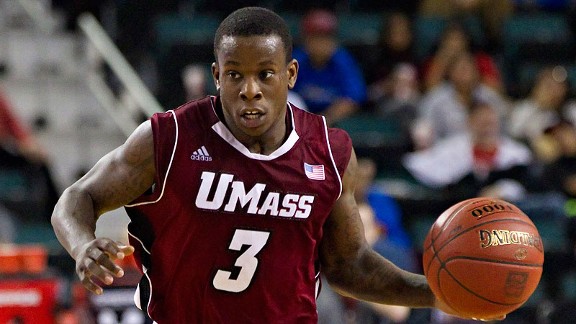 Fresh off first Atlantic 10 win of season, Fordham now faces difficult road matchup against UMass and Chaz Williams, who Tom Pecora once coached at Hofstra. (Photo courtesy of ESPN)
Fordham stopped the bleeding on Wednesday, ending a six-game losing streak with a 76-70 victory over George Mason that served as the first win for the Rams in Atlantic 10 play.
It doesn't get any easier for Fordham from here, as the next two games for Tom Pecora's team are difficult road soirees against two of the best teams in the conference, first resurgent UMass before traveling to Richmond to take on Shaka Smart and preseason A-10 favorite VCU.
At 16-2, the Minutemen have become one of the more underrated success stories in college basketball this season, and head coach Derek Kellogg has UMass poised to take the next step after ending March squarely on the bubble before an opening round NIT exit at the hands of Steve Pikiell and Stony Brook. Senior point guard Chaz Williams, who Pecora coached at Hofstra before leaving Hempstead for Rose Hill; and was the catalyst behind the Minutemen walking out of Rose Hill Gym with a victory a year ago, is the man who unquestionably makes the motor run, averaging nearly 16 points per game to go with over seven assists per contest. To top it all off, Cady Lalanne is a formidable inside presence; and a consistent one too, as evidenced by his averages of over 14 points and nine rebounds per night.
Williams and Lalanne are just two of the myriad of options that Kellogg has for one of the best kept secrets on the East Coast, and to help us get to know UMass a little better, we introduce Phil Kasiecki to the pregame preview. The founder of Hoopville, a New England-based national college basketball site that offers comprehensive coverage of most games on the Eastern seaboard, Phil was gracious enough to take a few minutes to help us all understand the University of Massachusetts a little better as they continue to enjoy their best season since the John Calipari era.
Jaden Daly: What has been the biggest improvement in UMass' transition from bubble team to Atlantic 10 contender?
Phil Kasiecki: The biggest reasons for improvement are that the Minutemen are playing off Chaz Williams better at the offensive end and Cady Lalanne has been able to stay in the lineup.
The Minutemen haven't fallen into the trap of settling for three-pointers like they have in the past. They attack the basket more and get chances close to the hoop. Part of it is that Lalanne is also part of that, as he's a post scoring threat. Now that he's stayed healthy and out of trouble, UMass has one of the best post players in the Atlantic 10 and a guy who can get a double-double on any night.
JD: On that note, would it be too early to consider Williams and Derek Kellogg the frontrunners for A-10 Player and Coach of the Year honors?

PK: Not at all, especially since UMass is a frontrunner in the conference. Simply put, Chaz Williams makes this team go. He's their unquestioned leader on and off the court in addition to leading them in scoring, assists and three-point field goal percentage. Derek Kellogg has done a great job since he took over of steadily growing this program, and now that they've had some success this year, he has kept them level-headed and with a business mindset. He has been consistent, and perhaps that's the best thing of all about him. That said, I think Mike Lonergan at George Washington will at least give Derek Kellogg a run for his money.

JD: Last year at Rose Hill Gym, Fordham allowed UMass to take a big lead at halftime only to come back furiously and lose by just four. How much better are the Minutemen in closing out games down the stretch?
PK: UMass has been much better at closing teams out. The first evidence is that they have rarely trailed in the second half all year. The second is that they have won many games with a late rally when they have trailed or pulled away late by wearing the opponent down. An opponent might rally, but UMass will then respond with a run to put the game away before the outcome is in doubt again.

JD: Back to Williams for a second, if we may. How much has the arrival of Derrick Gordon meant to Chaz, both as a scorer and facilitator?
PK: Derrick Gordon is simply a winning player. He's the epitome of a player that statistics do no justice to, and that was the case in high school as well. He's not elite in any one facet of the game except for I.Q. I'm not sure he makes life easier for Williams any more than he does for the whole team, frankly, he's just that valuable all the way around.

JD: Coming off a three-point loss to Richmond, can this matchup be viewed as a trap game for UMass, and what are the keys to victory for Kellogg and the Minutemen?


PK: It could be viewed as a trap game, but I think this team has been terrific at focusing on what is in front of them. As such, I expect this team to come out wanting to win this game like any other.
The big keys will be to play the winning defense they have played most of the season and run the offense that has worked. In their two losses, both of which came against elite defensive teams, the Minutemen struggled shooting from long range. Offense might be more important for them.
JD: Finally, with most of the A-10 elite still to come on the schedule, where do you ultimately see UMass finishing come March?
PK: UMass should be in the mix for the Atlantic 10 regular season title. They are in the top ten in RPI thanks in large part to a 10-2 record against top 100 teams that includes a 3-1 mark against top 50 teams. The only teams I could see beating them out are Saint Louis and VCU, and UMass not only has played better than both, but they also don't have to go to either team's gym for head-to-head matchups.
If I had to make a hard prediction, I would have UMass winning the regular season title.