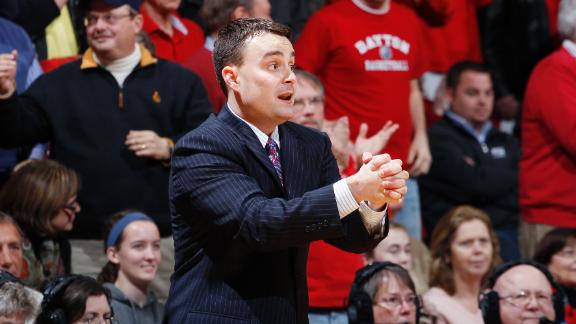 Now in his third year at helm, Archie Miller has kept winning tradition alive at Dayton. (Photo courtesy of ESPN)
At 0-2 in Atlantic 10 play, Fordham faces its first true "must-win" game of the season tomorrow night, as the Rams welcome a resurgent 12-4 Dayton team into Rose Hill Gym for the Flyers' first visit since stealing a 2012 overtime victory that essentially cost Fordham an Atlantic 10 Tournament appearance.
Head coach Archie Miller, who is still emerging from the shadow cast by his older brother Sean's efforts with top-ranked Arizona, has done a respectable job in his third season as the successor to Brian Gregory, and has built Dayton back into the A-10 powerhouse that the Flyers once were several years ago. Led by Ohio State expatriate Jordan Sibert, as well as Dyshawn Pierre and Georgetown castoff Vee Sanford off the bench, Dayton is a deceptively strong foe that seeks to use a strong nonconference schedule headlined by a Maui Invitational experience that saw the Flyers come within one point of potentially playing for the tournament championship.
Coming into the Bronx with an 0-1 conference record after an eight-point loss to reigning league champion Saint Louis, Dayton will be looking to even their A-10 ledger, and to help get to know the Ohio natives further, we welcome our latest Q&A contributor in Tom Blackburn, who does an outstanding job covering the fourth face of the Buckeye State's Mount Rushmore for Blackburn Review.
Jaden Daly: For some who are still adjusting to the change behind the Flyer bench, what sets Archie Miller's team apart from the Brian Gregory squads of the mid-2000s?
Tom Blackburn: In a word, offense. Brian Gregory's teams employed a methodical and disciplined offensive scheme. Those teams relied on rebounding and defense. Archie likes to play at a quicker place where scoring is paramount, defense is merely recommended. BG liked to wine and dine 'em, Archie wants to have sex on the first date.
JD: Two-part question here: Dayton has a strong nonconference schedule, with wins over Gonzaga, Cal and Iona coupled with a one-point loss to Baylor. What was the most impressive performance for the Flyers outside league play, and what was the biggest takeaway from the A-10 opener against Saint Louis?
TB: It has to be Gonzaga at this point. The Zags game was the Flyers' opening game in the Maui Invitational and a victory ensured two games against BCS-level teams, a loss likely meant a matchup with Chaminade and a fifth-place game against a mediocre program. The Flyer's matched the Zags' offensively from the jump and defended the perimeter very well. A missed tip against Baylor at the buzzer led to a close loss and then UD handled Cal the next night. The trip to Maui proved that Dayton can hang with just about anyone on a given night.
The conference opener against Saint Louis proved the Flyers can lose to anyone on a given night as well. UD never got on track offensively, shooting a season-low 30.6% from the floor (the lowest percentage during Archie's current reign of terror) and simply didn't get it done on the boards, out-rebounded by the Billikens 36-29. A reciipe for a UD loss = getting outplayed on the glass and shooting less than 35% from three. The SLU loss was hopefully an eye-opener for Archie and Co., I'd expect them to come out aggressively Wednesday night.
JD: Matt Kavanaugh has been ruled out for

Wednesday

night from what we're hearing. Will his absence benefit the smaller four-guard lineup Tom Pecora will use?
TB: I don't think so. Kavanaugh has been dreadful for much of the season, which has led to opportunities for sophomore bigs Devon Scott and Jalen Robinson. Scott and Robinson are superior athletically, and while they may lack the physical presence that Kav brings, they add an element UD has been missing for a few seasons. Kavanaugh is nothing but a bit player at this stage of his career. There's Batman, there's Robin and then there's the guy that picks up Robin's lunch -- that's Kav.
JD: Early in the year, Fordham owned one of the more proficient three-point defenses in the nation, but will now have to go up against a Flyer team that shoots 38 percent from long distance and 47 from the field. What is it that makes Dayton so efficient?
TB: Ball movement. It seems like something clicked this season, and Dayton is finally understanding that ball movement and effective positioning are essential to run Archie's offense. Ohio State transfer Jordan Sibert is an extremely talented perimeter shooter, so his addition has certainly added a needed dimension to UD's offense. Senior Devin Oliver has expanded his all-around game and become a decent outside threat as well, currently connecting on around 38% of his three-point attempts. This year's Dayton team seems to have a better understanding of their individual limitations, which I think is something that cannot be discounted when discussing the squad's proclivity on offense.
JD: Overall, what should be expected from Dayton in Atlantic 10 play, and is there one player to watch for above any other(s)?
TB: I think UD is going to hold strong and have a successful conference campaign. I'm expecting 11-12 league wins, which would mean the Flyers will have to earn some victories on the road -- something the program has struggled with for decades. If there is one player to watch, it's Dyshawn Pierre. He is becoming more of a known quantity in his second season in the Gem City and is essentially UD's barometer for success. If Pierre plays well, the team plays well. If UD is stumbling, you can bet Pierre is as well.