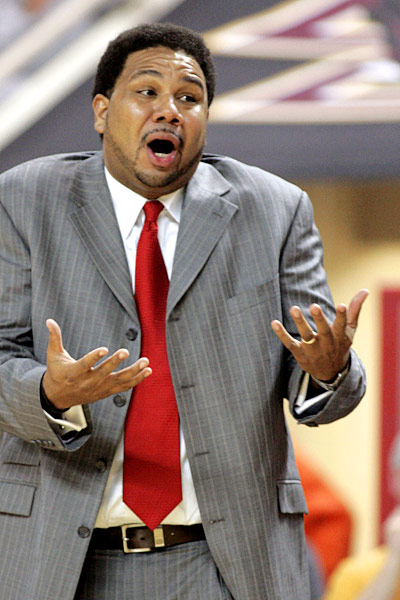 With eleven nonconference wins in his first season, Providence coach Ed Cooley has Friars ready for Big East opener tomorrow night at St. John's. (Photo courtesy of ESPN)
After a year in which eleven of its sixteen programs made the NCAA Tournament last season, the Big East opens its doors for the 2011-12 campaign tomorrow night with two games to start the league schedule. Notre Dame will travel to the Petersen Center to meet Pittsburgh, while the more intriguing matchup comes at Carnesecca Arena when the seven-man rotation of St. John's welcomes Providence College and new head coach Ed Cooley into Queens. Earlier today, I had a chance to speak to Cooley as he prepares the Friars for their first conference matchup of the season; and the coach had this to say:
Jaden Daly: You're 11-2 through nonconference play. What is the state of mind heading into the conference opener tomorrow night at St. John's?

Ed Cooley: We're trying to gain an identity of who we are, you know, and we're trying to change some of the cultural habits we had from a year ago. Obviously, playing a tighter brand defense or trying to move the ball more efficiently on offense. As we prepare for St. John's, we've got to prepare for an athletic group playing on the road. We want to limit our turnovers and take advantage of our shots.
JD: You've been around the Big East before, having assisted Al Skinner at Boston College. How has that prepared you as a head coach this time around?
EC: Well; as a head coach now, you kind of see things in a different dynamic. The Big East obviously is still a very tough conference top to bottom; so you want to try to finish in the top half to give yourself a chance for postseason play, but the preparation remains the same. The players may change, but the style of play with so many different teams is naturally the most difficult part to prepare for. It's just hard to try to tell your kids everything about another opponent.
JD: Thirteen games in, has any one player impressed you more than some of the others?
EC: Well, Vincent Council's speed has really impressed me. His speed has really stood out. Gerard Coleman's ability to score the ball; and I would say (Bryce) Cotton's ability to make shots, but Council's speed has really caught me off guard.
JD: In addition to Vincent, Gerard Coleman is in the backcourt with him. You started him off the bench for the first six games of the year, and now you've won seven in a row with him starting. Is there a different dimension between Gerard in the lineup and Gerard off the bench?

EC: We tried to bring Gerard in off the bench to get some different dimension early; but what we found was that we were a different team when he was on the floor, so we wanted to make sure we started the game with our best unit on the floor. We just wanted to make sure we started the game the best way we could, so we thought that was our best chance of winning the game.
JD: You've had four players average 35 minutes or more per game. Against a team like St. John's with a seven-man rotation, how much of a factor is conditioning going to be for your team as well as theirs?

EC: Huge. That's a great question...that's the one thing we concentrated on since we came on board here at Providence, to make sure we were in tip-top shape. Our strength and conditioning has kind of been "1-A" to recruiting as a very important figure in how we build our program here, and we talk about our players all the time as being the most conditioned team with under four minutes to play in the game. Being mentally tough will give us an opportunity to be more competitive.
JD: In addition to Vincent and Gerard, you've also picked up two breakout seasons from Bryce Cotton and LaDontae Henton. What makes each of them so special?
EC: They've been receptive to learn. They do have somewhat of an edge on their shoulder, not edgy enough for me, though; but they've been very coachable, and I think they've been very receptive to what we've been teaching.
JD: You just got Kadeem Batts back before the New Hampshire game. How has he fit into the lineup, and what are you looking for most from him down the stretch?
EC: I'm looking for Kadeem to be a better leader. Right now, we feel very rusty. It's difficult to implement somebody, especially from a first-year coaching staff coming on board with all the fundamentals we taught early. Because we knew we didn't have him for twelve or thirteen games; whatever it was, we didn't use him, so he's very rusty. If he could defend and rebound like a four, he'll pick up the other offensive schemes as he gets into more gameday preparations.
JD: What is your impression of St. John's eleven games into their schedule and what they've done with just seven men on their roster?
EC: I think their coach (Mike Dunlap) has done a great job putting his players in a situation to have success. You can see he's going through some adjustments with adding Amir (Garrett) into his lineup; but I love their length and athleticism, I love their youth. They're very quick to the ball; the way they defend, they disrupt you, so we've got to make sure we're ball strong and ball quick to try to have some success on the road.
JD: What are some of the other keys to victory against St. John's tomorrow night?
EC: To make sure we've got to rebound the ball. We can't allow any easy baskets. We want to make sure that we continue to build our philosophy to play a full game. We can't turn the ball over and we can't get outrebounded.
JD: Looking ahead past St. John's, you travel to Washington to play Georgetown on New Year's Eve. How well do you feel you match up with the Hoyas, a team that was picked midpack in the conference and surprised a lot of people with two wins over Memphis and another one on the road at Alabama?
EC: Quite frankly, I haven't concentrated too much on them; but I know the way John (Thompson III) coaches his team...I think he does a great job preparing his unit, but we really haven't concentrated too much on Georgetown. I think in a game-by-game approach; but by all signs, they're playing pretty well and I'm sure that will be another stiff challenge on the road.
JD: What are your expectations going forward through Big East play and hopefully postseason play after that?
EC: We want to try to make the season as long as we could make it. I'm going to be happy with our players as long as we get maximum effort and our guys play with a sense of urgency. Again, if we can keep the game to where we practice every day in under four-minute execution, we're going to give ourselves a chance to be a really competitive team.
JD: Just a general housekeeping update: Any injuries or any late developments coming out of practice that we should be aware of for tomorrow night?
EC: No, not at all. Our team is healthy; our kids are really excited to play a road game tomorrow, and we're excited to get Big East play started.
Just a side note here: I had met Cooley at Big East media day in October and was impressed as to how accessible and welcoming he was to us media guys. Two months later, conducting an eight-minute interview over the phone with Cooley felt like having a routine conversation with a friend or family member. Everything that was said to me about him prior to his being hired from Fairfield still rings true several months later, and he is a man you cannot help but to root for and wish success to in the immediate future.
Cooley and the Providence Friars take on St. John's tomorrow night from Carnesecca Arena, with the game televised on MSG in New York and Cox Sports in New England. If you can't get to see it, you can listen to it on WBBR 1130 AM in New York or WEEI 103.7 FM in Providence. Tipoff is slated for 7pm.