Hornets' win in last night's draft lottery assured them of Kentucky's Anthony Davis in June 28th draft, but Charlotte Bobcats have multiple options in No. 2 spot. (Photo courtesy of USA Today)
Say what you will about any alleged conspiracies surrounding the annual NBA draft lottery, but the New Orleans Hornets will be the first team announced by David Stern when the commissioner welcomes the world to the 2012 NBA Draft four weeks from tonight at the Prudential Center in Newark.
However, once Stern declares the Hornets have selected Kentucky's Anthony Davis with the top choice, all bets are off once the Charlotte Bobcats are on the clock with the second pick. Michael Jordan and his front office have multiple options for the draft's first consolation prize, and some of those options will be profiled at length below:
Michael Kidd-Gilchrist (F - Kentucky) (Photo courtesy of Sports Illustrated)
Davis' college teammate is also fresh off winning a national championship at Kentucky, and has arguably the greatest professional potential of everyone in the draft aside from Davis. A player that college basketball insider Jon Rothstein has likened to former Bobcat Gerald Wallace, Kidd-Gilchrist would instantly become a starter for the Bobcats at small forward, a position that Charlotte has needed an upgrade at since Wallace's departure. His scoring touch improved greatly at the end of the regular season and through the NCAA Tournament, and would; along with Kemba Walker, provide the Bobcats' locker room with yet another proven winner for a team that is coming off a 7-59 season.
Harrison Barnes (F - North Carolina) (Photo courtesy of USA Today)
The sophomore who was the preseason choice for the National Player of the Year honors that ultimately went to Anthony Davis could be a sentimental choice for Jordan given the common thread that is the University of North Carolina. Barnes' perimeter ability is unquestioned among this year's draft crop, but is still a work in progress inside the paint and attacking the basket, areas in which Michael Kidd-Gilchrist is a better player. However, Barnes would blend well in the Charlotte frontcourt with Tyrus Thomas and 2011 draft pick Bismack Biyombo; not to mention having fellow swingmen Corey Maggette and Gerald Henderson as his mentors, despite each one being a Duke product.
Bradley Beal (G - Florida) (Photo courtesy of USA Today)
One season at Florida in which the St. Louis native averaged nearly fifteen points and seven rebounds while helping Billy Donovan's Gators to a West regional final appearance was enough for the 6-3 Beal to decide to take his talents to the professional level. Beal comes from an elite college program in Gainesville, and professional scouts are salivating over the upside of the kid who will turn 19 on draft night. The platoon of Kemba Walker and D.J. Augustin at the point would give Beal a competent ball handler and floor general that would enhance his expanding skill set, and Beal would make both of those two better by sharing a backcourt with them.
Thomas Robinson (F - Kansas) (Photo courtesy of ESPN)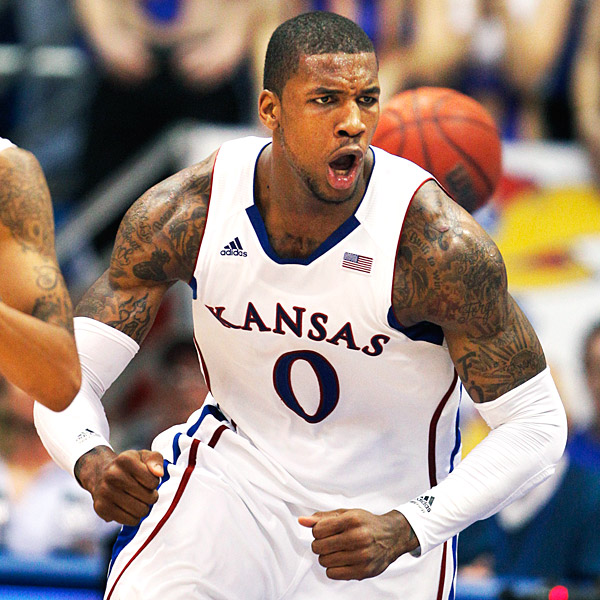 The Bobcats don't necessarily need a power forward with Tyrus Thomas in the fold and Bismack Biyombo having been selected with the seventh overall pick last year, but a talent like Robinson is very hard to pass up. The 6-9 big man averaged nearly eighteen points and twelve rebounds in Kansas' run to the national championship game, and seemed to play at his best when the magnitude of each game increased. Robinson's 18-point, 17-rebound performance in a losing effort to Kentucky cemented his status as a probable Top 5 selection no matter where he ends up, but Charlotte would provide him with an opportunity to make an immediate impact that few others would be able to equal.
Jeremy Lamb (G - Connecticut) (Photo courtesy of Newark Star-Ledger)
If not for the APR situation that cost UConn the chance to participate in next year's Big East and NCAA Tournaments, Lamb could very well be returning to Storrs for what would be his junior campaign and one in which he would be among the frontrunners for Big East Player of the Year honors. However, Lamb joins a star-studded draft pool; and although it would not be a complete shock if he is under consideration in the No. 2 spot, it would be enough of a shock for most critics to wonder what the Bobcats are thinking. Honestly, Lamb gives Charlotte one of their best shooters from the moment he walks into the arena. A poor man's version of former UConn star Richard Hamilton, Lamb's outside shooting prowess would keep the Bobcats in contention during crunch time situations. In addition, what many tend to forget is that Lamb would be reunited with Walker if he were the choice for Charlotte; which makes the pick even more intriguing, as well as a higher reward potential than risk. Lamb and Walker were the two biggest pieces in Connecticut's miraculous national championship run in 2011, and although his arrival does not automatically give the Bobcats the best backcourt in the Southeast Division, Lamb does help close the gap.
Stay tuned to A Daly Dose Of Hoops over the coming weeks for draft analysis and speculation, including the official Daly Dose Of Hoops mock draft that will be unveiled the night before the actual festivities.