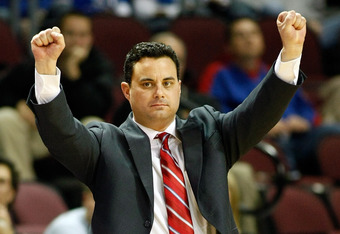 With yet another nationally acclaimed recruiting class coming to Tucson, Sean Miller has positioned Arizona to be class of one of strongest Pac-12 seasons in recent years. (Photo courtesy of Bleacher Report)
Our "32 In 32" series takes a closer look at its second high-major conference today, leaving the Big 12 to profile what could be one of the strongest conferences anywhere in the nation in the Pac-12, which could realistically land as many as seven bids into the NCAA Tournament if all goes well. After Oregon went on a late-season surge to take the conference championship en route to a Sweet 16 run, this year's Pac-12 is much more competitive and loaded to the point where Dana Altman's Ducks will have their work cut out for them if they hope to repeat. Here's how we see the wizards of the West Coast going through their 18-game slate:
1) Arizona - Despite losing three starters, Sean Miller has made up for it with yet another stellar recruiting class coming into Tucson, highlighted by forwards Aaron Gordon and Rondae Hollis-Jefferson, whose older brother Rahlir graduated from Temple this past May. The two newcomers will see considerable minutes up front alongside seven-foot sophomore Kaleb Tarczewski and rising star Brandon Ashley, who should have a breakout second season. In the backcourt, the Wildcats get a proven pure point guard in Duquesne transfer T.J. McConnell, who will instantly make everyone around him better with his ability to score and pass in equal parts. McConnell will join sharpshooter Nick Johnson to form one of the best backcourts in the nation, with senior Jordin Mayes adding depth as Arizona's sixth man. Redshirt freshman Zach Peters could be the replacement for Grant Jerrett as the reserve power forward, while Gabe York should see an increase in minutes in the backcourt.
2) Cal - Mike Montgomery loses all-around superstar Allen Crabbe, but the Golden Bears are still one of the more deceptively strong teams in the Pac-12, thanks in large part to the return of point guard Justin Cobbs, who enters his senior season after averaging nearly five assists per game. McDonald's All-American swingman Jabari Bird will make an immediate impact on the wing, with Tyrone Wallace on the precipice of a breakout season as he goes into his sophomore campaign. Senior Richard Solomon and junior David Kravish give Cal one of the taller front lines in the Pac-12, and seven-foot freshman center Kameron Rooks should see considerable playing time right away.
3) Stanford - If you're looking for a true sleeper come March, the Cardinal are number one with a bullet on that list. NIT champions in 2012 only to finish 19-15 and see their season end in the second round of that tournament last year against Alabama, Johnny Dawkins returns all five starters, led by 6-10 senior forward Dwight Powell, who should average a double-double per season with all the right breaks. Fellow senior forward Josh Huestis will also be an automatic 10-and-10 player, and enters the 2013-14 season as one of the most underrated players in the nation, one who is also poised to become a household name. Swingman Andy Brown will see his scoring opportunities increase with the return of sharpshooter Chasson Randle and point guard Aaron Bright to the backcourt, not to mention John Gage and Robbie Lemons leading the deepest bench in the Pac-12. Do not be surprised to see this team make a deep run in March.
4) Colorado - When the Buffaloes entered the Pac-12 in 2011, not much was expected in Boulder. Three years later, Tad Boyle has a conference championship and two victories in the NCAA Tournament to go with another season in which Colorado is expected to be a conference favorite behind the backcourt of junior guards Askia Booker and Spencer Dinwiddie, the latter of whom should have a major coming-out party as one of the better guards in the nation. Sophomore forward Josh Scott, a 6-10 big man who averaged over ten points and nearly six rebounds per game as a freshman, will better those numbers alongside burgeoning second-year big man Xavier Johnson, whose efficiency and rebounding prowess will make him a force to be reckoned with.
5) UCLA - Westwood has undergone a personnel change at the top, as Ben Howland was unceremoniously dismissed following his latest early NCAA Tournament exit, despite three consecutive trips to the Final Four midway through his eleven-year tenure. In his place stands former New Mexico coach Steve Alford, who takes over the reins at Pauley Pavilion with a cupboard that his predecessor left mostly full, save for the one-and-done tenure of Shabazz Muhammad. Sophomore guard Jordan Adams, once the forgotten man in last year's recruiting class, might just be the best player on this season's Bruins roster, with swingman Kyle Anderson poised to approach a double-double average this year. Twins David and Travis Wear return for one more season, with junior guard Norman Powell set to see an increased share of minutes as UCLA looks for a permanent successor to Larry Drew at the point guard position.

6) Oregon - The reigning Pac-12 champions have made wholesale personnel changes in the wake of four of the Ducks' five leading scorers having departed, but much like the Iona teams of the last two years, Dana Altman has a more talented roster in Eugene this time around even with just two returning starters in sophomore guards Damyean Dotson and Dominic Artis. Oregon's backcourt depth becomes even stronger with the arrival of Detroit transfer Jason Calliste, a Canadian marksman who is eligible to join incumbent Johnathan Loyd immediately, and could be increased if Houston expatriate Joseph Young is cleared to play right away after transferring. While Young is still awaiting word on his status for next season, 6-11 senior Waverly Austin will need to step into a major role up front alongside Mike Moser, who is immediately eligible as a graduate transfer from UNLV.
7) Arizona State - As point guard Jahii Carson goes during his sophomore season, so too will the Sun Devils, who will be a bubble team at the very worst this March, but most likely a representative in the field of 68. With Carrick Felix and Evan Gordon having departed, Herb Sendek's front line will be expected to contribute early and often, with Canadian senior Jordan Bachynski getting help from Danish swingman Jonathan Gilling and Michigan State transfer Brandan Kearney, who becomes eligible in December as he spends the first semester completing his year in residence requirement. Senior guard Jermaine Marshall will make a big difference alongside Carson, as he is eligible to play immediately following his graduation from Penn State.
8) Oregon State - Three starters return for the Beavers, including senior shooting guard Roberto Nelson, the leading scorer for head coach Craig Robinson; perhaps best known for being the brother of First Lady Michelle Obama, last season. Nelson loses his running mates in Ahmad Starks and Joe Burton, but will not be short of help, as Oregon State's front line will match up with almost anyone in the nation. Bronx product Devon Collier and 6-10 Australian Angus Brandt, who is back after a torn ACL limited him to just four games a year ago, will get most of the attention, but remember this name: Eric Moreland. The 6-10 junior from Houston averaged over nine points and nearly eleven rebounds last season as a sophomore, and should once again be an automatic double-double on a deceptively strong team this time around.
9) USC - The Men of Troy join their crosstown rivals in having made a coaching change, as Andy Enfield was able to parlay his successful Sweet 16 run at Florida Gulf Coast into a bigger payday on the West Coast, a move that should also be beneficial to his supermodel wife, Amanda. In any event, Enfield takes over a team that returns two of its starting guards in J.T. Terrell and Byron Wesley, and gets Maryland transfer Pe'Shon Howard to play immediately after the Los Angeles native received a waiver. Howard will help fill the void left by point guard Jio Fontan, with highly touted freshman Kahlil Dukes competing for minutes in the backcourt as well. The Trojan front line will be Enfield's biggest concern, with 7-2 center Omar Oraby the most experienced incumbent in the paint, returning for his senior season after only averaging fifteen minutes per game a year ago.

10) Washington State - Junior guard Royce Woolridge will be the focal point offensively for Ken Bone, who could be on the hot seat in Pullman if the Cougars do not make a sufficient enough jump in the conference standings. Woolridge's fellow third-year guard, outside shooting specialist DaVonte Lacy, will be expected to pick up his offensive production, as will 6-10 senior forward D.J. Shelton, who will mentor a youthful frontcourt for Washington State this season.
11) Washington - Following an 18-16 season last year, expectations have been somewhat tempered for Lorenzo Romar and the Huskies, who will enter the season with a heavier reliance on senior shooting guard C.J. Wilcox than in years past now that the three leaders of his supporting cast have departed. Sophomore Andrew Andrews will assume the starting point guard duties after the graduation of Abdul Gaddy, while junior forwards Desmond Simmons and Shawn Kemp Jr. will look to improve their combined eleven points and nine rebounds per game for Washington. Sophomore Jernard Jarreau should also see an increased stat line this season.
12) Utah - Sophomore forward Jordan Loveridge will be a significant building block for Larry Krystkowiak and the Utes this season following the departure of combo guard Jarred DuBois, and with three more of Utah's top five scorers no longer around, twin towers Dallin Bachynski and Jeremy Olsen will be counted on to make an immediate impact. Junior college transfer Delon Wright and freshman Ahmad Fields will ease the pressure on the Utah frontcourt, but it will not be an easy process in Salt Lake City.