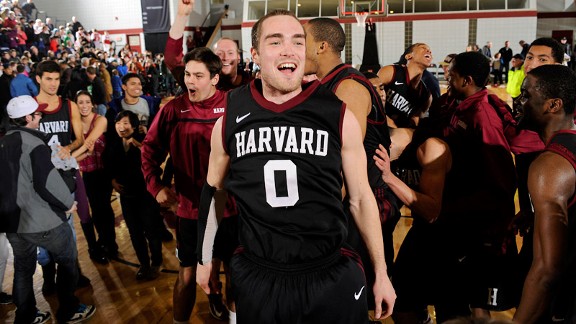 Following first NCAA Tournament win in Ivy League history, Laurent Rivard and Harvard now set their sights on third consecutive appearance in field of 68. (Photo courtesy of ESPN)
Yesterday morning, our popular conference preview series returned as "32 In 32" debuted with a look at the maiden voyage of the American Athletic Conference, where reigning national champion Louisville is among the favorites to win what would be their third consecutive conference championship. Tonight, the scene shifts to the one league of the 32 in Division I college basketball that does not hold a postseason tournament, instead relying on its 14-game regular season schedule to crown its NCAA Tournament representative. Ladies and gentlemen, here is the eight-team experience unlike any other, the Ivy League.
1) Harvard - We'll steal a line from college basketball insider Jon Rothstein to present the case for the two-time reigning Ivy champion Crimson: They are BEYOND LOADED. Tommy Amaker brings nearly everyone back from last year's team that picked up the first NCAA Tournament win in Ivy League history when Harvard shocked New Mexico last March, including swingmen Laurent Rivard and Wesley Saunders, both of whom provide dynamic scoring threats behind sophomore point guard Siyani Chambers, who quickly staked his claim among the best ball handlers in the nation despite his freshman status. This season, Chambers is not alone, as Kyle Casey and Brandyn Curry return from their one-year exile after the two wisely preserved their final season of eligibility in the aftermath of their offseason academic issues. Finally, Steve Moundou-Missi is the quintessential "glue guy," a player who fills up each stat and simply exudes a winning attitude despite not necessarily being the primary option. If everything fires on all cylinders for the Crimson, a third straight championship and talk of a potential dynasty will be filling the streets of Cambridge come March.
2) Princeton - Leading scorer Ian Hummer has graduated, but Mitch Henderson returns each of his four other starters to a Tiger team that came just win one short of forcing a winner-take-all playoff against Harvard for a trip to the NCAA Tournament. This season, New Jersey's Ivy League team will be led by junior forward Denton Koon, an efficient shot taker who connected at a 53 percent clip from the field a year ago. Senior guard T.J. Bray will likely be Princeton's most valuable player, however; and will be primed for a breakout season after averaging nearly ten points per game and shooting 37 percent from three-point range, as well as Will Barrett, who shot a blistering 52 percent from beyond the arc last season.
3) Yale - Last season's 8-6 conference mark for the Bulldogs was rather impressive considering Yale had to navigate the season without 6-10 center Greg Mangano after he graduated in 2012. However, six of the top seven Bulldog scorers are back this season, led by 6-8 sophomore forward Justin Sears, who averaged over nine points and five rebounds as a freshman. Junior forward Matt Townsend will likely be the go-to guy in the paint for Yale while Sears should be more perimeter-oriented, with guards Javier Duren and Armani Cotton facilitating plays from the backcourt.
4) Penn - Jerome Allen is slowly rebuilding the Quakers and leading them further up the Ivy ladder behind a deceptively strong frontcourt duo of senior Fran Dougherty, the team's leading scorer last year, and junior Henry Brooks. In addition to the pair up front, Miles Cartwright and Tony Hicks return from a season that saw them average nearly 24 points and five assists per game combined. The biggest key for the Quakers will be 6-11 Darien Nelson-Henry, and his ability to improve averages of over seven points and four rebounds per game during his freshman campaign last season.
5) Columbia - Kyle Smith's Lions could be ranked much higher as he enters his fourth season at the helm, but the jury is still out on how well Columbia can replace Brian Barbour, especially with a quality nonconference schedule at Levien Gym this season. Grant Mullins will be the prime candidate to step into Barbour's role offensively following a solid rookie season, with long-range gunner Steve Frankoski joining him in the backcourt along with German import Maodo Lo. Remember this name, though: Alex Rosenberg. With Mark Cisco having graduated, the junior power forward is a major sleeper in the Ivy League this season, and should be able to force his way into conversations for postseason honors.
6) Brown - The Bears lose two integral parts of their rotation in Matt Sullivan and Tucker Halpern, but Mike Martin and Brown retain the services of sparkplug guard Sean McGonagill, who enters his senior season as a potential first team Ivy Leaguer following a junior year where the Illinois native averaged fourteen points and over four rebounds per game, with just about four assists to boot. McGonagill will be joined by Brazilian junior Rafael Maia, who could very well be a walking double-double for the Bears this season.
7) Cornell - Bill Courtney and the Big Red face an uphill climb in a muddled middle of the Ivy standings, but fortunately for Cornell, junior forward Shonn Miller; the team's leading scorer a year ago, is back for his third season in Ithaca. Sophomore guard Nolan Cressler will be the biggest focal point for Courtney this season as he looks to follow a rookie year that saw him shoot 40 percent from three-point range, as well as a young bench whose roles will need to be defined quickly as the season goes on.
8) Dartmouth - Dartmouth is still a young team, but the Big Green managed to take a giant step forward in their 9-19 season a year ago, giving fans in and around New Hampshire hope for the future. All five of Paul Cormier's leading scorers return this season, led by Lithuanian forward Gabas Maldunas and sophomore sharpshooter Alex Mitola, whose 39 percent clip from three-point range led the team. Sophomore forward Connor Boehm will be much improved this season, as he looks to take a leap from his averages of over eight points and five rebounds per game as a freshman.