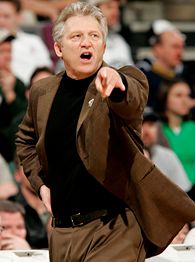 Six months removed from third trip to NCAA Tournament, Mike McConathy is among favorites to lead Northwestern State into field of 68 out of Southland Conference for a fourth time. (Photo courtesy of ESPN)
Our next "32 In 32" series stays in the Southwest, as the Southwestern Athletic Conference steps aside in favor of the 14-team Southland Conference, which welcomes new arrivals from the former Great West to its family.
1) Northwestern State - Mike McConathy and the Demons cut down the nets in the Southland last season, and are on the precipice of a repeat. Sixth man DeQuan Hicks, now a senior, was Northwestern State's leading scorer and rebounder off the bench last year, and might do it again from the starting lineup this time now that there are two vacancies in the Demons' opening five. Sophomore point guard Jalan West, who averaged over five assists per contest last year, returns to anchor the backcourt alongside Brison White and Gary Stewart.
2) Stephen F. Austin - The Lumberjacks, who won the regular season title in the Southland, have a new coach after Danny Kaspar took over at Texas State, having brought longtime Frank Martin assistant Brad Underwood into the Lone Star State. Leading scorers Taylor Smith and Antonio Bostic are gone, but senior guard Desmond Haymon will return to anchor the offense with junior swingman Jacob Parker; who shot 41 percent from three-point range, as his secondary option.
3) Nicholls State
- Despite a 9-21 record last season, the Colonels are a legitimate Southland sleeper this year, with eight of their top nine scorers back for the 2013-14 campaign. Dantrell Thomas and T.J. Carpenter anchor the Nicholls State backcourt, with New Orleans natives Jeremy Smith and sharpshooter Amin Torres providing even greater depth to the guard stable on a team loaded with mounds of length.
4) Sam Houston State - The Bearkats did not have a single player average more than ten points per game in last season's 17-17 campaign, but seven of their top eight scorers are back to help move up the ladder. Led by senior swingman James Thomas, Sam Houston State also has a trio of lethal weapons in the backcourt in the form of Will Bond, Marquel McKinney and Paul Baxter, whose outside proficiency will keep the Bearkats in contention.
5) Oral Roberts - Once a powerhouse in the Summit League, Scott Sutton's Golden Eagles have remained relevant in their new conference, and will be again this year. Despite losing their two leading scorers, senior swingman Shawn Glover will step up to lead the Oral Roberts attack, with Korey Billbury and shooting specialist D.J. Jackson taking the reins of the supporting cast.
6) Houston Baptist - The Huskies join the Southland from the Great West, and Ron Cottrell has a trio of guards in Rob Lewis, Marcel Smith and Caleb Crayton to help ease the transition. HBU also gets junior guard Tyler Russell for a full season after he was limited to fifteen games a year ago, while 6-11 graduate transfer Ricmonds Vilde provides much-needed size and immediate eligibility from SMU.
7) McNeese State - Junior swingman Desharick Guidry returns to pace the Cowboy offense, with fellow third-year guard Kevin Hardy; not to be confused with the former Jacksonville Jaguars linebacker, also back to run the show from the point guard position. Burgeoning big man Craig McFerrin could average a double-double per game if he is able to become the center of attention inside the paint.
8) Texas A&M-Corpus Christi - Four of the Islanders' top five scorers return this season, including junior point guard Johnathan Jordan, who averaged nearly thirteen points and over five assists per game last year. Senior forward Nate Knowles will be a key in the paint with his 6-10 frame.
9) Southeastern Louisiana - Dallas product Dre Evans, a 5-9 shooting guard who shot 42 percent from three-point range, will be the centerpiece of the Lions' attack this season. Senior guard Jeffery Ricard will join Evans in the backcourt, but rebounding will be a major concern for Southeastern Louisiana in the absence of Roosevelt Johnson.
10) Lamar - Pat Knight has nowhere to go but up with the Cardinals after a 3-28 season last year, and sophomore swingman Rhon Mitchell will be his team leader in the absence of Stan Brown, Lamar's leading scorer in 2012-13. Sophomores Keilan Blanks and Donnell Minton return to anchor a backcourt that welcomes Preston Mattingly, the son of Los Angeles Dodgers manager and New York Yankee great Don Mattingly, into the fold.
11) New Orleans - An independent last season, the Privateers now have a conference affiliation in the Southland, and will look to senior wing Cory Dixon to shoulder the load during UNO's first campaign in their new league. Senior guards Tradarris McPhearson and Isaac Mack will be critical to New Orleans' success this season.
12) Central Arkansas - Clarence Finley takes the helm of the Bears after Corliss Williamson joined the Sacramento Kings' coaching staff, but will need to build his team around senior guard LaQuentin Miles. Jacksonville native DeShone McClure will need to increase his productivity on the offensive end to keep Central Arkansas in the postseason picture.
13) Incarnate Word - Now in their second season of reclassification from Division II, the Cardinals face an uphill road to success in the Southland. Guards Denzel Livingston and Kyle Hittle will be much-needed producers for UIW, as will point guard Mitchell Badillo, who will set up Campbell expatriate Anthony Horton inside the paint.
14) Abilene Christian
- Sophomore sharpshooter Parker Wentz, who shot 39 percent from three-point range as a freshman, will propel the Wildcats closer to the top than some may think, but Abilene Christian still.has a long way to go. Senior swingman Cornelius Cammock will serve as a much-needed second option as Abilene Christian also enters its second year of reclassification to Division I.