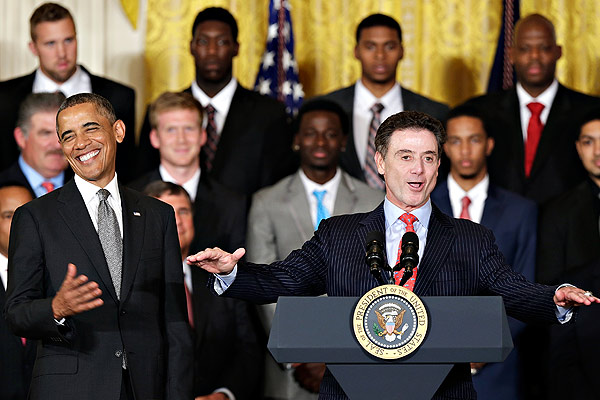 Fresh off national championship and meeting with President Obama, Rick Pitino and Louisville now set their sights on winning American Athletic Conference before joining ACC in 2014. (Photo courtesy of ESPN)
You asked for it, and so it returns.
In the prelude to the 2012-13 season, a number of readers had asked why we did not continue our "30 In 30" conference preview series from the 2011-12 campaign, which was put on hiatus due to a number of different reasons. However, the response to our look at 30 of the 31 conferences before our team-by-team previews of the Big East was so well-received that there was no way for us not to do it again, so here we go without any further ado with "32 In 32," our series of conference previews that will feature one league at a time over the next 32 days, and where better to start than with the new kid on the college hoops block? Comprised of the football schools from the former Big East and a handful of Conference USA expatriates, here is a look at how the American Athletic Conference will see its inaugural season play out:
1) Louisville - The reigning national champions lose Gorgui Dieng and Peyton Siva after they were drafted by the Utah Jazz and Detroit Pistons this past June, but the Cardinals are still among the favorites to once again cut down the nets, never mind winning what would be their only AAC championship before leaving for the Atlantic Coast Conference next season. Russ Smith returns to the backcourt for his senior season after a junior campaign marked by dynamic scoring ability and inconsistent shot selection, and will have the services of freshman Terry Rozier alongside him, as the Cleveland native steps into Siva's old shoes at the point guard position on the heels of a prep school season that saw him average over 29 points and nearly eight rebounds and six assists per game at Hargrave Military Academy. On the wings, Wayne Blackshear and NCAA Tournament Most Outstanding Player Luke Hancock return for their junior and senior seasons to anchor the long and athletic Louisville attack, with junior Chane Behanan leading the charge inside the paint while Montrezl Harrell takes over for Dieng after showing mounds of potential as a freshman last season. On top of that, Kevin Ware; last year's headline for all the wrong reasons after his horrific leg injury in the Midwest Regional final against Duke, is ready to go after a grueling rehab process that has put him on the precipice of what will be the biggest comeback in the nation this year.
2) Connecticut - Last year, Kevin Ollie had the unenviable task of not only replacing a Hall of Famer and living legend in Jim Calhoun, he also had the burden of leading a competitive Huskies squad through the rigors of the regular season knowing they would eventually have nothing to show for it due to an NCAA-imposed postseason ban for academic reasons. Following an admirable rookie season in Storrs that deserved consideration for the Big East Coach of the Year award that was ultimately; and questionably, presented to John Thompson III of Georgetown, Ollie returns in a new conference with a pair of legitimate backcourt threats to lead the UConn brigade. Senior Shabazz Napier and junior Ryan Boatright combine to form the best backcourt in the AAC, and it is not even close. Throw in sophomore and former Christ the King standout Omar Calhoun and freshman Terrence Samuel of Brooklyn and the Huskies have the perfect blend of youth and experience to join DeAndre Daniels and Niels Giffey on the wings, with senior Tyler Olander taking care of business in the paint. UConn also adds George Washington transfer Lasan Kromah, who graduated and is eligible immediately, to a frontcourt that includes rising star Phillip Nolan as he enters his sophomore season.
3) Memphis - Josh Pastner doesn't rebuild, he reloads, and that is once again the case with the Tigers this season. Whether or not the homecourt advantage of having the AAC Tournament in Memphis will benefit this group remains to be seen, but Memphis should be competitive regardless, with seniors Chris Crawford and Geron Johnson returning to the backcourt, where they will have bigger roles in the absence of Joe Jackson. The Tigers are also waiting on the eligibility of Missouri transfer Michael Dixon and highly regarded incoming freshman Rashawn Powell, who will instantly give Pastner a credible long-range threat if he is indeed cleared. Up front, Shaq Goodwin will be a candidate for a breakout season as a sophomore, and will benefit from the arrival of graduate transfer David Pellom, who is eligible immediately after leaving George Washington. The Tiger frontcourt also gets a boost with the arrival of highly touted Kuran Iverson, a 6-10 forward with a Kevin Garnett-like body whose older cousin Allen just happens to be one of the best NBA players of the last two decades.
4) Cincinnati - On paper, the Bearcats look like they should be taking a step back as they join the AAC, but when you consider the coaching acumen of Mick Cronin; who never gets anywhere close to enough credit for what he has done with this program since taking over a situation in which he inherited only one scholarship player in 2006, Cincinnati will always be among the favorites in whatever league they are in. Making it easier for Cronin is senior guard and White Plains native Sean Kilpatrick, who goes into his final year as one of the best shooters in the nation. With Cashmere Wright gone, the onus on Jeremiah Davis and Ge'Lawn Guyn to improve will be large, as newcomers Kevin Johnson and Troy Caupain are waiting in the wings. Up front, 7-1 junior center David Nyarsuk will keep Cincinnati in games from a rebounding perspective along with Titus Rubles and Shaq Thomas, who will help mentor incoming freshman Jermaine Lawrence, the New York City product who arrives as one of Cronin's best recruits since he came to Cincinnati.
5) Rutgers - The Scarlet Knights turn the page not just on the court in their new home, which they will be leaving after this season in favor of the Big Ten; but also off of it as well, as native son and program legend Eddie Jordan returns to the banks of the old Raritan to lead the State University of New Jersey out of the morass that was the Mike Rice incident. Jordan loses last year's best player Eli Carter, who transferred to Florida in the wake of the Rice debacle, but returns Myles Mack and Jerome Seagears to the backcourt with junior college transfer Craig Brown and UTEP expatriate D'Von Campbell waiting behind them. The Scarlet Knights are still waiting on an eligibility ruling for Pitt transfer J.J. Moore, but still have mounds of frontcourt depth and productivity in Kadeem Jack and Wally Judge, not to mention sophomore Greg Lewis and incoming freshman Junior Etou. If Rutgers can get the NCAA to clear Bronx native and Iowa State castoff Kerwin Okoro, who applied for a hardship transfer following the deaths of both his brother and father, and was ultimately denied, (friend of the site Dave White, who covers Rutgers for On The Banks, has spread a #FreeOkoro hashtag on Twitter) Rutgers can certainly contend for an NIT berth at the very least.
6) SMU - Larry Brown returns all three of his leading scorers to Dallas this season, which should go much better than last year's 15-17 campaign. With senior point guard Nick Russell joining juniors Ryan Manuel and Jalen Jones in the backcourt, the Mustangs have a backcourt troika that can stand up to anyone else in the conference. Shawn Williams and Cannen Cunningham also return up front to bring all five starters back for SMU this season, and the Mustangs have added depth in the form of Villanova transfer Markus Kennedy, not to mention Illinois castoff Crandall Head and Illinois State expatriate Nic Moore in the backcourt as Mustangs fans await the arrival of Emmanuel Mudiay next season.
7) Houston
- Joseph Young, the Cougars' leading scorer last season, transferred to Oregon, but James Dickey retains his second-best weapon in 6-8 junior forward TaShawn Thomas, who will carry Houston into the AAC after their 20-13 campaign in Conference USA last season. Deceptive sharpshooters Danuel House and Jherrod Stiggers return to give the Cougars two potent options on the wings, while Baylor transfer L.J. Rose will pick up most of Young's slack after he was given a waiver to play immediately. Houston also gets Pitt transfer J.J. Richardson for a full season to join Thomas inside, hoping the Texas native will live up to the potential that merited his recruitment by Jamie Dixon.
8) South Florida - Stan Heath does not have much to play with according to the roster on USF's website, which currently lists just eight players, but most of last year's group returns, headlined by junior point guard Anthony Collins, whose pure playmaking ability will keep the Bulls close in most of their encounters this season. Senior Martino Brock joins him in a backcourt that also includes junior college transfer Musa Abdul-Aleem and sophomore Javontae Hawkins, who will have an even bigger role in his second season. Up front, senior Victor Rudd and burgeoning sophomore big man Zach LeDay, who played his best basketball at the end of the season last year, will keep USF formidable on the glass and make it easier for twin towers Jordan Omogbehin and 6-11 newcomer John Egbunu to alter shots and change games inside with their massive presences.
9) Temple - Fran Dunphy faces his biggest challenge yet at the helm of the Owls, who are no longer led by Khalif Wyatt, Scootie Randall and Rahlir Hollis-Jefferson. Temple still retains Will Cummings, who will hopefully have a breakout season this year to validate the high praise he has received from college basketball insider Jon Rothstein, as well as Daniel Dingle on the wing. Up front, junior big man Anthony Lee will carry the Owls, and both Dalton Pepper and Quenton DeCosey will need to increase their productivity in order for Philadelphia's AAC representative to return to the postseason.
10) Central Florida - Looking at Donnie Jones' roster, the Golden Knights are still very talented, and their tenth-place selection speaks for the enormous depth of the AAC from top to bottom. Keith Clanton is no longer around, but leading scorer Isaiah Sykes returns to the wing for his final campaign in Orlando, with Oklahoma transfer Calvin Newell back to join him as well, not to mention sophomores Matt Williams and Daiquan Walker. In Clanton's absence, junior forward Kasey Wilson will have to step up both offensively and defensively, with the ultimate goal being to form an effective interior duo with Virginia expatriate Tristan Spurlock.