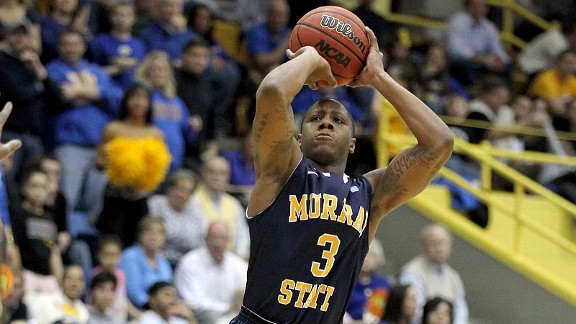 Murray State's road to redemption in Ohio Valley will be traveled without irreplaceable point guard Isaiah Canaan, who was drafted by Houston Rockets this past June. (Photo courtesy of ESPN)
Our next preview in the "32 In 32" series is the first in which divisions come into play, with the twelve-team Ohio Valley being split up into the East and West sections. Before we unveil our complete order of finish prediction, here's the divisional breakdown:
2013-14 Ohio Valley Conference East Division Predictions
1) Eastern Kentucky
2) Belmont
3) Morehead State
4) Jacksonville State
5) Tennessee State
6) Tennessee Tech
2013-14 Ohio Valley Conference West Division Predictions
1) Murray State
2) Southeast Missouri
3) Tennessee-Martin
4) Austin Peay
5) SIU-Edwardsville
6) Eastern Illinois
2013-14 Ohio Valley Conference Complete Order Of Finish
1) Eastern Kentucky - Six of the Colonels' top seven scorers return to a 25-win team that advanced to the CollegeInsider.com Tournament last season. With Mike DiNunno gone, Glenn Cosey becomes Eastern Kentucky's lone point guard, but he can shoot too, having made three-pointers at a 40 percent clip during his junior season last year. Cosey's shift on the ball will allow junior Corey Walden to have greater flexbiility at the shooting guard spot, while junior forward Eric Stutz could be the most efficient shot taker that half the nation has not yet heard of. As a sophomore last season, the Indiana native missed just 62 shots en route to shooting 63 percent from the field for the Colonels.
2) Murray State - Losing Isaiah Canaan to the NBA will be very difficult for Steve Prohm and the Racers to overcome, but they do have a proven replacement in sophomore Zay Jackson, who redshirted last season to learn under Canaan for one more year. Senior guard Dexter Fields will have a breakout season with Stacy Wilson and Brandon Garrett no longer in front of him, but a major concern for Murray State will be replacing the rebounding ability of Ed Daniel. However, with a relatively favorable Ohio Valley West division, the Racers will still be in contention.
3) Belmont - Ian Clark and Kerron Johnson have graduated following the Bruins' latest NCAA Tournament run, but longtime head coach Rick Byrd knows how to reload, and will catch a lot of people off guard with Belmont this season. Senior swingman J.J. Mann becomes the primary option with Clark and Johnson no longer in the mix, and will have fellow senior Blake Jenkins back on the wing following a year in which the 6-8 Knoxville native shot 59 percent from the field.
4) Southeast Missouri - Once upon a time, the Redhawks were a Cinderella in the Sweet 16 under Steve Alford, now the head coach at UCLA. A decade and a half later, Southeast Missouri (they dropped the State) returns forwards Tyler Stone and Nino Johnson to give coach Dickey Nutt one of the best frontcourts in the Ohio Valley to go along with a steady hand at the point guard position in Nutt's son Lucas, who averaged over five assists per game last season. Senior swingman Michael Porter's name may ring a familiar bell for our Big East audience, as Georgetown star and Washington Wizards draft pick Otto Porter is his cousin.
5) Tennessee-Martin - Burgeoning big man Myles Taylor will be the hub of the wheel for the Skyhawks as a junior, this coming on the heels of a second season in which he averaged over sixteen points and seven rebounds per game. Guards Mike Liabo and Terence Smith give UTM a pair of qualified outside shooters who connected from beyond the arc at a 40 percent rate.
6) Morehead State - The Eagles, whose 2011 NCAA Tournament upset of reigning national champion Louisville gave the school another claim to fame besides being the alma mater of Phil Simms, will rely on junior guard Angelo Warner to be the centerpiece of the offense for head coach Sean Woods. Senior Bakari Turner will serve as Warner's running mate in the backcourt, providing another option for 6-11 Canadian center Chad Posthumus.
7) Jacksonville State - Senior point guard Brian Williams is an underrated floor general who could be just enough of an X-factor to get the Gamecocks into the postseason conversation. His junior backcourt partner Darion Rackley enters his third season as the top returning scorer for coach James Green, with 6-6 senior Nick Cook having a critical role as one of the few proven big men in an undersized frontcourt.
8) Tennessee State - Senior point guard Patrick Miller, who averaged nearly six assists per game for the Tigers to go along with his fifteen points per contest, will be the main attraction for Tennessee State. M.J. Rhett, a 6-9 junior, should have his opportunities to increase his point and rebound totals expanded as well.
9) Austin Peay - Hailing from Clarksville, Tennessee, the hometown of friend of the site Christian Heimall, the Governors have a solid inside/outside scoring duo of senior forward Will Triggs and Manhattan native Travis Betran, Austin Peay's senior point guard. Sophomore wing Chris Horton, who is the center by default by virtue of his status as the team's tallest player at 6-8, could be a double-double per night player after managing eight points and seven rebounds per game as a freshman.
10) SIU-Edwardsville - Junior guard Kris Davis, who shot 33 percent from three-point range last season, will be the focal point for the Cougars. His fellow third-year teammate Michael Messer is his team's next best option, and will likely spend most of his time in the frontcourt with only two players on the roster taller than 6-6.
11) Tennessee Tech - German import Dennis Ogbe is the center of attention for the Golden Eagles now that Jud Dillard has graduated, and the senior comes into this season on the heels of averaging nearly eleven points per game. Guards Lanerryl Johnson and Matt Marseille will provide serviceable complements to senior point guard Jeremiah Samarrippas, who averaged over four assists per game a year ago.
12) Eastern Illinois - Best known for being the alma mater of Tony Romo, the Panthers will rely on senior forward Sherman Blanford to guide them through the Ohio Valley season. Junior forward Josh Piper is a dangerous marksman on the wing, but guard play will be a major concern now that point guard Austin Akers has departed.