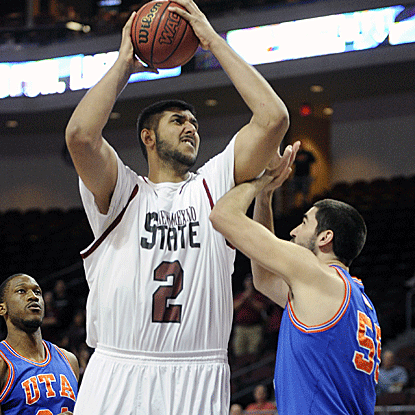 New Mexico State big man Sim Bhullar, already tallest player in nation at 7-5, has aspirations bigger than his size, including a return trip to NCAA Tournament for Aggies. (Photo courtesy of CBS Sports)
Our "32 In 32" series resumes tonight, going to the other side of the country to profile the new-look Western Athletic Conference, whose affiliations have undergone further reinventions than Madonna's world-famous concert tour. For those who don't know, the WAC's current landscape is a nine-member melange whose latest membership includes all of the former Great West Conference teams that were not absorbed by the Southland Conference, with the exception of NJIT. Here's how we see the field of nine ultimately looking at the end of the season:
1) New Mexico State - Marvin Menzies and the Aggies enter this season as the favorites to win their third straight WAC championship and fourth in the last five years, and their twin towers in the paint are a major reason why. Canadian sophomore Sim Bhullar, who at 7-5 is the tallest player in the nation, gets a huge (no pun intended) assist up front this season with the arrival of his younger brother Tanveer, who is two inches shorter at 7-3. Fellow Canadians Renaldo Dixon and Daniel Mullings form a potent inside/outside scoring duo to supplement the productivity of the Bhullar brothers, with junior guards Terrel de Rouen and K.C. Ross-Miller providing depth in the backcourt.
2) Chicago State - Entering the WAC from the Great West, the Cougars are led by some NBA lineage in the form of senior swingman Quinton Pippen, whose uncle Scottie will forever be known as the Ed McMahon to Michael Jordan's Johnny Carson. Pippen, Chicago State's leading scorer, has a trio of guards to work with as well, with seniors Jamere Dismukes and Nate Duhon joining junior Clarke Rosenberg.
3) Texas-Pan American - Best known for being the team that nearly upset St. John's four days before Christmas in 2011, the Broncs have a new coach this season, as Dan Hipsher replaces Ryan Marks. UTPA also brings two graduate transfers into the fold, as sharpshooting guard Shaun Noriega and swingman Javorn Farrell arrive from South Florida and UMass, respectively. The two will use their mounds of experience to help tutor forwards Justin Leathers and Josh Cleveland, who will be relied upon heavily on a roster where 6-7 sophomore wing Shaquille Hines is the tallest player on the team.
4) UMKC - Kareem Richardson arrives at the helm of the Kangaroos fresh off a national championship as a member of Rick Pitino's staff at Louisville, and has a new arrival in Bradley transfer Shayok Shayok, who sat out last season after departing Geno Ford's Braves team. Seniors Fred Chatmon and Nelson Kirksey have the potential to become a formidable inside/outside scoring duo, while senior forward Kirk Korver hopes to carve out his own legacy in the shadows of his older brothers Kyle and Kaleb.
5) Seattle - Following an 8-22 season, the Redhawks and head coach Cameron Dollar; who won a national championship in the backcourt for both Jim Harrick at UCLA, hopes for better results after going through all of last season without a double-figure scorer on his roster. Senior forward Clarence Trent, the leading producer offensively at 9.8 points per game, teams with sophomore Deshaun Sunderhaus to give Seattle a deceptively strong front line. Homegrown talent D'Vonne Pickett will enter this season as the starting point guard after the departure of Prince Obasi.
6) Idaho - The Vandals bid farewell to the WAC after this season, as they will be joining the Big Sky in 2014. In the meantime, senior forward Stephen Madison will be given the keys to the Idaho offense, with junior guard Connor Hill poised to improve on a second campaign in which he made 87 three-pointers.
7) Cal-Bakersfield - Competing in the WAC for the first time, the Roadrunners enter their new home off a 14-16 record as an independent team last year. Guards Brandon Barnes and Javante Maynor will be the lifelines for Bakersfield, and as they go, so too will the team. Senior forward Corey Hall could be a potential X-factor as well.
8) Utah Valley - Yet another team invading from the Great West, the Wolverines have a potential walking double-double in senior center Ben Aird, who averaged fifteen points and nine rebounds per game a year ago. Combo guard Holton Hunsaker, a junior from Salt Lake City, will be just as vital to the team at both spots in the backcourt.
9) Grand Canyon - Former Phoenix Suns swingman Dan Majerle ushers Grand Canyon into Division I after finishing 23-8 in Division II last season. Senior center Killian Larson will have his opportunities to be a key contributor, as he pairs up with junior guards Justin Foreman and Jerome Garrison.