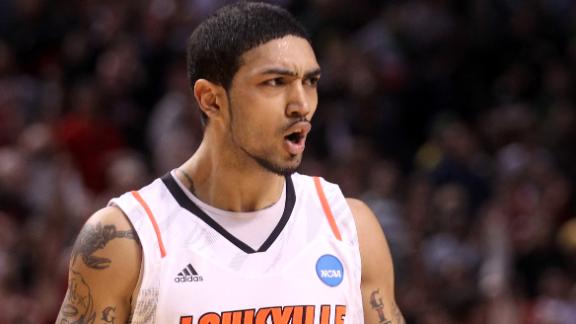 Fresh off Final Four run, Peyton Siva and Louisville return core of that team with national championship aspirations in mind. (Photo courtesy of ESPN)
After profiling a legitimate championship contender in Mike Brey and Notre Dame, next on the list is a reigning Final Four participant that is among the preseason favorites to cut down the nets as the national champions of the 2012-13 season.
Entering the NCAA Tournament as the No. 4 seed in the West regional, Louisville's road to a Final Four required the Cardinals to have to go through schools such as Michigan State and Florida on the way to New Orleans. Somehow or another, the bracket opened up for them after the upsets of Missouri and Marquette, coupled with Louisville's own upset win over Tom Izzo and Michigan State, to get Rick Pitino's Cardinals into the national semifinals against eventual champion Kentucky.
"Last year was the only time the (Kentucky) game mattered to me," a brutally honest Pitino bluntly stated. "It cost us the national championship."
The bad news is that Kentucky cost Louisville last year's national championship, but the good news is that this year's chances to be the centerpiece of "One Shining Moment" are even better, as Pitino has reloaded despite losing senior guards Kyle Kuric and Chris Smith. Point guard Peyton Siva, the preseason choice for Big East Player of the Year honors, returns for his final campaign following a junior season in which the Seattle native averaged over nine points and five assists per game. Siva will have several opportunities early and often to increase those offensive numbers, as Russ Smith will be in the starting lineup on a full-time basis for his junior campaign. Smith, the Cardinals' top returning scorer despite serving as the sixth man last season, averaged more than eleven points per contest in just 21 minutes.
Mike Marra will be out for the season once again after tearing his ACL in practice, but Louisville gains the services of George Mason transfer Luke Hancock on the wing this season, and the Virginian is already being hailed by his new coach as the key to the team. "He's something that we need desperately," remarked Pitino. "We got lucky because he was down to Virginia and us when he was going to transfer up." The Cardinals also have a healthy Wayne Blackshear to act as their second swingman as he enters his sophomore season, with the physically and defensively imposing duo of Gorgui Dieng and Chane Behanan back to anchor the efforts up front. Dieng, a Senegalese junior who Cincinnati coach Mick Cronin gave his preseason Player of the Year vote to, averaged over nine points and nine rebounds per contest while landing over three blocked shots a game as well; while Behanan, despite being a freshman in the Big East, managed over nine points and seven rebounds per night to go with a 51 percent shooting clip from the field. Incoming freshman Montrezl (pronounced Mon-TREZ for those of you scoring at home) Harrell should also see significant minutes inside for the Cardinals.
Louisville's first game of the season comes a little later than others, but it should be an intriguing matchup, as former Pitino assistant Steve Masiello leads MAAC favorite Manhattan into the Yum! Center on November 11th. Samford comes into Louisville four days later before the Cardinals head to the Bahamas to compete in the Battle 4 Atlantis, first against Northern iowa on November 22nd, with future opponents over the next two days to be determined. Home games against Miami University and Illinois State ensure before a true road game on December 4th against College of Charleston and new coach Doug Wojcik. UMKC makes their way into the Yum! Center four days later, with Louisville getting a week off after that to prepare for their annual showdown with Josh Pastner and Memphis, which this year takes place in the FedEx Forum on December 15th.
Four days later, Pitino entertains Florida International; now coached by his son Richard, at the Yum! Center before hitting the road on the 22nd of December to take on reigning Sun Belt Conference champion Western Kentucky. The Cardinals' final nonconference game of the season is a Final Four rematch against John Calipari and Kentucky at the Yum! Center on December 29th, and Louisville will open 2013 on January 2nd for Big East game number one, hosting Ed Cooley and Providence as they look to avenge a 31-point loss last season.
A road trip to Newark to take on Seton Hall January 9th is next on the ledger for Louisville, who hosts USF three days later. The Cardinals hit the road again immediately following for a January 14th collision with UConn at the XL Center, with Syracuse coming into Louisville for a January 19th matinee. A road trip to Philadelphia and the nation's capital follow, as Louisville takes on Villanova (January 22nd) and Georgetown (January 26th) before returning home to face Pittsburgh (January 28th) and Marquette. (February 3rd) From there, the Cardinals head to the RAC to face Rutgers on February 6th, with a trip to Notre Dame on deck three days later. The Cardinals return home briefly for a February 14th home date with St. John's, but will be back on the road for a February 17th matinee with USF in Tampa.
The Cardinals complete a home-and-home series with Seton Hall when Kevin Willard and the Pirates invade the Yum! Center on February 23rd, and Louisville's final road trip of the season is one that features two stops, first to DePaul on February 27th before heading to the Carrier Dome for the final time in Big East play when Pitino locks horns with Jim Boeheim and Syracuse on March 2nd. Louisville plays its final two regular season games at home, with Cincinnati making their way into the Yum! Center on March 4th, with Notre Dame following suit on the 9th.