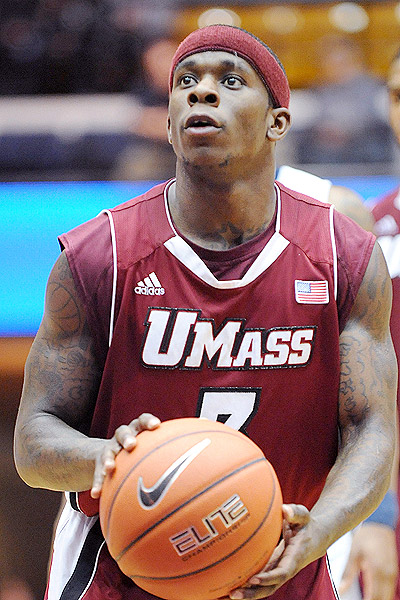 Fresh off NIT semifinal appearance last year, Chaz Williams and UMass have sights set on greater success in deeper and stronger Atlantic 10. (Photo courtesy of ESPN)
The Atlantic 10 made a splash last year when they announced the impending migration of its conference championship to the Barclays Center in Brooklyn from its previous location in Atlantic City. This past summer, the league added to its successful year with the addition of Butler and Virginia Commonwealth, both of whom were Final Four participants in 2011. With a 16-team membership that matches the Big East, the A-10 will be more than just a flash in the pan in the home of what has been described as the best conference in basketball. Hey, it just might even be better, as more than half of its programs are serious postseason contenders. Here's how we see the conference shaping out:
1) Saint Joseph's - Phil Martelli's Hawks return all five starters from a 20-win team that made an appearance in the NIT last season, and should be a Top 25 program to start the season. In fact, St. Joe's actually brings everyone back from last season, including their bench, and will only lose one of their starters after this season as they look to start a dynasty in Philadelphia reminiscent of their storybook 2004 campaign that ended in the Elite Eight. Carl "Tay" Jones is the fourth-year player, and was the Hawks' leading scorer last season, averaging seventeen points per game. Joining him in the backcourt will be junior Langston Galloway, whose 47 percent shooting clip from three-point range led the Atlantic 10 by a considerable margin. Swingmen Daryus Quarles and Ronald Roberts, the latter a former St. John's commit who was named Sixth Man of the Year in the A-10 last season with an average of nearly eleven points per game, will both see significant playing time on the wing while C.J. Aiken and former Hofstra transfer Halil Kanacevic anchor the Hawks up front. Aiken's average of more than three blocked shots per contest was good enough to lead the conference, while Kanacevic stepped up his rebounding efforts in league play, ripping down an average of ten boards per night to raise his totals to just over eight per game on the season. Sophomore guard Chris Wilson is back for his second year as an integral part of the rotation following a rookie campaign where he played an average of twenty minutes per contest.
2) Massachusetts - Much like Saint Joseph's ahead of them, the Minutemen are coming off an NIT appearance, (UMass advanced to the NIT semifinals at Madison Square Garden) return most of last year's roster, and also have a Hofstra transfer acting as one of the key players in their rotation. Other than that, the similarities for Derek Kellogg's group to the Hawks or any other team in the A-10 come few and far between. Leading the charge for the Minutemen is the aforementioned Hofstra transfer, point guard Chaz Williams, who averaged over six assists to go with a scoring punch that saw him chip in nearly seventeen points per game. Philadelphia native Jesse Morgan, a one-time Bobby Gonzalez signee at Seton Hall, should have a breakout senior campaign after his performance down the stretch helped UMass reach the NIT semis. Wings Terrell Vinson and Raphiael Putney should give the Minutemen a unique and advantageous look up front, while Sampson Carter and 6-9 sophomore Cady Lalanne return for a full season in an attempt to fill the void left by Sean Carter. Swingmen Freddie Riley and Javorn Farrell will anchor UMass' bench in their senior seasons while also seeing considerable minutes on the floor.
3) VCU - Shaka Smart and the Rams arrive in their new conference with a brand name and history that instantly catapults them to the top of the league. The good news in Richmond is that the best is yet to come for the program synonymous with the "Havoc" defense, which enters its second season as a major piece of the VCU puzzle. Of the Rams' 31 regular-season games, they will play only one opponent twice, that being intra-city rival Richmond. Expect to see equal doses of Darius Theus and Briante Weber this season, as Smart insists that both will be on the court together many times this year as opposed to alternating one with the other at the point. The guard-heavy Rams also return senior Troy Daniels and junior Rob Brandenberg to a rotation that includes second-year swingman Treveon Graham and freshman Melvin Johnson, who picked VCU over Jim Larranaga and the University of Miami. In Smart's own words, VCU does not have a guard who will not play this year. In addition to creating matchup problems with what could be the deepest backcourt in the nation, the Rams retain the services of Juvonte Reddic at the power forward position alongside seven-foot center D.J. Haley on a roster that only needs to replace one major piece in Bradford Burgess.
4) Saint Louis - The Billikens will probably finish higher than this prediction thanks to what Saint Louis brings back, but the jury is still out on how well interim coach Jim Crews can replace the charisma and brilliant genius of Rick Majerus; who will miss the season due to medical reasons, until he can prove he is effective after more than a few games. Four starters return for Saint Louis, headlined by senior point guard Kwamain Mitchell. The loss of leading scorer Brian Conklin looks difficult for the Billikens to replace on paper, but big men Cody Ellis and Rob Loe; along with swingman Dwayne Evans, should have ample opportunities to increase their offensive productivity while simultaneously returning to anchor a defense that finished the year ranked eighth in the nation, yielding just 58 points per game on average. Junior guard Jordair Jett should be on the precipice of a breakout season on the heels of a sophomore campaign that saw him average six points in just 22 minutes per game.
5) Temple - Fran Dunphy and the Owls leave the A-10 after this season in favor of the Big East, but return three starters to a team that should still be able to contend for an NCAA Tournament berth in their last season of Atlantic 10 play. In addition to forwards Anthony Lee and Rahlir Hollis-Jefferson, Scootie Randall returns from a medical redshirt that cost him last season to an Owls team that will be heavily dependent upon senior Khalif Wyatt to carry the backcourt while sophomore Will Cummings and freshman Quenton DeCosey mature and develop. On the bench, incoming freshman Daniel Dingle and West Virginia transfer Dalton Pepper will make Temple a longer and much more athletic team that will be difficult to guard in transition.
6) La Salle - Dr. John Giannini returns four starters to a team that could very easily finish much higher after an NIT appearance last season. Former Rutgers transfer Earl Pettis is the only player the Explorers do not bring back into the starting five, and Devon White has since transferred to Niagara. La Salle's backcourt trio of Ramon Galloway, Tyreek Duren and Sam Mills all return intact, along with forward Jerrell Wright, to a team with strong local flavor. Four players on the Explorers' roster hail from Philadelphia, including Galloway, Duren and Wright. Virginia Tech transfer Tyrone Garland, who should also see significant playing time in the backcourt, is the fourth Philly native on a squad that will look to 6-11 Steve Zack and redshirt freshman Rohan Brown to step up on an undersized front line.
7) Butler - Brad Stevens brings two national championship game appearances and experience far beyond his 36 years to the A-10 from the Horizon League, and returns mostly all of his bench in addition to four starters as the Bulldogs join their new league. Arkansas transfer Rotnei Clarke will instantly provide greater credibility to a backcourt that retains the services of Chrishawn Hopkins and Chase Stigall, the latter of which saw playing time in both of Butler's championship game appearances against Duke and Connecticut. Roosevelt Jones and Khyle Marshall are back up front to provide the Bulldogs with a mix of scoring and rebounding alongside 6-11 senior Andrew Smith, who was Butler's leading scorer last season. Sophomore wing Kameron Woods should see increased opportunities while anchoring Stevens' bench.
8) Dayton - Archie Miller's Flyers lose Chris Johnson and Paul Williams, but senior point guard Kevin Dillard just might be the best player in the conference, and definitely one of the best that the casual fan has probably never heard of. Georgetown transfer Vee Sanford will most likely be his running mate in the backcourt, but Dayton's strength lies within its frontcourt. After missing most of last season due to injury, 6-9 senior Josh Benson is back for a full season up front after fully recovering from a torn ACL. Matt Kavanaugh is back for his final season as well, and enters it as the Flyers' top returning rebounder. Swingman Devin Oliver should make more of an impact in his junior season as his share of playing time increases.
9) Richmond - Three starters return for Chris Mooney and the Spiders as they begin their second season removed from the Midwest regional semifinals. Fortunately for Mooney, those three starters are double-figure scorers Darien Brothers, Derrick Williams and Cedrick Lindsay. Brothers, the Spiders' leading scorer last year, returns his 38 percent shooting percentage to the backcourt, where 5-8 sharpshooter Kendall Anthony will likely join him off the ball after a Rookie of the Year award-winning freshman campaign. Lindsay will anchor the trio from the point, where he averaged close to four assists per contest a year ago while also scoring over eleven points per game. Williams, a bruising 6-6 power forward who played for Bob Hurley at St. Anthony's in Jersey City, will lead a front line that will expect great things from 6-9 redshirt freshman Alonzo Nelson-Ododa, who made headlines with a since-deleted tweet that proclaimed Richmond would defeat Butler, Saint Louis and VCU among others.
10) Xavier - The Musketeers have not had this difficult a challenge in recent years, but Chris Mack should not have a hard time maintaining the status quo of success at one of the nation's most recognized mid-majors. Following the graduation of Tu Holloway, Andre Walker and Kenny Frease, coupled with the transfers of Mark Lyons and Dez Wells, Xavier will have a completely new starting lineup this season. Former Monmouth transfer Travis Taylor now becomes the Musketeers' primary option alongside senior Jeff Robinson up front. Senior Brad Redford will anchor the backcourt now that he is healthy entering his fourth campaign in Cincinnati, and will likely have homegrown talent Semaj Christon as his running mate. Xavier's X-factor could be sophomore swingman Justin Martin, who blossomed with increased playing time in the aftermath of last year's Crosstown Shootout.
11) St. Bonaventure - The Bonnies shocked the conference during their run to a league championship and near-upset of Florida State in the NCAA Tournament, and Mark Schmidt's team will now brace itself for life without all-world forward Andrew Nicholson, a first-round selection of the Orlando Magic in last June's NBA Draft. Senior Demitrius Conger is the Bonnies' top returning scorer, and will be the face of a team whose backcourt is arguably one of the better ones in the conference. Junior Charlon Kloof will be the incumbent point guard alongside a trio of shooters in Eric Mosley and Canadians Chris Johnson and Matthew Wright, the former of which shot 40 percent from three-point range last season. In Nicholson's absence, expect 6-11 center Youssou Ndoye to see more playing time in his sophomore season.
12) Fordham - If ever there was a year for Tom Pecora and the Rams to break through and move closer to the top half of the A-10, this is it. Forward Kervin Bristol and shooting guard Alberto Estwick have graduated, but Fordham returns bigger, stronger and deeper than last year's team that just missed a spot in the conference tournament. First team all-A-10 forward Chris Gaston returns as the double-double machine who strikes fear in the eyes of his opponents, and Pecora is banking on him to be an "exceptional leader" in his senior season. A handful of big men, including Travion Leonard and Ryan Rhoomes if he is eligible, will join Gaston up front while Branden Frazier leads the backcourt going into his junior campaign. Fellow Brooklyn guards Devon "Fatty" McMillan and Bryan Smith will take their productive freshman seasons with them into their sophomore years, and Jeff Short will join them in the Fordham backcourt. Described by Pecora as an X-factor, Short could play alongside his three backcourt partners to give the Rams a "four quick look" that Pecora's mentor Jay Wright honed to perfection in recent years at Hofstra and Villanova.
13) George Washington - Second-year coach Mike Lonergan loses point guard Tony Taylor, but welcomes three starters back for the Colonials this year. Senior guard Lasan Kromah becomes the de facto team leader following a junior campaign that saw him average over eleven points per game. Kromah and Bryan Bynes will most likely be the backcourt starters for the Colonials, who also return forwards Nemanja Mikic and Dwayne Smith to a team where former sixth man David Pellom will be in position to land a starting spot this year. Lonergan also welcomes Isaiah Armwood into the fold, as the former Montrose Christian product has one year of eligibility remaining after leaving Villanova last season.
14) Charlotte - The 49ers will make their return to Conference USA at the end of the season, but coach Alan Major will attempt to reach the A-10 Tournament before doing so. Senior forward Chris Braswell, Charlotte's leading scorer and rebounder last season, could be a double-double per night player, while combo guard DeMario Mayfield's rebounding prowess (he averaged seven boards per game last year) is second to none. Point guard Pierria Henry will be the focal point for Charlotte as he will see his offensive numbers increase. The 49ers also welcome sixth-year senior J.T. Thompson back to the court after transferring from Virginia Tech and missing each of the last two seasons with separate tears in each ACL.
15) Rhode Island - Dan Hurley will guide the Rams to better results than expected in his initial year at the helm, and will almost certainly have URI in postseason contention next season, but the adjustment will be all the more difficult with an eight-man rotation to start the year. Seniors Andre Malone and Nikola Malesevic will be integral parts of Hurley's team and game plan early and often. Fellow senior Ryan Brooks is back as well after missing most of the season last year to focus on academics, and will serve as a mentor to incoming freshmen Jordan Hare and Mike Aaman up front. Sophomore point guard Mike Powell could be one of the Rams' leading scorers this season as he teams with Malone and T.J. Buchanan in the backcourt. Still a work in progress, the Rhode Island frontcourt will improve next year with the additions of Rice transfer Jarelle Reischel and Rutgers expatriate Gilvydas Biruta.
16) Duquesne - The Dukes start a new era as well after former LIU Brooklyn coach Jim Ferry has replaced Ron Everhart, and will usher in the new regime without homegrown point guard T.J. McConnell, who transferred to Arizona. Shooting guard Sean Johnson returns for his final campaign on the heels of a junior year where he averaged over thirteen points per game and shot 37 percent from three-point range. Forward Andre Marhold may see some minutes at center despite his 6-7 size as Ferry builds his new program from the ground up. It won't be easy, but the Dukes will be much better over the next couple of years, and will gain valuable experience this season for the road ahead.