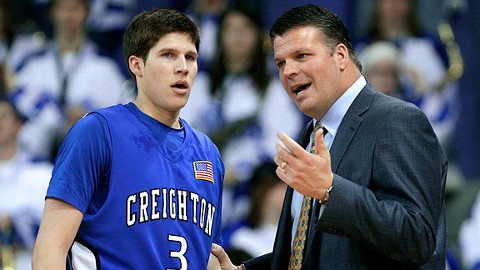 Back for his junior season, reigning Missouri Valley Player of the Year Doug McDermott will attempt to lead Creighton and his father Greg back to NCAA Tournament. (Photo courtesy of ESPN)
At long last, it's conference preview time.
Due to greater broadcasting commitments than in years past, this year will not feature the "30 In 30" series that was actually a big hit in the buildup to last season. However, there will still be some in-depth profiles on this site, starting now with the league that; although I can only follow in a somewhat limited capacity since I am based in New York, I am nonetheless a huge fan of.
For pure basketball fans, there is simply nothing like a Missouri Valley Conference game. Every battle in the Valley is a knock-down, drag-out war that is usually contested to a sellout crowd, and the principles on the court never hold anything back in their efforts to win. In an area where college hoops is all that some fans may have, nothing truly compares to the Valley. If you have the chance to watch any of the ten teams listed below on their road to "Arch Madness" in St. Louis, please capitalize on it. I promise you, you will not be disappointed. Now, without any further ado, I give you my take on the order of finish in the Valley this season.
1) Creighton - Greg McDermott's Blue Jays won the Valley last season when Wichita State was eliminated in the Arch Madness semifinals, and everyone except point guard Antoine Young; who graduated, is back to attempt to deliver a second consecutive championship to Omaha. Even casual fans will recognize the presence of McDermott's son Doug, who enters his junior season as Creighton's small forward, spark plug, and best player in the conference. All Doug did last season was average nearly 23 points and over eight rebounds per contest while shooting a staggering 60 percent from the field and 49 percent from three-point range. Former Rutgers transfer Gregory Echenique joins him up front to build off a campaign in which the Venezuelan came close to averaging ten points per game while also grabbing seven rebounds a night. Another former transfer, Grant Gibbs, will replace Young at the point following a season in which he averaged five assists per game in his first action since arriving from Gonzaga. Sharpshooter Jahenns Manigat will be his backcourt partner once again, and his 47 percent shooting clip from beyond the arc will be an integral part of Greg McDermott's game plan. Ethan Wragge will now step into the starting lineup full time with Young having graduated, giving the Blue Jays more of a conventional look. In just sixteen minutes per game last year, Wragge still averaged over six points per game and shot 41 percent from long distance. His presence as the swingman will also enable Doug McDermott to increase his rebounding totals inside and potentially average a double-double in the upcoming season. Creighton only loses Echenique and Gibbs from their rotation after this year, so a run at a three-peat is not out of the question if they can get through the Valley again this time around.
2) Illinois State - The Redbirds, who lost to Creighton in the Arch Madness championship game last season, have a new coach; as Dan Muller takes over following the departure of Tim Jankovich to serve as coach-in-waiting to Larry Brown at SMU, but that is probably the only thing new about a team that returns most of last year's rotation. Muller returns to the school he led into the NCAA Tournament as a player following a tenure on the bench at Vanderbilt as an assistant to former Redbirds coach Kevin Stallings, and inherits a man who could possibly have the biggest breakout season in the nation, senior guard Tyler Brown. Brown's performance down the stretch a year ago, where he seemingly kicked his game into another gear on the way to an NIT appearance, gives the Redbirds a complement to the double-double average that Jackie Carmichael brings back to the team for his senior campaign. Point guard Nic Moore may have departed, but Illinois State has a competent replacement waiting in the wings in the form of senior Anthony Cousin, who racked up 82 assists on the year while only playing 26 minutes per game. Jon Ekey and John Wilkins also return for the Redbirds up front, and their rebound opportunities are sure to increase as they see time with Carmichael inside. Junior guard Bryant Allen and 6-10 sophomore Jordan Threloff will also see an increased share of playing time, and could be unsung heroes in the Redbird rotation.
3) Northern Iowa - This could be a bold pick for Ben Jacobson and the Panthers, but on the heels of an NIT appearance in which they nearly defeated Drexel in a hostile road environment, UNI brings back most of last year's roster in an attempt to return to the NCAA Tournament for the first time since their magical trip to the Sweet 16 in 2010. Johnny Moran is no longer around after having graduated, but Anthony James returns to anchor the backcourt in his senior season following a junior campaign in which he was the Panthers' leading scorer and only player to average double figures in scoring. James will be joined by senior sharpshooter Marc Sonnen, who will look to improve on a junior season that featured the Minnesota native shooting 45 percent from beyond the arc. In Moran's absence, sophomore Deon Mitchell will likely see the bulk of the remaining minutes as UNI's third guard on the heels of a rookie season where the Texan averaged seven points per game in just twenty minutes. Up front, the Panthers will start a combination of youth and experience in sophomore Seth Tuttle and senior Jake Koch. Tuttle was a pleasant surprise for UNI last season, shooting an astounding 65 percent from the field to complement impressive (for a freshman) averages of nearly ten points and six rebounds per game. His frontcourt partner Koch returns for one more round as the Panthers' best all-around player, one whose defense is second to none. Not many 6-9 power forwards can average both a steal AND a block per game, but Koch was able to do that last year, while also backing it up offensively to the tune of eight points and five rebounds per contest. Chip Rank and Matt Morrison return as the sixth and seventh men for the Panthers, with 6-10 senior Austin Pehl also looking to work his way into the rotation on a regular basis.
4) Evansville - Marty Simmons' Purple Aces look to remain in the upper echelon of the Valley, but they will have to do it without Kenny Harris and Denver Holmes, both of whom graduated this past May. However, Evansville still has first team all-Valley swingman Colt Ryan for one more season. After a junior campaign in which he averaged 20.5 points per game, Ryan enters his final season just 642 points away from becoming Evansville's all-time leading scorer, a milestone that is well within reach if he maintains his average from a year ago. The 6-5 senior will almost certainly eclipse the 2,000-point plateau no matter what, as he stands just 406 markers shy of that distinction. Ned Cox will help replace Harris following a junior year in which he was named the Valley's Sixth Man of the Year. Lewis Jones will also be an integral part of the backcourt in the absence of Holmes. The Purple Aces are still somewhat undersized, but sophomore Ryan Sawvell will be one of the more improved players up front in the conference as he enters his second season following a rookie year highlighted by a spot on the Valley's All-Freshman team. Redshirt freshman Jaylon Moore and 6-8 newcomer David Howard will compete for playing time up front in a lineup that also brings back senior guard Troy Taylor and sophomore swingman Jordan Jahr, a medical redshirt who was limited to just eight games in an injury-riddled campaign a year ago.
5) Wichita State - Gregg Marshall, who won his 300th game last season while guiding the Shockers to the NCAA Tournament; where they lost a heartbreaking opening round game to Shaka Smart and VCU, has a hard act to follow with essentially new personnel and another solid nonconference schedule to open the season. Gone are each of the Shockers' top five leading scorers, but Marshall still has the services of senior Carl Hall up front. Hall averaged eight points per game in just 22 minutes, but shot an impressive 57 percent from the field in his first season at the Division I level. Senior guard Demetric Williams has even bigger shoes to fill as he takes over for Joe Ragland at the point, but Williams demonstrated his ability to handle the position last year by averaging over two assists per game in limited action. Tekele Cotton will also see increased playing time in the backcourt, and 6-8 sophomore Jake White could also get significant minutes. Just as he did last year, Marshall has reloaded the Shockers with several junior college transfers poised to make an impact, and atop that list this year is Cleanthony Early, a 6-8 junior from upstate New York that should help close the gap inside following the graduation of seven-footer Garrett Stutz.
6) Missouri State - Paul Lusk did an admirable job in his first season at the helm of the Bears, winning sixteen games with a team that graduated most of its impact players from the 2010-11 season that saw former coach Cuonzo Martin win a regular season Valley crown before replacing Bruce Pearl at Tennessee. This season becomes a little harder in Springfield following the graduation of former Valley Player of the Year Kyle Weems and 6-11 Caleb Patterson, but the Bears have arguably one of the better backcourt trios in the conference. Anchoring the troika is senior Anthony Downing, who will step into the point guard slot following the graduation of Michael Bizoukas. Despite only starting half the season, Downing still found a way to average eleven points per game, and is Missouri State's top returning scorer. Junior Keith Pickens returns alongside him as well, and is still looking to show that he is 100 percent following a season where he recovered from injuries to shoot 48 percent from the field. Jarmar Gulley is the third, and possibly most potent of the three guards, as he comes into his sophomore season on the heels of a rookie campaign that saw him rack up ten points and nearly six rebounds per game as the Bears' swingman. Christian Kirk and Nathan Scheer will be just as important to an undersized Missouri State team that will look to get key minutes out of 6-10 freshman center Bruce Marshall, who leads a group of several first-year frontcourt players.
7) Bradley - Geno Ford won seven games in his first year at the helm of the Braves, but returns most of last year's group in an attempt to move up the Valley ladder. Taylor Brown has departed, but Walt Lemon Jr. and Dyricus Simms-Edwards return to lead Bradley's attack from the backcourt. Joining them will likely be Jake Eastman, a 6-5 senior swingman who should pick up Brown's spot in the lineup. Inside for the Braves, Jordan Prosser returns for his junior season, and the 6-9 forward could be on his way to averaging a double-double on the season. Canadian sophomore Shayok Shayok is back as well, and will see more opportunities to increase his offensive productivity in a frontcourt that also welcomes back Will Egolf, a sixth-year senior who missed last season with a torn ACL. Jalen Crawford, a Detroit shooting guard who is the younger brother of former Xavier standout and NBA first-round draft pick Jordan Crawford, could be the Braves' X-factor off the bench as he enters his sophomore season.
8) Drake - The Bulldogs may be returning a good portion of last year's team, but the heart and soul of Mark Phelps' offense is gone now that Rayvonte Rice has transferred to Illinois, becoming the second consecutive Valley player to depart for the Illini after Sam Maniscalco did it last season. Drake will be more reliant on their frontcourt now that Rice has departed, with senior forward Ben Simons leading the charge after averaging over sixteen points per game a year ago. Simons also picks up the returning Seth VanDeest, who is back from injury to give the Bulldogs an immediate size advantage with his 6-11 presence. Sophomore swingman Jeremy Jeffers could be the surprise star in the rotation following a rookie season where he lit it up from long range, averaging 43 percent from three-point land. Jordan Clarke will return up front as well on the heels of a year where the senior averaged seven rebounds per game. In the backcourt for the Bulldogs, sophomore Karl Madison is the incumbent point guard; and with Rice no longer around, expect the 5-9 dynamo to get more scoring opportunities. Utah transfer Chris Hines will be able to play immediately, joining Madison after having graduated last season and still retaining a year of eligibility with the Utes. As a redshirt junior last year, Hines averaged just under ten points per game for Utah, and drained 66 three-pointers on the year.
9) Southern Illinois - The Salukis join Illinois State as the only Valley programs to make coaching changes in the offseason, as former Missouri State head man Barry Hinson takes over for Chris Lowery, who resurfaced as an assistant to former boss Bruce Weber at Kansas State. Southern Illinois will look to recapture some of their past magic this year with two seniors leading them, guards Jeff Early and Kendal Brown-Surles. Brown-Surles will be the de facto point guard, while Early looks to build off a junior season in which he shot 45 percent from the field. Sharpshooter T.J. Lindsay, a former junior college teammate of Early, completes the backcourt as he enters his senior season on the heels of a 36 percent clip from three-point range in his junior campaign. With Mamadou Seck having graduated, Dantiel Daniels will become even more critical to the Salukis' success following a rookie season where he shot 57 percent from the field and led the team with 46 blocked shots. Junior Davante Drinkard is just as important to Southern Illinois' frontcourt, as he returns for a full season after being limited to just fifteen games due to a foot injury.
10) Indiana State - The Sycamores demonstrate the unpredictability of the Valley. Just two years ago, Greg Lansing cut down the nets in St. Louis as a rookie head coach. Now, the third-year head man enters arguably his most daunting task yet following the graduation of four of his five leading scorers, including Carl Richard and Dwayne Lathan. Fortunately, point guard Jake Odum is still around, and will be next year as well since he is a junior. One of the key cogs on the Sycamores' championship run as a freshman, Odum averaged nearly eleven points, six rebounds and five assists last season, and will be the center of attention offensively. Junior forward RJ Mahurin becomes the second option now in the absence of Richard and Myles Walker, and brings an ability to score into the Indiana State lineup. In just sixteen minutes per game last season, Mahurin averaged seven points per game and shot a respectable 34 percent from three-point range. Guard Lucas Eitel will join Odum in the backcourt as the starting shooting guard following a sophomore season where he knocked down 21 trifectas in just thirteen minutes per contest. Big men Justin Gant and Jake Kitchell, who averaged a combined seventeen minutes per game for the Sycamores last season, will see increased minutes on a roster that welcomes five freshmen into the fold.