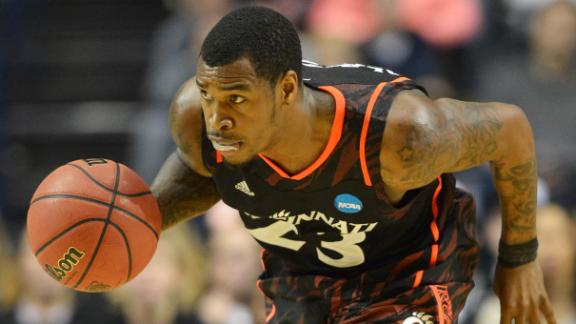 Cincinnati's Sean Kilpatrick enters his junior season with a great shot at Big East Player of the Year honors. (Photo courtesy of ESPN)
One day removed from analyzing how Buzz Williams will reload at Marquette, next up in our profile of the Big East is another of its Sweet 16 participants, this one with the potential conference Player of the Year.
The University of Cincinnati is finally back among the national elite after a long period away from the spotlight. Following the departure of Bob Huggins, the Bearcats were rebuilt from the ground up as head coach Mick Cronin inherited just one scholarship player the day he was hired in 2006. Six years later, Cronin has guided his alma mater and hometown program into a respected institution that is coming off two straight 20-win seasons and NCAA Tournament appearances, the latter of which culminated with a trip to the East regional semifinals in Boston last March.
"For me, it's special," Cronin said of the Cincinnati resurgence that he has been proud to spearhead during his tenure. "There's a great responsibility on my shoulders to resurrect the program."
Junior guard Sean Kilpatrick is a big reason why. In his second season as the Bearcats' go-to guy, the White Plains native averaged over fourteen points per game and shot 38 percent from three point range, and should threaten to score close to twenty per contest this year following an offseason in which his already incredible work ethic has again resurfaced. "He really improved since he came here," said Cronin of his all-Big East shooting guard. "His work ethic is what separates him."
Kilpatrick will once again have Cashmere Wright as a backcourt running mate as the Cincinnati point guard enters his senior season, and JaQuon Parker; who Cronin said was the key for the Bearcats while fighting injuries and the aftermath of the Crosstown Shootout against Xavier last season, will play a more natural guard position following the graduation of Dion Dixon. Up front, Yancy Gates has departed as well after four years, but Cincinnati is in great position inside without him, with Justin Jackson and Cheikh Mbodj back to anchor a front line that welcomes back Jermaine Sanders for his sophomore campaign while also introducing redshirt freshman Shaquille Thomas and junior college transfer Titus Rubles into the fold.
Cincinnati opens its season at the Fifth Third Arena on November 11th against Tennessee-Martin, with reigning SWAC champion Mississippi Valley State making their way in two days later. North Carolina A&T and Campbell come into Cincinnati after that before the Bearcats invade Las Vegas to face Iowa State and either Oregon or UNLV in the Global Sports Invitational. Following the excursion to Sin City, Anthony Grant and Alabama come to the Ed Jucker Court at Fifth Third on December 1st for their SEC/Big East Challenge matchup, with Arkansas-Little Rock and Maryland-Eastern Shore coming in for nonconference home games as well. The Bearcats' first true road game will come at Marshall on December 15th, with the Crosstown Shootout to be played four nights later on a neutral site at the US Bank Arena. Home games with Wright State and New Mexico take Cincinnati into their Big East opener, which will be contested at the Petersen Center in a New Year's Eve matinee with Jamie Dixon and Pittsburgh.
Home games with St. John's (January 5th) and Notre Dame (January 7th) open 2013 for the Bearcats, who travel to the RAC on January 12th to meet Mike Rice and Rutgers before remaining on the road to square off against DePaul on the 15th of the month. Cincinnati's final trip to the Carrier Dome in Big East play will come on January 21st against Syracuse, and it is sandwiched in between home games with Marquette two days prior and Rutgers on January 30th. The Bearcats start the month of February with two on the road, first against Seton Hall (February 2nd) before traveling to Rhode Island to meet Ed Cooley and Providence on February 6th.
Three consecutive home games follow for Cincinnati, with Pitt, (February 9th) Villanova (February 12th) and Georgetown (February 15th) all invading the Fifth Third Arena before a road trip to UConn on the 21st and then to Notre Dame three days later. Kevin Ollie and the Huskies come to Cincinnati on March 2nd to complete a home-and-home series before the Bearcats travel to Louisville two days later. The Bearcats conclude the regular season at home on March 9th when they welcome Stan Heath and USF to Fifth Third.