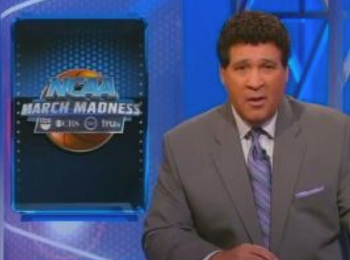 For one hour, Greg Gumbel is once again center of attention as he reveals 68-team field for 2013 NCAA Tournament. (Photo courtesy of Bleacher Report)
This weekend, I decided to cover Selection Sunday a little differently this season. Rather than join the masses on Twitter, I opted instead to do a running diary a la ESPN's Bill Simmons, much as I had for last year's NBA Draft. Without further ado, here we go:
6:00 - Gumbel introduces his supporting cast, and announces the first mild surprise of the night, which is Louisville earning the No. 1 overall seed, as Cardinals head coach Rick Pitino boldly predicted they would after winning the Big East championship last night over Syracuse.
6:02 - Louisville takes on either North Carolina A&T or Liberty in the Midwest regional.
6:03 - Colorado State and Missouri could be a really exciting 8/9 game.
6:04 - Oregon over Oklahoma State is a 5/12 upset a lot of people are going to pick.
6:05 - Saint Louis deserved their No. 4 seed in the Midwest, and opens with New Mexico State.
6:06 - No surprise Duke opens in Philadelphia, but the Creighton/Cincinnati matchup in the City of Brotherly Love is a phenomenal first-round matchup that pits one of my favorite players in Doug McDermott against one of my favorite coaches in Mick Cronin.
6:07 - Michigan State gets to play close to home, but may have to go through Duke in the Midwest regional semifinals if they get that far. As a Spartans fan, I'm pleased with their draw to start off, having to go through Valparaiso and then the winner of Memphis versus Middle Tennessee State or Saint Mary's.
6:08 - Speaking of that First Four matchup, great call by the committee getting both of those teams in. Middle Tennessee pretty much locked up an at-large when Florida International beat them in the Sun Belt semifinals by virtue of their stellar RPI and nonconference schedule, while Saint Mary's deserved an at-large because of their equally impressive resume, which was downgraded in the eyes of most even before their third loss to likely No. 1 seed Gonzaga.
6:10 - The Turner-influenced graphics are already preparing me for my annual rant against the decision to ditch the simplicity and authentic feel of the CBS broadcast in favor of the almighty dollar and multiple network viewing.
6:11 - Here's the South regional announcement, where Kansas picks up the second No. 1 seed, a bit of a shock considering Indiana was considered for first overall.
6:13 - North Carolina gets an 8 seed, which doesn't surprise me. Their matchup with Villanova, a rematch of their 2009 regional semifinal encounter, does. Looking forward to a great battle of the freshman point guards here, as Marcus Paige matches wits with Ryan Arcidiacono.
6:14 - GEORGETOWN DID NOT DESERVE A 2 SEED. This likely means New Mexico, who could very well have landed a No. 1 seed, probably gets bumped to the 3 line even though they won the strongest league in the country.
6:16 - This is one strong regional. Kansas taking on either Carolina or Villanova in the second round, with a potential VCU/Michigan matchup that would put Trey Burke into the lion's den against Shaka Smart and the Rams' "Havoc" defense also in the round of 32.
6:20 - Indiana lands the third top seed and heads to the East regional. No surprise there.
6:22 - Greg Gumbel reads Butler when the screen says Miami. Looks like he's swimming in barbecue sauce already.
6:23 - Surprised to see Marquette get a 3, but I love their matchup with Davidson.
6:25 - Bucknell getting an 11 is a shock. Their matchup with Brad Stevens and Butler on Thursday in Lexington could be an even bigger one.
6:26 - Looking at the first three regionals, I only see about two or three instances that Sports Illustrated's Andy Glockner, who has been of great help to me over the years with bracket advice and his "Bubble Watch" columns, would consider to be "mid on mid violence," which occurs when a mid-major plays another mid-major. Aside from the Memphis/Middle Tennessee-Saint Mary's, VCU/Akron and Butler/Bucknell games, it seems like committee chairman Mike Bobinski did a great job avoiding these scenarios.
6:28 - Time to reveal the final No. 1 seed. Will it be Gonzaga or New Mexico? As good as Los Lobos were when winning the Mountain West, I don't think the Zags will be denied.
6:29 - Gonzaga gets the final top seed. No surprise.
6:33 - So much for avoiding "mid on mid violence," as we get a Pittsburgh/Wichita State 8/9 matchup, which means the Shockers will more than likely get Gonzaga if they defeat Pitt.
6:34 - Wisconsin and Kansas State can potentially meet one another in the NCAA Tournament yet again. I think it's the third year in a row where they're in the same regional, but someone might want to get back to me on that.
6:35 - IONA GETTING A 15 IS CRIMINAL. With all due respect to Valparaiso and Northwestern State, the Gaels have a better resume, and should be a 14 seed.
6:36 - Speaking of 14 seeds, Harvard meeting New Mexico is a perfect example of mid-major crime. Los Lobos should be a 2 seed since they have the second-best RPI in the nation.
6:37 - Looking back at the bracket, I achieved my best result ever by getting 67 of the 68 teams right. My only miss this year was Boise State, as I had them out in favor of Maryland, who I put in based on their two wins over Duke and close loss to North Carolina in yesterday's ACC semifinals.
6:39 - I look over and I see four bids out of the Mountain West. Friend of the site David Rochford, who finally converted me into a MWC fan this January, will be extremely pleased to see this.
6:40 - Back to the Gaels if I may: The fact that they're in Dayton is actually somewhat favorable, especially since fellow local LIU Brooklyn is there as well for the First Four. The possibility of me going out there exists. Just have to price the trip.
6:41 - And now the analysis begins. Mike Bobinski reveals that Indiana was the much-publicized "lock" for a top seed, as well they should have been. I want to hear this guy's justification for Georgetown once again getting preferential treatment they did not deserve. Why? Because they play in the Big East and New Mexico doesn't? Come on now.
6:43 - Seth Davis wants to know how Middle Tennessee is in the field. Ummm, because they're good, Seth. You more than anyone should recognize this.
6:44 - With John Calipari and Kentucky becoming the second reigning national champion in four years to not have a chance to defend their title, (North Carolina missed the then-field of 65 in 2010 after winning it all the year before) I'm actually looking forward to seeing how the NIT ends up.
6:47 - Here's where the fun gets underway, as I try to make sense of all these matchups. I'll have predictions in an upcoming post, and I'll try to make it into a roundtable this year because that really sounds interesting.
So there you have it. Good luck to all in your office pools, and may the best team win. Unless it's a school from the nation's capital, of course!
Until next time, my friends.