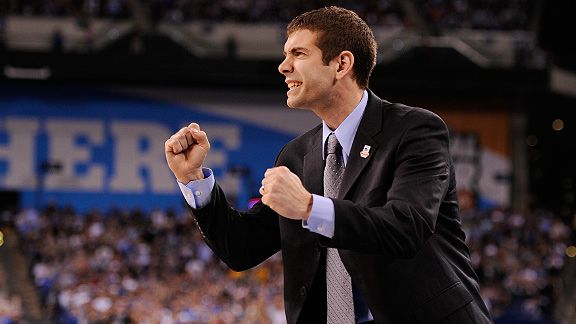 Brad Stevens and Butler win Atlantic 10 Tournament debut, holding off Dayton thanks to ten Bulldog three-pointers. (Photo courtesy of ESPN)
Butler will live to fight another day.
Trailing by four early in the second half, the Bulldogs got three consecutive three-pointers on a day where the team shot 42 percent (10-for-24) from beyond the arc to retake the lead and hold off an upset-minded Dayton team by the final of 73-67 at the Barclays Center.
"That got us stabilized and gave us great belief," Butler coach Brad Stevens said after the game. "I knew it was going to be a great game. Dayton's a really efficient team, they've been in the top 30 in offense since the last time we played them."
The Bulldogs were led by Rotnei Clarke's six three-pointers and 21 points on the day, which led all scorers. Andrew Smith added 18 for Butler, while swingmen Khyle Marshall and Kellen Dunham contributed nine each for the former two-time national runner-up from Indianapolis, who will face La Salle in the Atlantic 10 quarterfinals tomorrow afternoon.
"We're treating this like any other tournament we've ever been in," Stevens deadpanned. "If our guys can't play 80 minutes of basketball for two days, they probably signed up for the wrong thing."
Butler's next opponent plays similar to their 17-assist, 8-turnover effort this afternoon, as La Salle's four-guard attack forces teams to make adjustments on the perimeter against one of the more unorthodox offenses in the nation.
"The biggest thing about them is they're unique," Stevens said of the Explorers. "They're smaller on the perimeter because they play four guards, but their bigs are undervalued when you consider that team, and John (Giannini) does a great job."
When asked about how far his team had come since their 84-52 loss against VCU on March 2nd, Butler's notoriously cool customer of a head coach was succinct in his response.
"Clearly, we're better over the last two weeks," said Stevens. "We've had some unbelievable practices, and that's kind of got me excited for the future."
The future starts tomorrow afternoon, as Butler stands three games away from an Atlantic 10 championship in their rookie year in the conference.