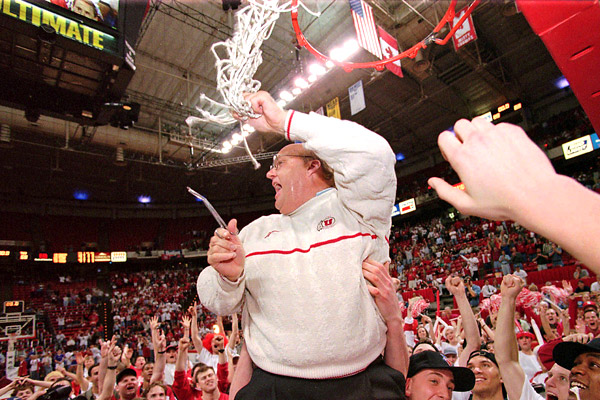 Following wins over Charlotte and Butler to get them to Atlantic 10 championship game, Saint Louis will now attempt to cut down nets against VCU tomorrow in honor of former coach Rick Majerus. (Photo courtesy of ESPN)
One of the two teams left standing in Brooklyn is guaranteed to win the Atlantic 10 championship for the first time in program history. In one corner, top seed Saint Louis enters the title game off a pair of decisive victories against Charlotte and Butler, looking to complete their emotional run to the NCAA Tournament with a trophy-raising tribute to former head coach Rick Majerus, who was forced to resign before the season due to medical problems that ultimately caused his tragic death on December 1st.
Across the bench is second-seeded Virginia Commonwealth, the national phenomenon that is two years removed from their captivating Final Four run and still in the midst of their meteoric rise to prominence under the guidance of a charismatic young leader and a unique defense that is among the most suffocating in the nation, living up to its "Havoc" style with victories over Saint Joseph's and Massachusetts to bring them to this stage.
Saint Louis. VCU. Two teams with 40 minutes separating them from a conference championship. Both will be NCAA Tournament-bound, but only one will enter the field of 68 with an automatic bid. Here's what you need to know about the Billikens and Rams:
- First and foremost, Saint Louis power forward Dwayne Evans, a first team all-Atlantic 10 honoree, has been on fire through the Billikens' first two A-10 Tournament games, amassing 49 points and 20 rebounds on a blistering 15-for-19 shooting effort from the field.
- Saint Louis has already defeated VCU in the lone meeting between the two schools this season, picking up a 76-62 win over the Rams on February 19th at Chaifetz Arena. Four Billikens ended the night in double figures, led by Jordair Jett's 16 points off the bench. Evans had 14 with eight rebounds as well while Mike McCall added 15 points, with Cody Ellis contributing ten off the bench.
- Senior guard Kwamain Mitchell, a preseason first team all-A-10 selection for Saint Louis, is more than just an offensive threat. The Milwaukee native is also third all time in Saint Louis history in both steals and assists, and will likely be matched up with VCU's Darius Theus to start the game.
- VCU comes in on a roll as well, winning ten of their last twelve contests despite being taken to the limit in both of their first two games in the A-10 Tournament. The Rams led wire-to-wire in their quarterfinal victory over Saint Joseph's, but had to come from behind in the first half against UMass before fighting to hold them off in the second half, and did not put the Minutemen away until Rob Brandenberg's dagger of a three-point shot in the final two minutes.
- Despite head coach Shaka Smart intimating that the Rams have not shot the ball well, he has had a great deal of offensive balance over the past two days leading into this championship game. Nine VCU players have had double-figure scoring efforts in Brooklyn, with five scoring ten or more points in Friday's quarterfinal win and four more accomplishing the same feat in Saturday's semifinal, led by Juvonte Reddic's 18-point, 12-rebound double-double.
- Briante Weber has showcased a complete game on both sides of the ball this weekend for VCU. The sophomore point guard, praised by Smart for his energy off the bench on his way to winning Defensive Player of the Year honors in the A-10, was more of a facilitator in the quarterfinals with four points, five assists and five steals, the latter of which broke the 28-year-old single season record held by Rolando Lamb. (yes, former UConn star Jeremy's father) In the Rams' semifinal victory, Weber asserted himself more offensively, to the tune of 11 points on 5-of-8 shooting.
- Both teams arrive in the championship game despite having been outrebounded in each of their first two contests on the Barclays Center court. Saint Louis carries a minus-7 average rebounding margin into the finals, averaging 32 boards while surrendering 39, while VCU has managed 32.5 caroms per game while yielding 41.
- While VCU has had a balanced offense in each of their first two tournament games, Saint Louis has not. The Billikens have only had two double-figure scorers in each of their first two contests, and on both occasions, the two were Dwayne Evans and Cody Ellis. Mike McCall (9.0 PPG) and Kwamain Mitchell (8.0 PPG) are coach Jim Crews' best options after his big two, something Shaka Smart will be sure to include in his game plan and film session on Sunday.
- Both the Billikens and Rams are getting improvement from each of their most prolific three-point shooters. Cody Ellis followed up a 1-for-7 effort beyond the arc against Charlotte by making four of eight triples in Saint Louis' win against Butler, while Troy Daniels put a 4-for-13 performance from three on Friday night behind him with an emphatic and efficient 20 points on 7-of-9 shooting and 6-of-8 from deep on Saturday, an effort good enough to lead all scorers in VCU's 71-62 victory over UMass.
- Finally, this game will be a battle of the defenses. Saint Louis, which is still heavily influenced by Majerus' defensive principles, something that can be seen immediately following the opening tip, has scored 47 points off 40 turnovers in their last two games, forcing 25 steals in the process. On the other side of the court, VCU's patented "Havoc" defense has turned 41 turnovers into 43 points while accumulating 24 steals in their previous 80 minutes of work.
Saint Louis. VCU. Two teams, one champion.