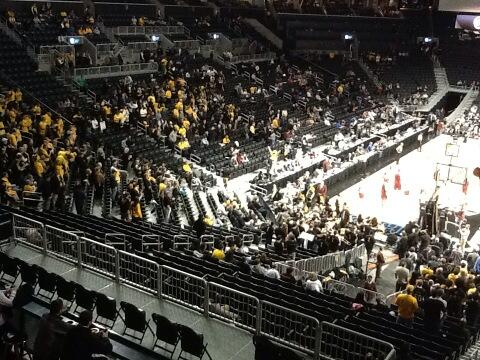 VCU fans provided largest contingent in last weekend's Atlantic 10 Tournament, and brought "big game" atmosphere to each of Rams' three contests. (Photo courtesy of the author's personal collection)
I have covered or called a grand total of 114 games this season, starting at Iona on November 9th and resuming with No. 115 tomorrow night at Saint Joseph's. In the first 114, I have seen sellouts, and I have seen intimate gatherings with a handful of people in attendance. Through blizzards and buzzsaws, the Big East and the America East, sadly, none of the first 109 contests that I had a courtside seat to felt like a big game. The matchups were strong on paper, but the crowds had not lived up to the hype of the competitors.
Then God tossed me a black and gold life preserver.
Virginia Commonwealth University made its share of national fans dating back to the Eric Maynor-engineered upset of Duke in the 2007 NCAA Tournament, but the Richmond school became a household name through its storybook run to the 2011 Final Four, disposing of two former national champions along the way in Georgetown and Kansas. Since taking the website to Twitter, I had learned of the reputation that "Ram Nation" had earned over the years through their raucous nature and homecourt advantage at the Siegel Center, but had yet to see it firsthand. The Atlantic 10 Tournament at the Barclays Center, just 25 minutes away from Daly Dose headquarters, afforded me the opportunity to see just how much college basketball's version of the Pittsburgh Steelers (in more ways than one) could justify their reputation.
Well, the fact of the matter is that the "Rowdy Rams" were indeed all that, and then some. Despite crowds of less than 10,000 all weekend in Brooklyn, the three VCU contests during the Atlantic 10 Tournament had the feel of a Final Four game, thanks to a few different characters. The cast includes Ralph Theus, the father of VCU's senior point guard Darius, who makes himself clearly visible with his ever-present "#10 is my son" sign. Then there is superfan Chris Crowley, known simply as "Pav" in honor of his Luciano Pavarotti-esque voice that can be heard singing the national anthem at VCU home games.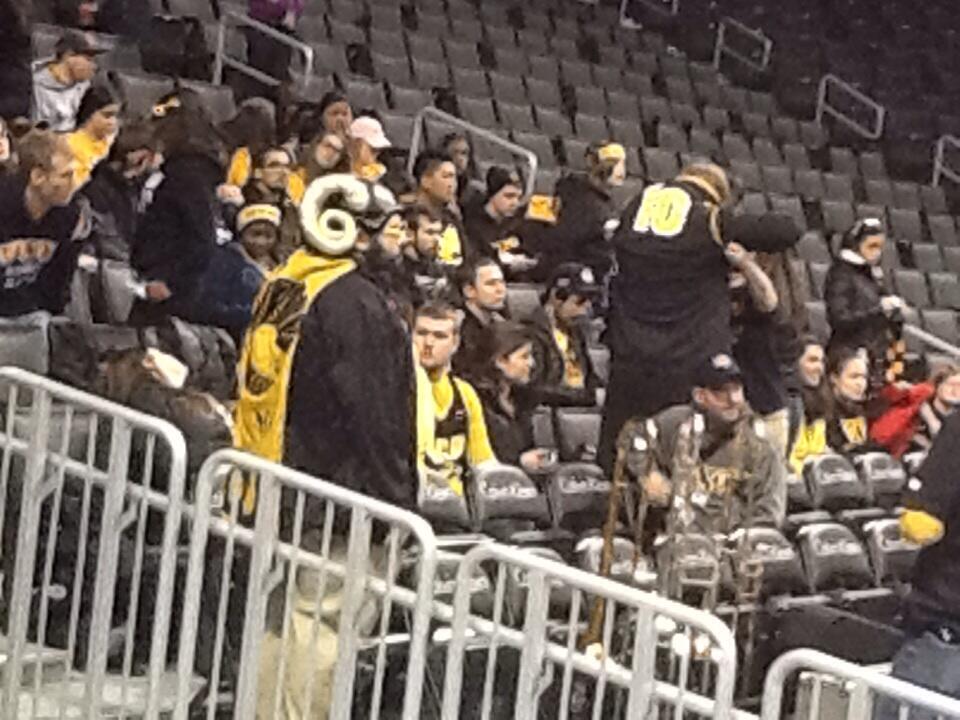 VCU superfan Chris "Pav" Crowley surveys Barclays Center landscape before Rams face off against Saint Louis for Atlantic 10 championship. (Photo courtesy of the author's personal collection)
Returning to the fans themselves, Ram Nation erupts in the middle of every run, and literally takes over "Rock & Roll Part 2" like no other program, chanting "V-C-U" and "Let's Go VCU" as opposed to the traditional "Hey!" in the chorus, making it seemingly impossible to hear the song the same way again after first experiencing it.
Finally, there is one more group of people that need to be commended for turning a mid-major gathering into a national championship-like atmosphere. Those of you who follow this site's Twitter feed are no doubt aware of my penchant for mentioning the pep bands of each school we cover. As some of you may well know, VCU has a pretty notorious band, also known as "The Peppas," who several of my CAA fan friends told me would "never make me look at a band the same way again." No statement could be closer to the truth, because it was game, set, match once they walked into the arena.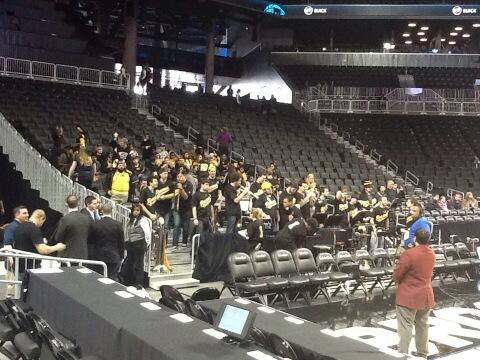 VCU's band, also known as "The Peppas," setting up shop at Barclays Center. (Photo courtesy of the author's personal collection)
What makes the VCU band so good is not just their repertoire, but also their cadence. Through six years in the college basketball media, no band I have seen is as coordinated or as uniform in their routine as the VCU contingent. Judge for yourself here:
The Peppas' rendition of Adele's "Rolling in the Deep" is equally brilliant, as are these pieces of the VCU catalog
:
To everyone involved with Ram Nation, I thank you for a great weekend, even from a media perspective. Hopefully all of you make the trip to the Bronx next season when VCU comes back up to these parts to play Fordham. I know I will.