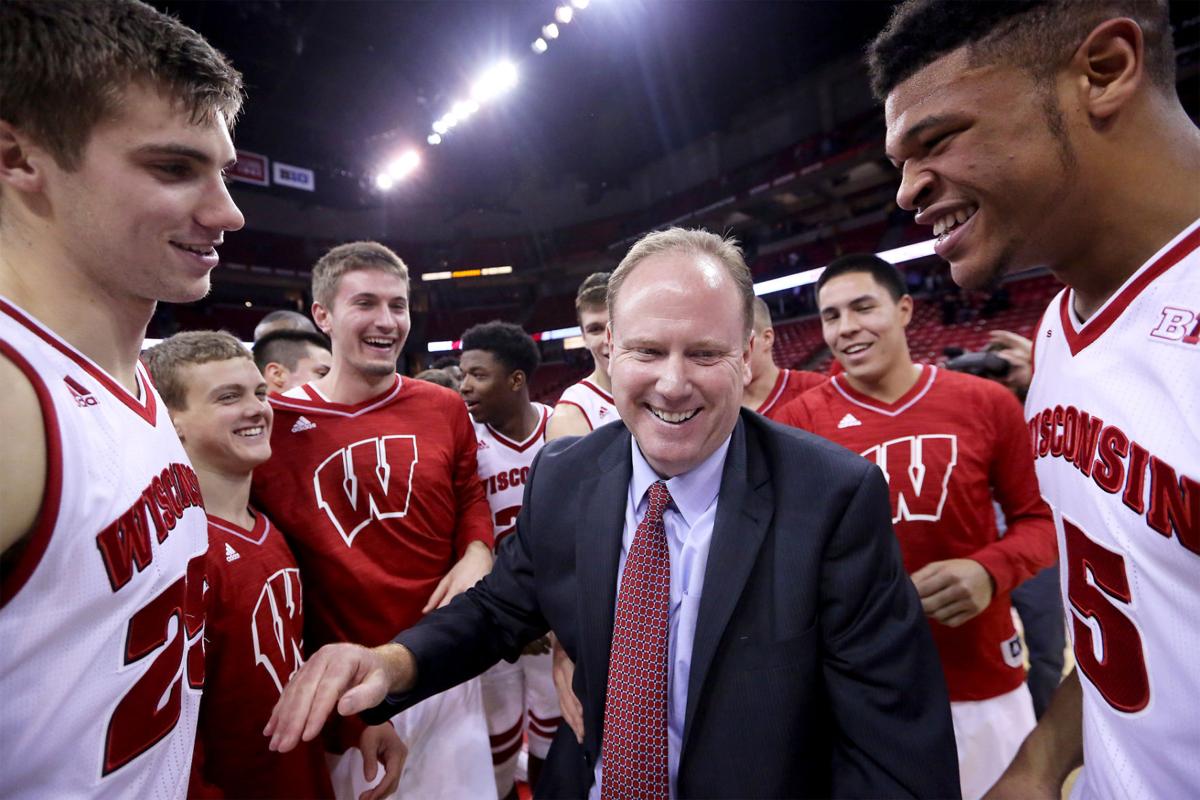 Since taking over for Bo Ryan in December, Greg Gard has rejuvenated Wisconsin as Badgers return to Sweet 16 this weekend. (Photo courtesy of the Wisconsin State Journal)
PHILADELPHIA -- Sitting at 9-9 on January 12 and nearly one month removed from a midseason coaching change, hardly anyone would have expected Wisconsin to still be playing basketball this late in March, especially a Wisconsin team still reeling from the loss of both Frank Kaminsky and Sam Dekker to the NBA.
Yet following Bo Ryan's stunning December retirement, which paved the way for Greg Gard to assume the reins in Madison, the Badgers have completed their resurgence, going 13-3 since dropping to .500 two months ago and now meeting Notre Dame Friday evening in the semifinals of the East Regional, with a potential regional final on tap against either North Carolina or Indiana.
"The biggest thing was the chemistry in the locker room," said Gard of how Wisconsin has evolved after their 70-65 setback at the hands of Northwestern. "I think with losing so many guys from last year, with four seniors; two of them being fifth-year guys that have been in the program a long time and Sam Dekker leaving early, we just had a lot of shoes to fill and a lot of roles to establish, and it took us a while to grow through that."
"I think what happened was, it was more a sense of urgency combined with guys starting to believe in themselves," junior forward Nigel Hayes chimed in. "And it especially happened after the Northwestern game, as you all know. After that, the message I was trying to spread to the guys was that not only collectively are we better than that, but individually, the guys out there. They're better players than what they and we've been playing like."

The Badgers responded to Hayes' message by winning eleven of their next twelve, scoring victories against the likes of Michigan State, Indiana, Maryland and an Iowa team that was still ranked in the Top 10 in the nation at the time. While Wisconsin surged back into the NCAA Tournament conversation, on the positive side of the bubble, the focus was not on the grandeur of March, but rather the core of the team as it continued to develop.
"We had to develop some practice habits," Gard recollected. "It was really drill by drill, possession by possession, and eventually that started to form better habits in the game. Even when we started 1-4 (in Big Ten play) and 9-9, I saw a lot of good things happening, and then once we had the win against Michigan State, I really think that gave us confidence. It reaffirmed what we were doing."
Against Notre Dame, the Badgers will be challenged by the inside presence of Zach Auguste and perimeter shooting of both V.J. Beachem and Steve Vasturia, but a common thread between both teams has been their consistency amid the changing faces on the floor, something Gard touched on in his pregame press conference Thursday.
"Obviously, Mike's got a great team," he said of Mike Brey and the Fighting Irish. "It seems like every year, nobody talks about Notre Dame on Selection Sunday or that first week, but you get to the second weekend and there they are. And much like us, the names change, the numbers change, but the production in terms of what they do on the floor together and how they grow together; and their ability to develop players, doesn't change."
"For us, we know we'll have to be very good," said Gard. "As I mentioned last weekend, the average and poor teams are on spring break, or their coaches are playing golf or recruiting. We're fortunate that we're still playing, and hopefully we have a couple more weekends left in us."