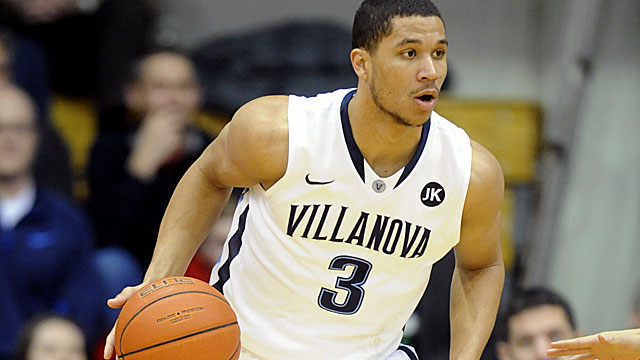 Josh Hart's 19 points led four Villanova players in double figures as Wildcats crushed Iowa to reach Sweet 16. (Photo courtesy of CBS Sports)
BROOKLYN -- Since reaching the Final Four in 2009, Jay Wright and his Villanova teams have endured the same question every March.
When are you going to get out of the first weekend of the NCAA Tournament?
Seven years later, the Wildcats have finally answered, in one of the most decisive ways possible.
A first half in which Villanova shot 61 percent from the floor and had five players score at least seven points was all the fuel the No. 2 seed in the South Regional needed Sunday afternoon, as the Wildcats (31-5) cruised into the regional semifinals with an 87-68 victory over seventh-seeded Iowa (22-11) to set up a meeting with No. 3 seed Miami, who won their first two games of the tournament to secure their spot in Louisville for Thursday's Sweet 16 action.
"It was a big-time sigh of relief," said Ryan Arcidiacono, who scored 14 points as the Wildcats overpowered Iowa to reach the second weekend for the first time in seven years. "I'm thrilled that our senior class gets to experience the Sweet 16, and I'm ecstatic."
"I'm just relieved that we don't have to answer the question, honestly," Wright said, echoing his point guard's sentiment. "They're such a special group. If I'm really honest with you, the biggest stress on me was that I wanted it for them, and we all did."
Both teams started out strong in a fast-paced beginning, but after Iowa tied the score at 13 apiece just over six minutes into the contest, Villanova seized control with an 11-2 run and did not look back en route to posting a season-high 54 points at halftime, where the Wildcats led by 25. A second 11-2 spurt to begin the final stanza ballooned the advantage to as many as 34 markers, at 65-31, before the Hawkeyes drew somewhat closer. By that time, though, it was too little, too late as the huge cushion Villanova built proved to be insurmountable.
"I really think they can go a long way," Iowa head coach Fran McCaffery said of the Wildcats. "They're a really difficult team to guard. They play defense equally as well as they play offense. You've got a lot of really talented guys, but it's clear to me that as a group, Jay has got those guys committed to one thing, and that's playing together and winning. I think that's evident in their success over the years. There's a winning culture there that says a lot about the character of the individuals on that team."
In addition to Arcidiacono, three other Wildcats ended the afternoon in double figures, paced by Josh Hart, who scored 19 points. Kris Jenkins and Jalen Brunson poured in 15 and 12, respectively, in the winning cause. For Iowa, Jarrod Uthoff led the way with 16 points, but it was not enough to overcome one of the better efforts from a team who returns to the stage it is expected to occupy every year.
"They were so determined to win this game and give their best effort in this game that it just superseded everything," said Wright. "As a coaching staff, we try to approach the game the same way too, and fortunately, it was good enough for them."