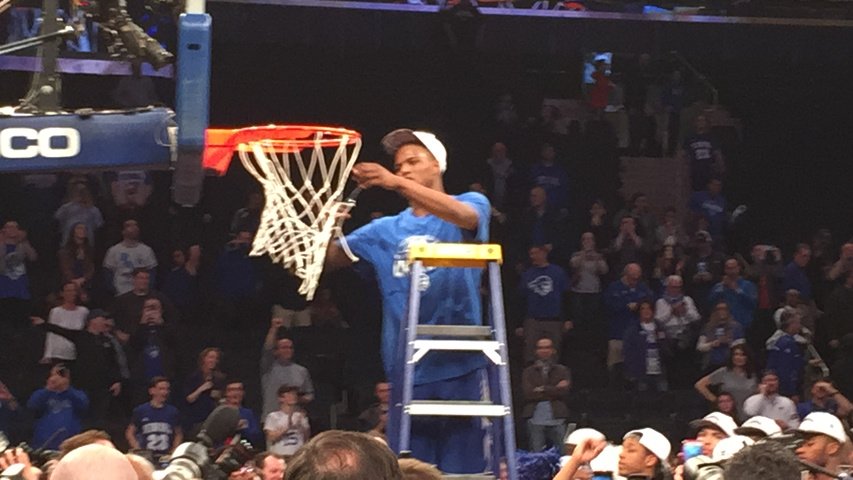 Isaiah Whitehead cuts down Madison Square Garden net as Seton Hall wins first Big East championship since 1993. (Photo courtesy of Jerry Carino via the Asbury Park Press)
In a game that hearkened back to the halcyon days of the Big East, Seton Hall and #3 Villanova treated the 19,000-plus fans that packed Madison Square Garden to a true show, one of the best tournament finals you could ever hope to see. And thanks to tournament MVP Isaiah Whitehead, it was the Pirates who made an incredible late push to win the ballgame 69-67, winning the third Big East Tournament title in program history and first since 1993.
The game began like a house on fire and it set the Garden on fire. This was instantly a high-level basketball game, with both teams just going at each other. They both shot high percentages early, and it went back and forth.
Then Seton Hall's defense showed up (again) and created for their offense (again) which (again) gave them a first half cushion on the scoreboard. As the Pirates' confidence grew with each stop they obtained, the margin grew all the way out to 14 at its largest before settling in an 11-point niche at halftime. It was a near-carbon copy of their first two games of the week against Creighton and Xavier.
But unlike the first two games, Villanova was able to rally back and take the lead away late. The Wildcats used some incredible offense from Kris Jenkins, who scored a team-high 23 points, and Josh Hart (17) to will their way back into it. They forced miscues from the Pirates, and a slightly-partisan 'Cats crowd roared their approval. A lesser team would have crumbled.
Seton Hall did not. The teams again went back and forth as the entire arena sat enthralled by what they were witnessing. Villanova finally took the lead with just 52 seconds left on a triple from Jenkins, and then came the breaking point. Whitehead, as he had done so often, got to the foul line first to cut the deficit to two, then the Pirates trapped Hart and forced a five-second violation.
With 18 seconds left, Whitehead drove hard to the hole and into Jenkins, who tried to take the charge. He was called for the block, and Whitehead somehow got the shot to drop to tie the game. The Pirates would take the lead on his free throw.
The next possession was a blur. Villanova threw everything they had at the Hall, but the Pirates again stood tall when it mattered most, denying Hart inside before grabbing the basketball with three seconds left. After Angel Delgado made one out of two at the foul line, Ryan Arcidiacono's last-ditch attempt fell short. The Pirates had won the game, the conference championship, and the respect of many of those watching live and at home. They rushed the floor in jubilation, with their fans celebrating right alongside them.
But let's step back a moment, because in order to really grasp the ensuing moments of joy, you first have to consider where Seton Hall's journey across the span of one incredible calendar year has taken them.
At this time last year, Kevin Willard was teetering on the brink of running out of time in South Orange after a late-season swoon that saw the Hall go from nationally-ranked to out of any postseason tournament picture. Two elder players chose to leave amid rumors of a locker room schism.
Tonight
, that same coach had to choke back emotion as he talked about his team and what they had accomplished together. He was a coach that looked like a little kid at Christmas when he saw his young Pirates make the winning plays down the stretch, falling over in front of the bench and pumping his fist in the air; a coach that clearly is not just a coach to his players, nor are the players just players to him. The Pirates were a family this year, and their leader could not hide that fact in the aftermath of such a seismic victory.
At this time last year, Isaiah Whitehead was coming off a frustrating freshman campaign that included a big injury that in turn hampered his play down the stretch. A season with so much promise early had turned sour as both he and Seton Hall as a unit just could not seem to find a way.
Tonight
, that same player looked every bit like what he was brought into the program to be- a true superstar. He hit shots from every angle imaginable, in every big situation imaginable. At times, he made plays that no one else on the court could even dream of making. He had Madison Square Garden hanging on his every dribble and rising with his every bucket, and he came through when it counted on his way to being named the tournament's Most-Outstanding Player, the on-court maestro that not only has led the program back to the Big Dance.
At this time last year, who really outside those who covered the program regularly really knew who Ismael Sanogo was? He did not see a lot of minutes on the floor for the 2014-15 team, and was hyped by the coaching staff as someone who had improved over the summer, but was still a mystery to most fans.
Tonight
, Sanogo was a virtuoso on the defensive end in just about every way- post defense, help defense, rebounding, shot-blocking... you name it, and Ish did it. He's now arguably the most-important defender on a team loaded with them, a team whose defensive ferocity was the difference in their season. He even earned a spot on the all-tournament team, proving that everyone knew who he was now.
Those are just a few examples of the main point- at this time last year, Seton Hall was going nowhere fast. There were more questions than answers, and lots of grumblings.
Tonight
, Seton Hall is going to the NCAA Tournament as Big East Champions and a possible top-5 seed, their first berth
in 10 years
.
As for those questions? They've all been answered. The Pirates went out this season and proved all their doubters wrong, led by an extremely tight-knit group of (yes) sophomores who just refused to give in no matter what. They are a team in every sends of the word, and that mentality, that closeness, is what led them from one of their lowest points of the last few years to undoubtedly the highest of highs this week.
Not bad for a year's work, ain't it?