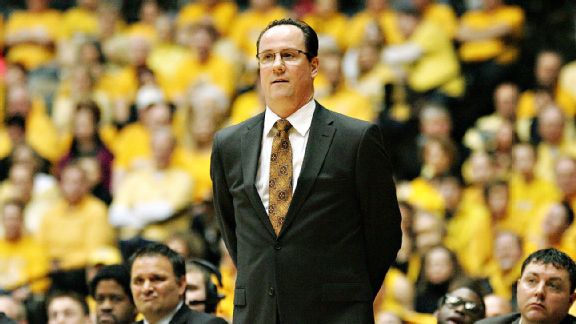 Closing in on what would be third Sweet 16 in four years, Gregg Marshall praised the little things his Wichita State team does as impetus for their success. (Photo courtesy of ESPN)
Wichita State is still spoken of in much the same vein as programs like Butler and VCU, mid-majors with an outburst of success in recent years that is just now starting to be sustained. In the case of the Shockers, though, the Missouri Valley powerhouse is becoming closer to standard-bearing Gonzaga, and despite the influx of elite talent coming to the Midwest, it has not changed the core philosophy that the program was built on.
"The stars don't really matter to us," head coach Gregg Marshall admitted after Wichita State defeated Arizona in their first-round NCAA Tournament matchup Thursday, and will meet Miami on Saturday with the chance to advance to the program's third regional semifinal in four years. "We try to get guys that want to be part of something bigger than themselves, that are willing to put the time in skill development, body development, and buying into; falling in love with, if you will, the process of becoming great."
Exhibits A and B of Marshall's four-year improvement goals lie within his backcourt, where Fred VanVleet and Ron Baker wind down a career that has seen each player evolve along with the Wichita State program, dating back to when the pair, as freshmen, helped lead the Shockers to the Final Four in 2013.
"Coming in, I was always a guy that tried to push myself to get better," said Baker. "But then when you get with a group of guys that like to push you as a teammate, and then you get coaches that push you in different drills and different skill developments in the offseason, it really gets your confidence as a player up to a new level, and that's when you start becoming a true player. That's what I've gotten since I've been at Wichita State."
"We pride ourselves on being tough," VanVleet added. "We struggled with that at some points during the year, but it's all coming together right now at the right time. I think for every guy that steps on the court, they're held up to that standard."
Marshall's notorious "play angry" mantra fueled the Final Four run three years ago, when the Shockers reached the national semifinal as a No. 9 seed who took down Gonzaga and Ohio State to get there, and then had eventual national champion Louisville on the ropes before the Cardinals persevered down the stretch. And as more observers around the nation continue to observe what the Shocker coach has done habitually since his days at Winthrop, getting every last drop out of his players, size is just as irrelevant as the oft-hyped nature of recruiting, for the fact that it is what lies inside that counts most is common knowledge inside the Wichita State program.
"To play teams like that in the NCAA Tournament," Marshall began, referencing Arizona and the work Sean Miller has done with the Wildcats, "you have to give it everything you've got, and our guys do that every single possession."
"These guys are very coachable," he said of his players. "They're everyday guys and they work extremely hard, and then they also listen and execute a game plan very well because they understand that we're going to be undersized, more than likely give up a few pounds, a few inches. But it's hard to measure what's inside of a young man in terms of his heart. Very rarely do we get pushed around in that category."