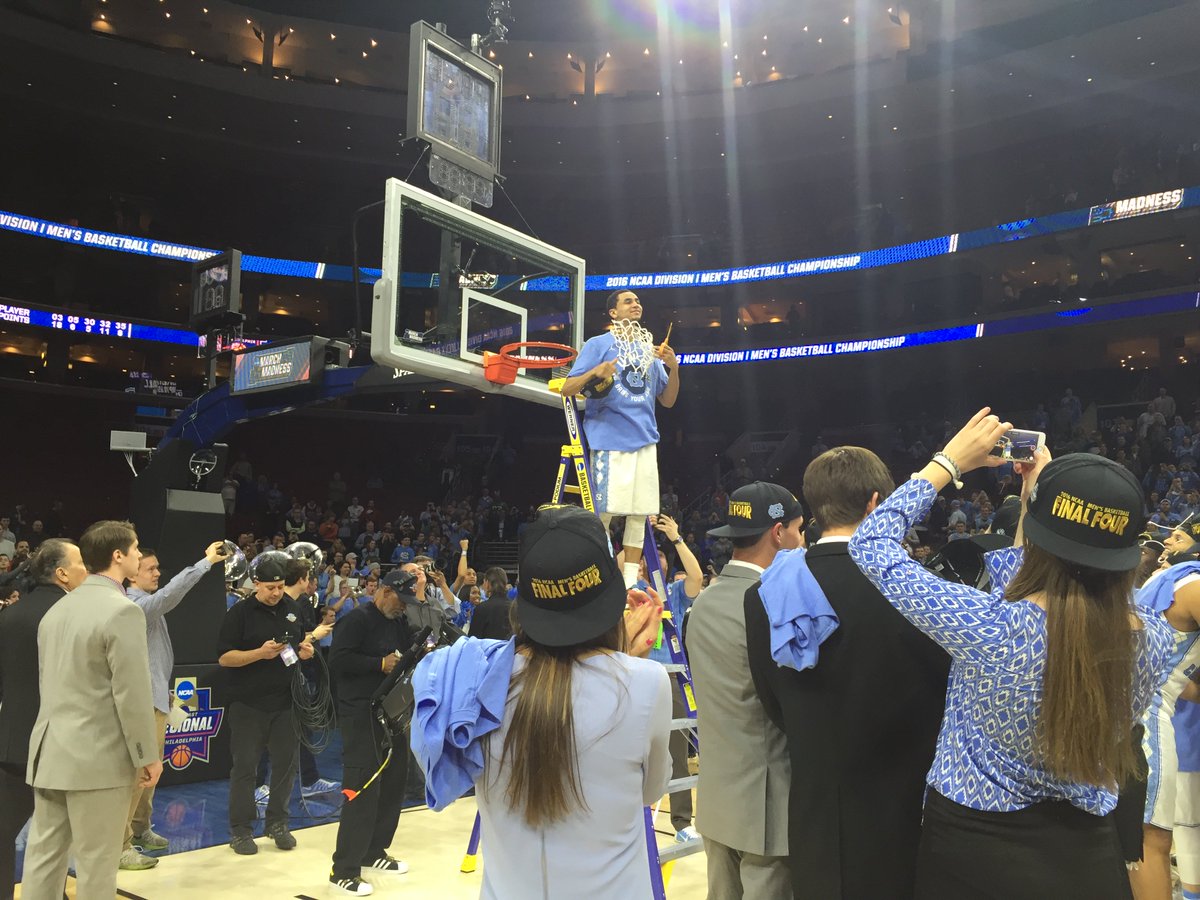 Marcus Paige stands atop ladder after cutting down net in wake of North Carolina's East Regional championship. (Photo courtesy of Jonathan Tannenwald via the Philadelphia Inquirer and Philly.com)
PHILADELPHIA -- Marcus Paige, always one to find just the right way to put everything into perspective, initially had a hard time doing so late Sunday evening.
"With 34 seconds left, I started tearing up," the senior guard said after his North Carolina team wrapped up their 19th regional championship, advancing to the Final Four for the first time since winning the entire NCAA Tournament seven years ago. "I was looking over at the bench, the guys were jumping around, my family was right behind the bench. It was really hard to stay in the moment."
After all he has endured since arriving in Chapel Hill, Paige can easily be forgiven for needing to come to grips with his composure for that fleeting moment. A freshman year full of promise gave way to an exceptional sophomore campaign, then to an up-and-down junior year that ended in clouds of suspicion stemming from the NCAA's investigation into UNC's supposed academic fraud. Now a senior, Paige and his teammates can put that specter aside, at least for the next week as they head to Houston.
"We don't need to spend a whole lot of time talking about that," he said. "But it's made this a little bit sweeter, you know? It's been a tough four years in Chapel Hill, but to come out on top, you know how much scrutiny we've gotten even as a 1-seed, how many people have doubted us to either not make it out of the first weekend and not being tough enough to win the ACC. A lot of people didn't even have us in the Final Four."
Perhaps no one is more appreciative of this run than Roy Williams, who has been open about how the investigation has affected he and his program, admitting it has cost him in recruiting and taken enough out of him mentally to where he views every waking moment with his team as his own personal salvation. Sunday night provided no difference in opinion, as the embattled leader again spoke from the heart.
"My integrity and credibility had never been questioned," an impassioned Williams began. "And some people, particularly some media people, took their chances and I didn't like that at all. And I'll never get over that."
Now in the Final Four for a ninth time in 28 seasons between UNC and his prior job at Kansas, where he came within a whisker of a national championship with the Jayhawks in 2003, the significance of this particular run is not lost on the Hall of Famer.
"It is really special," he admitted. "In 2007, I was inducted into the Basketball Hall of Fame, and the worst feeling I've ever had is I started thinking about my 1997 team at Kansas, because I felt like I hadn't done anything. I didn't get those guys to the Final Four. That was something I'll never get over, and this one would have been even tougher."
"And with these kids, I wanted it so much for them," said Williams. "Never in my life have I ever wanted anything as much for somebody else as much as I wanted these guys to go to Houston."
North Carolina gets their chance to do just that, with their impending matchup against Syracuse stealing the front page from that other, less desirable, headline.
"The bottom line is, I was able to go to practice every day," Williams humbly stated, taking his mind off the issues that have plagued UNC in the media off the hardwood. "And my team made it a heck of a lot of fun. I'd like that to be the story instead of the other junk."
"To do that with this group, we love Coach and Coach loves us, and we don't ever want this to stop," Paige said, bringing everything full circle. "I think it's been a special ride."
The ride hasn't ended yet.