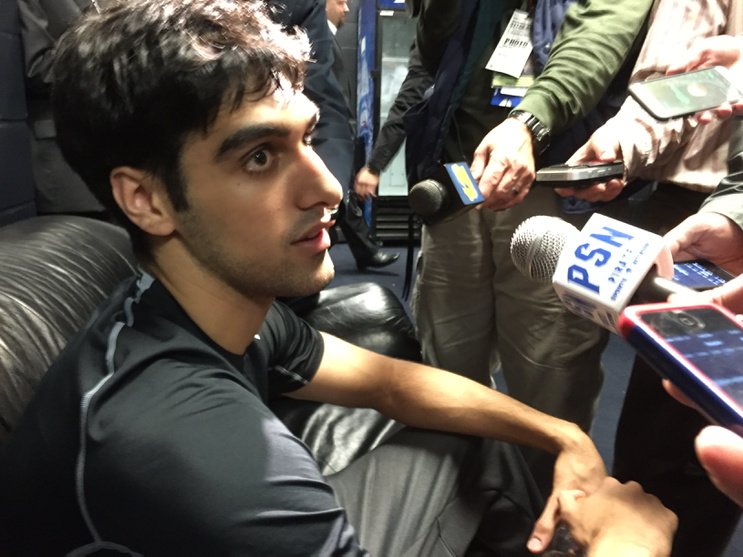 Veer Singh meets reporters after career-high 12 points in Seton Hall's win over South Florida. (Photo courtesy of Jerry Carino)
NEWARK, NJ -- Coming off a thrilling overtime win against Wichita State on Saturday, it was easy to suggest that Seton Hall may have had a hangover of sorts against South Florida in their final tuneup before the Big East season begins next week.
The Pirates, however, disproved that notion within seconds.
Beginning the game on a 14-0 run and not allowing a basket for over ten minutes, Seton Hall (10-2) led from the start and never looked back, handling South Florida (3-10) with ease in a 66-49 victory at the Prudential Center, the fifth in a row for the Pirates entering their conference opener one week from Wednesday.
"I was really impressed with the way they came out defensively," head coach Kevin Willard remarked as Seton Hall established their advantage over the Bulls early and often. "They showed me a little maturity in the way they came out defensively. They were aggressive, they were in tune to the game plan. More than anything, I was really happy with the way they came out and played."
In a balanced scoring effort where all but two players to see the floor recorded at least one point, Angel Delgado led the Pirates with 14 points and 11 rebounds, amassing his fifth consecutive double-double. Veer Singh was the only other Seton Hall player in double figures, notching all of his 12-point career best from three-point range.
"It's good to see him kind of get into a little bit of a rhythm," Willard said of Singh, who battled a wrist injury earlier in the season and is continuing to round into form. "That's the way he was shooting it before he got hurt and he just gives us a nice weapon off the bench, a guy that could come in and do that."
Of Delgado and his consistency to wrap up the non-league portion of the Pirate schedule, Willard was equally as complimentary.
"I think he's playing really, really confident," the coach assessed of Delgado's recent efforts. "I think he's got himself in pretty good shape, and I think that's the biggest difference. His motor's pretty good right now, he played 41 minutes the other night, he played 30 tonight, so that's pretty good for a big guy that's in there battling. I think his post defense has gotten much better, so he's playing well. We've just got to make sure he continues to trend upward."
Angel Nunez, who came to USF as a graduate transfer after playing at Louisville and Gonzaga earlier in his career, paced the Bulls and all scorers with 19 points. Jahmal McMurray, whose three-pointer with 9:58 remaining in the first half ended USF's drought, added 10 of his own.
Seton Hall's 10-2 start may be ahead of expectations laid down by pundits at the start of the season, but as the Pirates head to Marquette on December 30, the prevailing feeling in the locker room is one of not having reached the team's fullest potential, although clearly headed in a positive direction.
"I think we've put ourselves in good position," Willard revealed. "I like where we're at, (but) I think we need to improve on certain areas. If we can improve on certain areas, I like where we are, so I'm excited about that."