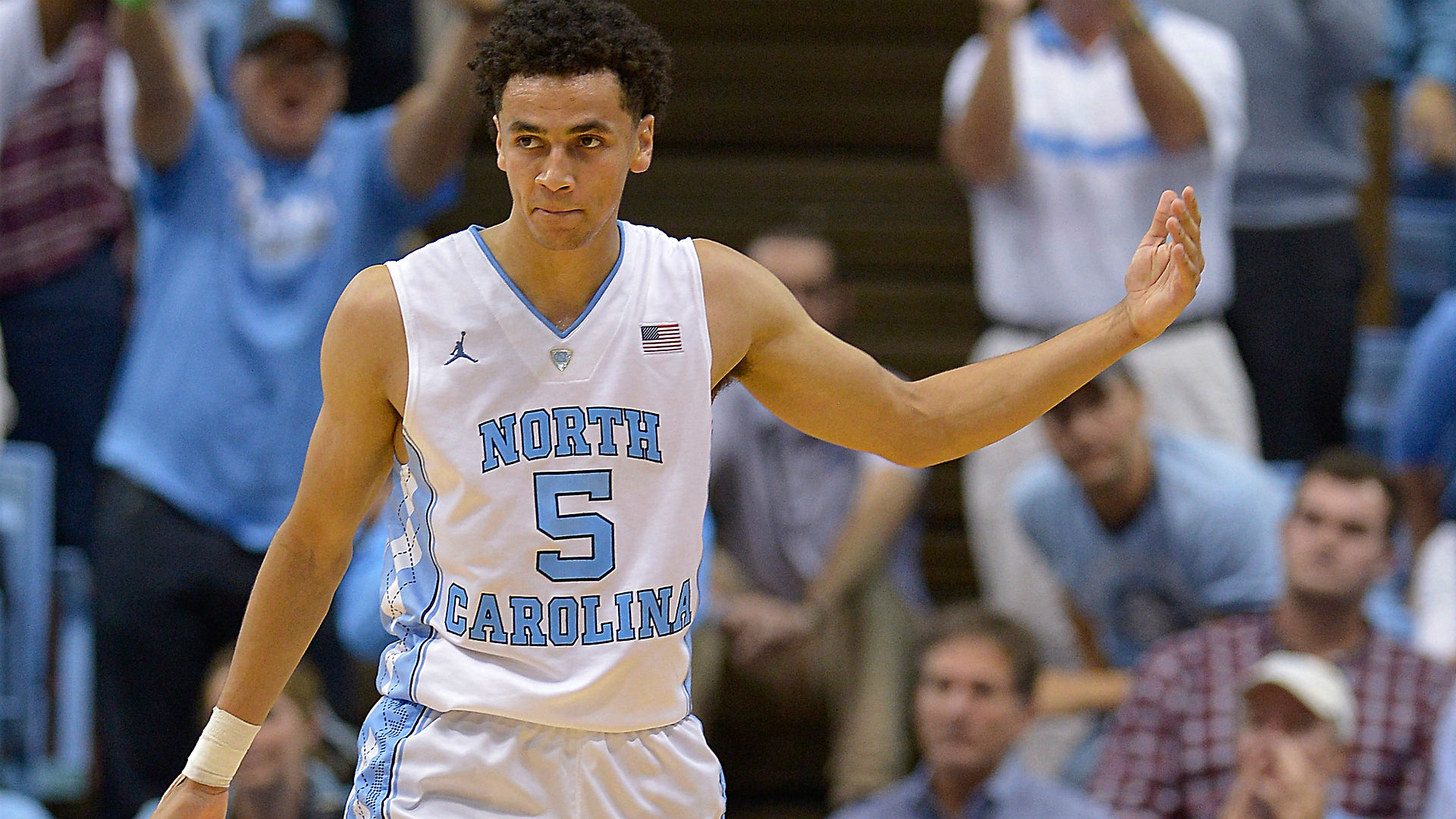 North Carolina's ability to win despite only 10 points from Marcus Paige may be one of more impressive characteristics of Tar Heels this season. (Photo courtesy of The Sporting News)
With an 89-76 victory over UCLA in the CBS Sports Classic now firmly behind them, North Carolina returns to Chapel Hill for two more games before beginning Atlantic Coast Conference play. Before that, though, we bring down the curtain on the Tar Heels' successful Saturday afternoon at Barclays Center with takeaways from Roy Williams' team and their effort against the 22nd-ranked Bruins:
Brice Johnson is back at a high level.
After a lackluster showing against Texas eight days ago, the 6-10 senior has recovered with 52 points and 19 rebounds in his last two games, including a career-high 27 points on Saturday to go with nine rebounds. "When he's on the court, he's one of our best players," Marcus Paige said of his teammate. "We need to get him the ball, and we have the past two games. He stepped up to the challenge. I hope he continues this."


North Carolina's two biggest strengths?
Interior scoring and their transition game. The former, aided immensely by Johnson and his near-perfect afternoon, (11-for-12 from the floor) was an integral piece to the Tar Heels' authoritative 58-26 points in the paint disparity, while the latter flipped the tenor of the game upside down. Trailing 26-15 with 10:44 remaining in the first half, North Carolina proceeded to put up 74 points in just over 29 minutes, and turned 17 UCLA turnovers into 24 points while committing only eight miscues of their own. "I think that was one of our strong points today," said Joel Berry of Carolina's defensive pressure. "In the first half, we were able to force a lot of turnovers from our traps, and I think Coach wants us to get to a point where we can run it a little bit more."


No Kennedy Meeks, no problem...at least for the moment.
Meeks missed his second consecutive game due to a bone bruise in his knee, but North Carolina's smaller lineup more than made up for his absence. "We're going to have to have guards help rebound a lot more," Paige stated when breaking down just how much Meeks' absence would affect the Tar Heels. "It also presents us with some other opportunities to space the floor. Our offense usually has two big guys around the rim, but that's more offense/defense in the paint, kind of crowding everything up. In his absence, we'll see more lineups where Theo (Pinson) or Justin (Jackson) is playing the floor. We'll use our perimeter guys to attack."


Winning without Marcus Paige's best game is an encouraging sign.
Paige managed only 10 points, but dished out six assists to make his 2-for-9 shooting seem much more efficient than the box score may suggest. After the game, the senior point guard has candid in assessing his team's performance both with and without him. "It's extremely encouraging," he assuredly replied. "Offensively, I wasn't great tonight, I was shooting the ball all over the place, couldn't make a layup, but we have other guys that could score. It's more about what North Carolina's doing. This year, it's been less of 'if Marcus struggles, Carolina's offense will struggle' because of what Justin has done as a sophomore, what Joel has been able to do as a sophomore, and obviously the leap Brice is making this year in being more aggressive on the block."