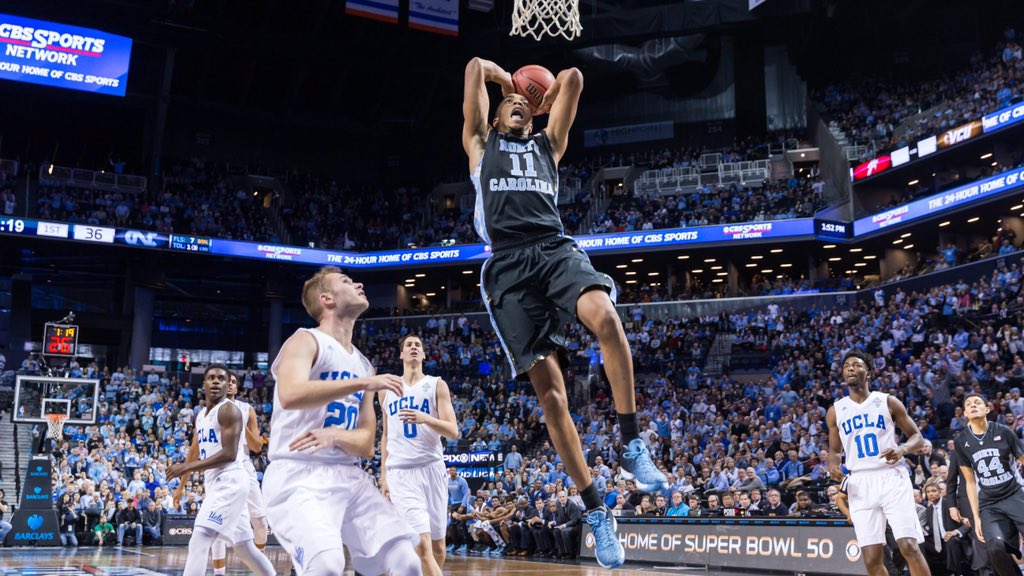 Brice Johnson finishes emphatic dunk as part of a career-high 27 points in North Carolina's 89-76 win over UCLA in CBS Sports Classic. (Photo courtesy of University of North Carolina Athletics)
BROOKLYN -- Roy Williams admitted he has had to be harder on Brice Johnson than some of his other players, stressing his senior forward's need to maintain his high energy level.
After being benched for several minutes in the first half for what North Carolina's head coach attributed to profane language, his performance upon his return was reason for his opponents to spew some expletives of their own.
Only three days after a then-career-best 25 points in a rout of Tulane, the 6-10 big man topped that in his first possible opportunity to, collecting 27 points and nine rebounds as the 11th-ranked Tar Heels (9-2) shook off a sluggish start to overpower No. 22 UCLA, driving away to an 89-76 victory over the Bruins (8-4) in the CBS Sports Classic at Barclays Center.
"I kind of used some bad language," Johnson said, "and Coach was really pissed off at me, so he sat me for it."
"It put a fire under my butt," he expounded when assessing Williams' early hook on an afternoon in which the Tar Heels started behind the eight-ball, trailing UCLA 26-15 after four three-pointers by the Bruins' Isaac Hamilton in the opening minutes. "When I got back in there, I was ready to go."
Indeed he was, as Johnson put on a clinic in the lane, missing only one of his 12 field goal attempts, which was the first one he took with just 1:40 gone by in the contest. His emphatic dunk late in the first half off a picture-perfect feed from Marcus Paige (10 points, six assists) capped off an 11-3 run that regained the lead for North Carolina before the Bruins tied the score at 38 going into the locker room. Following the intermission, his three rebounds; one of which resulted in a putback that put the Tar Heels ahead 43-38, set the tone for a commanding 58-26 points in the paint advantage that decimated UCLA, whose blistering pace from beyond the three-point line (the Bruins shot 6-of-10 from distance in the first half) caught up to them by the end of the day.
"If you give me the opportunity to get in the paint with my right-hand jump hook," Johnson cautioned, "then I'm going to score it."
Two other Carolina players had double-figure scoring efforts besides Johnson and Paige, whose quiet outing makes the Tar Heels' win look even more impressive. Joel Berry II, who started at the point guard spot and enabled Paige to play off the ball, added 17 points in an 8-for-14 shooting display while Isaiah Hicks contributed 12 markers off the bench, efforts that were not lost on the star of the show.
"The sky's the limit for us," Johnson stated when asked how much a win of this magnitude would help North Carolina's hopes of making a run to what could be a seventh national championship. "We've just got to keep going. We can learn from this, little mistakes that we made and just be able to keep going. We didn't play well in the first 14 minutes, but (in) the last six minutes of the first half, we did some really good things. That's what we need to do the entire game."