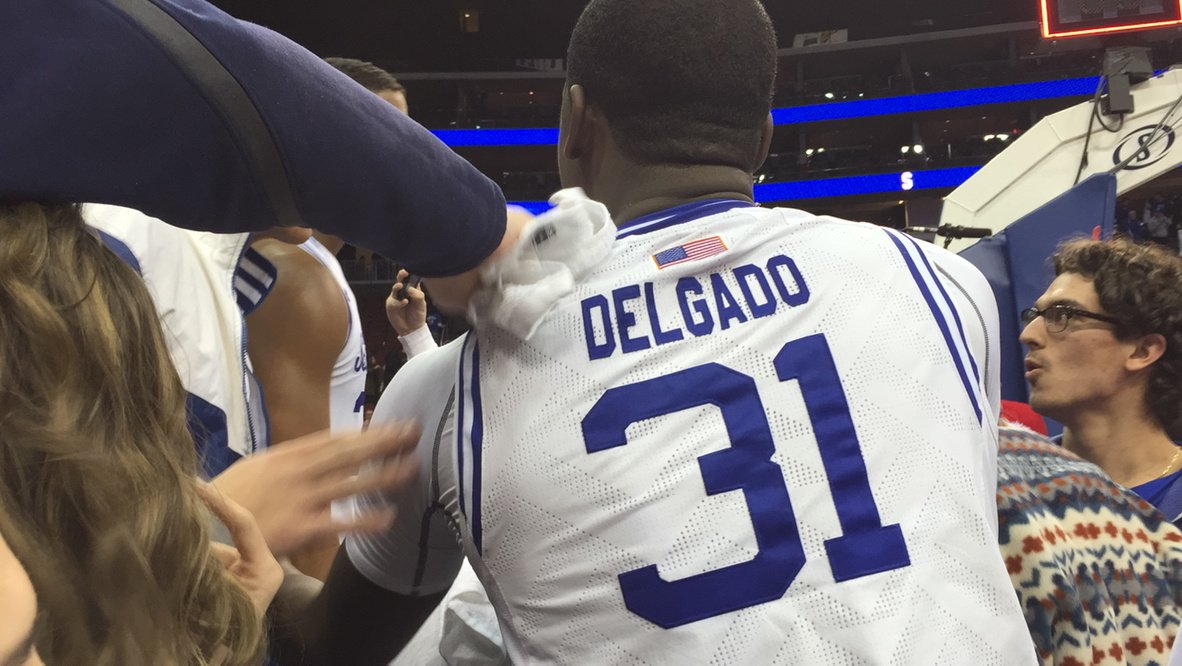 Angel Delgado celebrates in student section after his fourth straight double-double helped Seton Hall pick up monumental win over Wichita State. (Photo courtesy of Jerry Carino)
NEWARK, NJ -- For the first part of the game on Saturday afternoon, Wichita State was getting whatever they wanted offensively. All-American guards Fred
VanVleet
and Ron Baker were efficient and deadly, combining for 22 points on 7-15 shooting as the Shockers led at the half 40-32.
But a simple switch by head coach Kevin Willard flipped the script almost completely, as the Pirates' stout man-to-man defense after halftime flustered the Shockers and led to what eventually became an 80-76 overtime win for Seton Hall over the visitors from the Missouri Valley Conference.
Desi Rodriguez was the star of the second half, scoring all 18 of his points in the second half and overtime after a rough beginning to the game that saw him miss a three and
airball
a contested two-pointer. Three other Pirates finished in double figures as Isaiah Whitehead scored 17 with five rebounds, four blocks and two steals, Angel Delgado put up his fourth straight double-double of 14 points and 11 rebounds, and
Khadeen
Carrington chipped in 11 for the Hall.
Against a zone defense in the first half, the Shockers shot the daylights out of the ball, hitting at a 60% clip for the entire half until Willard made an adjustment. The switch to man-to-man defense was a critical one, and a necessary one.
"The first half was totally my fault," Willard said afterwards. "I spent too much time watching film and tried to confuse their guys when what really happened was it confused our guys. We just got back to being real simple (after halftime) and doing things we were good at defensively."
That defense forced the Shockers into not just shooting woes, but also a bunch of turnovers. Wichita State turned it over 15 times after halftime alone, finishing with 21 for the game. And in the second stanza, when they weren't coughing it up, they were pressured into misses. After shooting 52% in the first half, the visitors shot just 31% (11-35) after the midway point, with Baker and
VanVleet
shooting a paltry 25% (4-16).
"Obviously, they played really hard defensively to force that many turnovers," Shockers head coach Gregg Marshall said. "I thought our guards were forcing it a little bit and the ball was sticking to their hands a little bit…it's very uncharacteristic for (Baker and
VanVleet
) to have 11 turnovers (between them)."
Much credit has to go to the Pirates, though, who got a yeoman's defensive effort out of Derrick Gordon off the bench, with the graduate transfer from UMass also chipping in with eight points, three assists and three steals.
Still, Willard cautioned his charges on getting too high after the huge win on national television.
"We have a long way to go," the sixth-year skipper said. "The most I'm going to take out of this is that in the past, we've been knocked down and run for the hills. They came out and knocked us down and for the first time what I saw was guys taking a step towards the fight. That's as important as anything. It's a good step for this group, but we have a long way to go."
Five Thoughts on the win:
1.
Rodriguez's Resurrection
Desi Rodriguez was invisible in the first half after not playing his best ball at all in the first few possessions of the game. In 11 minutes, he was scoreless on 0-2 shooting. Willard refocused him in the locker room at the half, saying that he had to get back to what he does best and "go dunk on somebody." Well, it worked, as a rejuvenated Rodriguez played a huge part in the Hall's big comeback. MVP of the game without a doubt.
The reason the Pirates' post-halftime run did not deliver the game in regulation time was Conner Frankamp. The Kansas transfer showed off why he was recruited to the Jayhawks out of high school, literally saving the Shockers with a personal 8-0 run after Seton Hall took the lead with about five minutes to go. He ended up with 13 points and all of the four shots he hit were pretty darn tough, including a step-back three that was literally "step-back" as he moved about 10 feet to the corner and sunk the triple. Give the sophomore credit- more games like that could be coming for him in Wichita.
Angel Delgado was great again for the Pirates, with his fourth straight double-double of 14 points and 11 boards. As is always the case when Delgado's on a roll, he did it quietly, without much fanfare. His game as well as some fantastic defense from
Ish
Sanogo
(more on him in a second) led the Pirates to a 36-16 edge in points in the paint for the contest. One thing is definitely certain after watching the Shockers – as their backcourt goes, so do they, and the Pirates were able to take full advantage up front.
There is not a single player who benefitted more other than arguably Derrick Gordon from the adjustment from zone to man than Ismael
Sanogo
. The sophomore from Newark East Side has blossomed this season on both ends of the floor, becoming a length terror on defense much the way that
Fuquan
Edwin did early in his Seton Hall career. The difference with
Sanogo
is that he's taller and rebounds better. The Newark native finished with 5 points, 9 boards and three steals, coming up with a few crucial turnovers late in the contest to help salt it away.
Seton Hall has had a lot of games against marquee opposition that have been lost at the free throw line in the past. In a team-wide effort, they made sure it not only didn't sink them, it may have won them the game. The Pirates went 26-35 from the charity stripe, a 75% clip, as a team, with Rodriguez's 7-9 showing leading the way. Heck, even Delgado hit both his freebies.
The Last Word:
This is a gigantic win for the Pirates. With loads of recruits in the building as well as six different NBA scouts and a national TV audience along with 7,500+ fans in the arena, the Pirates came through on the biggest of stages for arguably their biggest non-conference home win, period, in decades. They now have a couple games before Big East play starts, but this young Seton Hall team is a little older and a little wiser than last season. The challenge is to keep them focused- as everyone saw last year, things can go very wrong very quickly. If they are able to keep focus, though, this may turn out to be a year no one saw coming from Kevin Willard's crew. Only time will tell. Seton Hall gets South Florida at home on Tuesday night in their next contest.