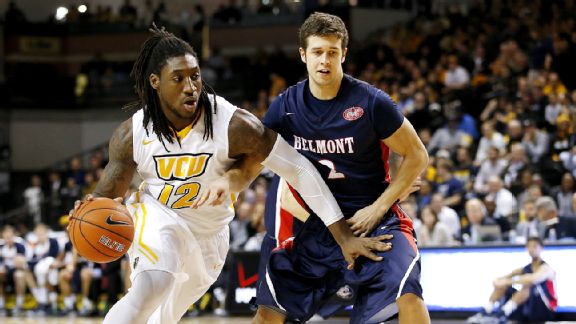 Mo Alie-Cox grabbed seven of his eight rebounds on the offensive glass while going for 18 points in VCU's Atlantic 10 semifinal win over Davidson. (Photo courtesy of ESPN)
For the third consecutive year, Championship Sunday at the Atlantic 10 Tournament will include VCU. The Rams made a statement this afternoon, draining twelve three-pointers in a decisive 93-73 win over Davidson to reach the title tilt once again. A look at the final pace and efficiency numbers:
Possessions: VCU 70, Davidson 67
Offensive Efficiency: VCU 133, Davidson 109
What VCU did well: Execute their game plan, and remain true to their identity. The Rams' patented "Havoc" defense only forced nine Davidson turnovers, but pressured the Wildcats enough to rattle them on both ends of the ball, particularly the defensive end, and outrebounded the Wildcats by ten, 40-30. VCU connected on eight three-pointers in the opening stanza alone en route to a 44-28 halftime lead, and finished 12-for-24 on the day from beyond the arc just 24 hours removed from knocking down ten three-balls in their quarterfinal victory over Richmond.
What Davidson did well: Play a crisp game from a ball handling standpoint, which may have been the only reason why the Wildcats were able to stay within reach of VCU in the second half. Always one of the more steady hands when moving the basketball, Davidson committed just nine turnovers, and turned twelve VCU miscues on the opposite end into 20 points of their own.
Leading Scorers and OE:
VCU: Mo Alie-Cox, 18 points (OE 2.500)
Davidson: Tyler Kalinoski, 19 points (OE .556)
Nuggets of Note:
- VCU became the first school to reach three straight Atlantic 10 championship games since Fran Dunphy's Temple teams did it from 2008-2010, when the A-10 Tournament was played in Atlantic City. At 25-9 on the year, the Rams could move back up to the 8/9 line with a victory tomorrow, and are a certainty to hear their names called by Greg Gumbel on Selection Sunday tomorrow.
- Davidson, although not necessarily a lock to secure an at-large berth, stands a very good chance to do so. At 24-7, the Wildcats made believers out of nearly everyone who doubted their ability to compete during their maiden voyage in the A-10, a credit to the coaching ability of Bob McKillop and his smaller lineup that caused matchup problems for their opponents throughout the season.
Final Thoughts
"After the way La Salle was able to score inside against Davidson, I told our guys we had to get it in to Mo, just pound it in there." - VCU head coach Shaka Smart
"We need rhythm and flow. It disrupted us, and we had no feel for it. We had no rhythm." - Davidson head coach Bob McKillop on VCU's defense
"I think we've shown that we can play in a great league like the Atlantic 10, and just the way we play, we fight, every game, no matter what the score is." - Davidson guard Tyler Kalinoski