Two years at Buffalo and NCAA Tournament appearance make Bobby Hurley one of hottest names on short list to fill head coaching vacancy at Fordham. (Photo courtesy of the Baltimore Sun)
Fordham is looking for a head coach again, following its decision to part ways with Tom Pecora after five years at the helm, and predictably, a handful of names have already been linked to the vacancy at Rose Hill.
Some of these names may surprise you, some others may be expected, but who is the right fit for the job? Here, we break down some of the men expected to receive consideration, with some reasons as to why each would or would not be a good choice to guide the Rams into the future:
Bobby Hurley (pictured above)
Age: 43
Experience: Head coach, Buffalo (2013-present, 42-20)
Pros: The popular choice of most Fordham fans, even before Pecora was officially relieved of his duties. Possesses rich basketball lineage, both of his own and his family's making, and remains one of greatest point guards in college basketball history, still to this day the NCAA's all-time assist leader during a stellar career at Duke in which he won two national championships alongside Grant Hill and Christian Laettner. A tireless worker who will no doubt instill invaluable wisdom in Fordham's backcourt if he were to get the job, Hurley would also be close to his home base of New Jersey, and his presence in the metropolitan area would be enough to make inroads toward improving the Rams' recent uptick of successfully recruiting local talent capable of playing in the Atlantic 10.
Cons: Only two years of head coaching experience might scare him away from those in the Fordham administration that may prefer someone more seasoned. Also, his brother, Dan, is currently a member of the Atlantic 10 coaching ranks, and has a potential conference championship contender at Rhode Island next season. Are the brothers ready for a Hurley vs. Hurley battle every year, possibly twice in some seasons?
Will Brown (Photo courtesy of the New York Daily News)
Age: 43
Experience: Head coach, Albany; (2001-present, 215-215) head coach, Sullivan County Community College (1998-2001, 90-10)
Pros: Has turned an Albany program once perennially dormant into a consistent power in the America East, winning five conference championships, which ties him with Hall of Famer Jim Calhoun. A proponent of an aggressive, defensive-minded look, which would fit well against the likes of VCU, Dayton, George Washington and Rhode Island. Long Island native who would not only maintain Fordham's local profile, but also among the most social media-savvy coaches in the nation, (Brown tweets frequently under the handle @UAHOOPSWB, and unlike many coaches on Twitter, is not above engaging both fans and media alike in conversation) something that could accelerate the exposure of the Fordham brand, as would his international pipeline that has been established through Australian stars Peter Hooley and Sam Rowley. His down-to-earth nature and quotability would be a seamless transition from Pecora, and would make him an instant hit with local media.
Cons: Has yet to prove he can work the same magic in a stronger league with more than one NCAA Tournament bid, and still largely unknown in the New York area even with his success in the capital region. Career record is also a handicap of sorts, but has guided Albany to an 86-49 record over the last four seasons, with three consecutive America East championships in that span.
Andy Toole (Photo courtesy of ESPN)
Age: 34
Experience: Head coach, Robert Morris (2010-present, 110-66)
Pros: Has won at least 18 games in each of his five seasons at the helm in Moon Township, finally reaching NCAA Tournament this season by winning his first Northeast Conference championship after three losses in the title game. Staten Island-born, New Jersey-bred rising star who has attracted area talent such as Lucky Jones, who played for Bob Hurley at St. Anthony's. A Penn alum and former assistant to Fran O'Hanlon at Lafayette, he is well aware of what it takes to win at a supposed "academic school," and has guided Robert Morris to postseason wins against bigger programs the likes of Kentucky and St. John's. Also not his first dance with a step up in conferences, as he was a finalist two years ago for the vacancy at Siena that was ultimately filled by Jimmy Patsos.
Cons: Not all that many, unless you want to nitpick his four postseason appearances by saying only one of them is an NCAA Tournament. Toole's name has also been linked to the coaching vacancy at George Mason, so Fordham could find themselves in a potential bidding war if the Patriots show serious interest in him as a replacement to Paul Hewitt. The biggest question here would be what other offers he gets coming off his first trip to the field of 68, and that will likely determine where he ends up.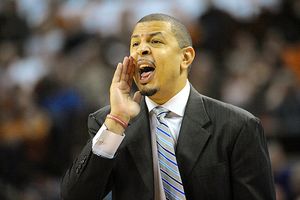 Jeff Capel (Photo courtesy of ESPN)
Age: 40
Experience: Associate head coach, Duke; (2011-present) head coach, Oklahoma; (2006-11, 96-69) head coach, VCU (2002-06, 79-41)
Pros: Like Bobby Hurley, a product of Mike Krzyzewski at Duke, and now a member of Coach K's coaching tree, which has branched off successful names like Mike Brey and Johnny Dawkins, with two more up-and-comers in Chris Collins and Steve Wojciechowski at Northwestern and Marquette, respectively. Capel has another bargaining chip in his favor from his time at Oklahoma, having recruited, coached and developed Blake Griffin into a National Player of the Year and No. 1 overall NBA Draft pick while leading the Sooners to an Elite Eight appearance.
Cons: Has not held a head coaching job in four years, so his name, although still largely relevant in many circles, may not be among the first to come to mind. Demise at Oklahoma was brought on by an NCAA investigation involving one of his assistant coaches and a recruit, as well as two losing seasons amid high expectations. Also, he is viewed as somewhat of a coach-in-waiting in Durham whenever Krzyzewski decides to retire, so he may opt to wait for the opportunity of a lifetime to open up as opposed to resurrecting Fordham.
Jim Engles (Photo courtesy of the New York Post)
Age: 46
Experience: Head coach, NJIT (2008-present, 89-123)
Pros: A metropolitan area college basketball lifer, a Staten Island native who got his start at his hometown program, Wagner, as an assistant for six years, then spending six more at Rider and five at Columbia before being tabbed to shepherd the Highlanders into Division I, beginning with a 1-30 season in 2008. Facing the most adversity and largest challenges of his coaching counterparts at the helm of the nation's sole independent Division I program, Engles made his boldest statement on December 6, when NJIT went into Ann Arbor and left Crisler Arena with a 72-70 victory over 17th-ranked Michigan, sending the Wolverines into a tailspin that concluded with a 16-16 record. The Highlanders reached their first postseason at the Division I level this season, defeating New Hampshire on Monday in the opening round of the CIT, and will host Cleveland State this Monday in the Round of 16.
Cons: Still largely untested, no disrespect to NJIT and the obstacles the school has had to endure both in the Great West Conference and as an independent. Might generate some buzz from the win over Michigan, but not enough to really move the needle among major boosters and the local media.
Jean Prioleau (Photo courtesy of Colorado University Athletics)
Age: 44
Experience: Assistant coach, Colorado; (2010-present) assistant coach, TCU; (2008-10) assistant coach, Iowa State; (2006-08) assistant coach, Marquette; (2005-06) assistant coach, Wichita State; (2000-05) assistant coach, Fordham (1999-2000)
Pros: An alumnus from the Class of 1992, Prioleau brings name cache among the old-school Ram faithful, who undoubtedly remember him from his exploits as a player, where he still ranks among Fordham's best players of the last two decades. Has become the epitome of well-traveled since then, playing overseas before serving on the staffs of six programs over the last 16 years, beginning with his alma mater. Should he be hired, it gives him an opportunity to bring his career full circle, not to mention rekindle the relationship between distanced alumni whose support of the program has waned.
Cons: Lack of head coaching experience might scare some people away, but that can be mitigated by his diverse resume as an assistant, serving under the likes of Mark Turgeon, Tom Crean and Tad Boyle among others. Moreover, the issue of potentially damaging his legacy should he fail as head coach could come into play. For every Gary Williams, there is also a Matt Doherty.
Dave Paulsen (Photo courtesy of Big Apple Buckets)
Age: 50
Experience: Head coach, Bucknell; (2008-present, 124-92) head coach, Williams College; (2000-08, 170-53) head coach, Le Moyne; (1997-2000, 42-39) head coach, St. Lawrence (1994-97, 50-28)
Pros: Has won everywhere he has been, most recently with four postseason appearances (two NCAA Tournament, two NIT) in the last five years at perennial Patriot League power Bucknell, where he coached a first-round NBA Draft pick in Mike Muscala, now of the Atlanta Hawks. Won a Division III national championship at Williams in 2003, and nearly repeated the following year, losing in the championship game to complete a two-year record of 61-3. Coming from a Patriot League school, something Fordham still is with regard to its football program, would understand academic standards when it comes to recruits, and would develop an appropriate strategy.
Cons: Again, another coach whose success has come in one-bid leagues, and one whose best players historically have not been on Atlantic 10 radar. No major local connections to speak of, so he might be a hard sell on the New York market initially.
Kyle Smith (Photo courtesy of the New York Times)
Age: 45
Experience: Head coach, Columbia (2010-present, 76-72)
Pros: Guided a long-dormant Columbia program to a postseason appearance for the first time since the Johnson administration when Lions reached CIT quarterfinals last season. Despite 13-15 record this year, he gained national attention for playing Kentucky to just a 10-point loss, leading Wildcats at halftime and defending them better than nearly any of their opponents during what remains an undefeated campaign at the present moment. Credited with helping develop NBA players in Patty Mills and Matthew Dellavedova as an assistant at Saint Mary's, where he also worked with players such as Omar Samhan and Mickey McConnell over nine years as Randy Bennett's right-hand man in Moraga. Praised by current Richmond head coach Chris Mooney as the smartest man in college basketball, and the last time Fordham hired a coach out of Columbia, Tom Penders proved to be quite successful at Rose Hill.
Cons: Untested when it comes to recruiting with scholarships at his fingertips, so he would essentially be starting from the ground floor when it comes to evaluating prospects. In five seasons at Columbia, has only managed a winning conference record just once, accomplishing that last year. Also, this year's sub-.500 result, even though it can be attributed to losing Alex Rosenberg to injury in the offseason, knocked some of the luster off his candidacy, a stock that reached its high point during CIT run and uncertainty as to whether or not Tom Pecora would return.