Steve Pikiell walked away from America East championship empty-handed for fourth time in six years, but as always, handled yet another of his darkest hours like a champion. (Photo courtesy of Big Apple Buckets)
Bob Dylan once asked, "how many roads must a man walk down, before you call him a man?"
College basketball fans will rephrase that question once again, asking an oft-familiar refrain whose answer is prolonged at least another twelve months:
How much heartbreak must Steve Pikiell endure, before he wins the big one?
Anyone who covers Stony Brook University can attest to the blue-collar mentality of Pikiell, who has built the Long Island program from fledgling Division I institution to America East powerhouse during his decade at the helm of the Seawolves. So too can they validate his affable persona and overly respectful undertones, a coach that genuinely appreciates any and all of the media attention sent toward Exit 62 off the Long Island Expressway, one who goes out of his way to thank everyone for coming. In other words, he's easy to root for.
Yet, as the seconds on the clock wound down to 1.6, a number that will unfortunately be burned in the memory of Stony Brook fans everywhere for a long time to come, the latest in a laundry list of March demons. And as Peter Hooley's three-pointer touched the bottom of the net at SEFCU Arena early Saturday afternoon, Pikiell once again went from vindicated to vanquished, befallen by perhaps the strongest and swiftest kick to the Seawolves' respective guts in another cruel twist of fate that left nearly everyone watching; either live or on national television, wondering just who or what the 47-year-old coach who deserves better had angered to draw yet another bitter fate.
"Nobody feels sorry for you when you lose," Pikiell would caution after the game, injecting a dose of reality into the moment that will go down as arguably the most cruel out of all he and his program have been subjected to in their quixotic journey toward the Seawolves' first NCAA Tournament since moving up to Division I in 1998. "We played 34 games this year, and it comes down to the last five seconds. To their credit, Albany made one more play than we did."
One more play. One more shot. One more deflection, because that's ultimately what it came down to, with Mike Rowley's outstretched left arm elevating just above Jameel Warney to tap the ball out to Hooley, situated in perfect position off the top of the key. It was the dream-come-true ending even a Hollywood screenwriter could not script, with Hooley, who took a month off to return to his native Australia to be with his mother during her final days while battling the colon cancer she unfortunately succumbed to, paying tribute to her in the most heroic way possible. But for all the hyperbole, and all the drama, for Stony Brook, it came down to one shot.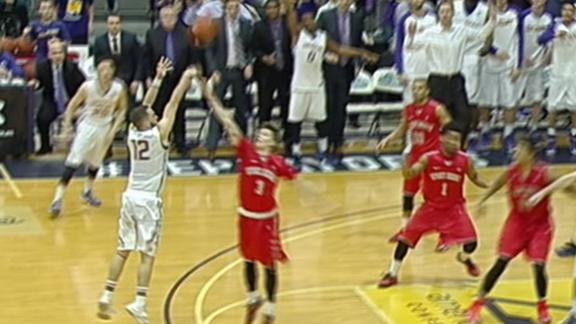 Peter Hooley provided storybook ending for Albany, and latest low point for Stony Brook. (Photo courtesy of ESPN)
One shot. With just over one second left, in a game decided by one point. If one truly is the loneliest number, Stony Brook went through the sad realization of it once more after being gifted with what appeared to be a foolproof setup, a defensive-minded game that played right into the Seawolves' wheelhouse. A seven-point lead that looked for all the world to be insurmountable with 1:43 on the clock before limping to the finish line similar to how Dale Earnhardt did in the 1990 Daytona 500 when he cut a tire on his way to a runaway victory that ended up going to Derrike Cope, a last-second three by Hooley; the only shot Albany made from beyond the arc the entire day, that turned "Caddyshack" into "Groundhog Day," cast Pikiell and Stony Brook as bridesmaids for a fourth time.
The curtain may have been brought down, with the latest act ending as so many others before it have. Albany, for the third straight year and second against Stony Brook, goes on, competes under the bright lights of the NCAA Tournament. Pikiell and the Seawolves dust themselves off and begin the long, hard road toward another season, with everyone on the roster back for a second season together, plus the addition of Lucas Woodhouse, the point guard who sat out this year after transferring from Longwood.
It might not be the most glamorous setting for Stony Brook, but it is a cross all too familiar for Pikiell to bear as the star-crossed coach waits another 365 days to reach the summit, to go from Dan Marino to John Elway, from Phil Mickelson pre-2004 to winning the green jacket at Augusta.
"This team has been awesome all year," Pikiell, handling his latest soul-crushing blow like the champion he is, only without the testimonial, would state. "We're going to work hard to get back here, and we'll do that starting tomorrow. What else can you do?"
For Stony Brook, the only choice is to follow the latest turn in the long and winding road, one whose payoff hopefully awaits.