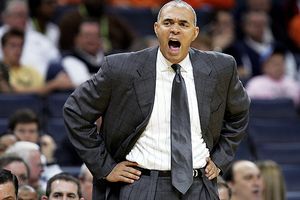 Dave Leitao, who led DePaul to last NCAA Tournament, is on verge of returning to Blue Demons as successor to Oliver Purnell. (Photo courtesy of ESPN)
When Dave Leitao was last at DePaul, he guided the Blue Demons to what has been their most recent taste of success, and their last NCAA Tournament appearance. Now, his former employer is trusting him with the responsibility of doing it again.
In what came as somewhat of a surprise hire, Leitao is expected to return to Chicago for a second stint as DePaul's head coach, according to ESPN's Andy Katz. Barring the unexpected, Katz went on to report that a deal could become official as early as this evening. DePaul had reportedly interviewed both Bryce Drew of Valparaiso and Buffalo's Bobby Hurley before turning to Leitao.
Leitao, 54, succeeds Oliver Purnell; who went 54-105 in five years at DePaul, and spent the past three seasons as an assistant to Frank Haith, first at Missouri before joining him at Tulsa this year. In three years at the helm from 2002-2005, Leitao took DePaul to a 58-34 record, reaching the postseason in each year, with the Blue Demons' 2004 NCAA Tournament berth sandwiching two trips to the National Invitation Tournament. He then parlayed his run into a four-year stint at Virginia, where he was replaced in 2009 by current Cavaliers coach Tony Bennett. He began his head coaching career at Northeastern, where he spent two seasons in charge of the Huskies before returning to the staff of his college coach, Jim Calhoun, under whom he served as an assistant coach as the University of Connecticut won their first of four national championships in 1999.