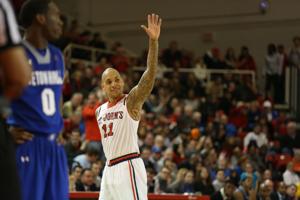 D'Angelo Harrison bids farewell to Carnesecca Arena crowd in what senior hopes will be his final on-campus home game, an 85-72 Red Storm win over Seton Hall. (Photo courtesy of Chris Barca and Amy Rio of the Queens Chronicle)
Whether they have won or lost, excited or exasperated, collaborated or confounded, one thing has always remained the same with St. John's: They have always done it together.
So it was, then, that when Steve Lavin brought walk-on Khadim Ndiaye into what enters the record books as an 85-72 victory over Hudson River rival Seton Hall, it provided another indelible scene on the road to what those around the corner of Union and Utopia hope will be a storybook ending to a season that is quickly shaping up to be the most successful in Queens since a coach whose name is rarely; if ever, spoken around these parts, patrolled the sidelines at what was then known as Alumni Hall.
"I put them in together so they could share the moment," Lavin said of Ndiaye joining starters D'Angelo Harrison, Sir'Dominic Pointer, Phil Greene, along with sixth man Jamal Branch. "They've been through so much, each with different journeys and unique challenges, but all of them have been exemplary in the way they represent this school. I thought it was appropriate that they went out as a group."
That last quote is perhaps the most poignant from a game that saw the Red Storm earn a hard-fought win over a Pirates team without the services of Sterling Gibbs, suspended for his flagrant foul earlier in the week on Villanova's Ryan Arcidiacono, and one looking for a sweep of its metropolitan area foe. In a four-year tenure marked by various departures, those who have stayed have developed a common goal that is intensifying with each passing game, much like the senior-laden roster that Lavin coached in his first go-round as Norm Roberts' successor. Like the team led by D.J. Kennedy, Dwight Hardy, and Paris Horne, this incarnation of the Red Storm has yet to reach the NCAA Tournament together. But as the calendar picks up steam in February before turning to March, you can see each individual ramping up their own efforts: Greene, who flies under the radar, only to have a knack for hitting clutch shots, a fact that did not go unnoticed by Kevin Willard, even in defeat. Pointer, who reached his lowest point when he threw a punch at Cameron Biedscheid in South Bend, yet has risen from the ashes with a season that should put the Detroit native squarely in the conversation for Big East Player of the Year honors. Most of all, there is Harrison, the charismatic leader of this group; one who went through his own personal tumult when Lavin suspended him for the final handful of games in his sophomore season, yet returned with a clear head and a fresh outlook, with a renewed, contagious energy that has become the fuel for which St. John's looks to inspire once more.
The season is not over, as Lavin acknowledged in his postgame press conference. St. John's still sits on the bubble, but is in favorable graces before heading into the most critical week of the season, one that begins at Madison Square Garden on Monday against a Xavier team that the Red Storm defeated just one week ago on the road. From there, Georgetown makes their way up to the Big Apple on Saturday in search of another convincing win over their longtime adversaries for the second time in a span of twelve days. However, even though the worst is still possible, hope springs eternal.
"We hope this is our last game here," Pointer reflected, tacitly admitting that St. John's may end up hosting a game in the NIT like it did last year, a loss to Robert Morris that may rank as one of the bigger embarrassments in program history. "Things happen, but we've got to keep pushing, and we'll be alright."
Based on this latest effort, one more push, maybe two, might be enough to get this team back to the promised land. And if they do, they will have done it with the same "Three Musketeers" mentality they take the court with every time they put on the St. John's uniform.
All for one, and one for all.
And if they have it their way, one NCAA Tournament appearance to last for all time.