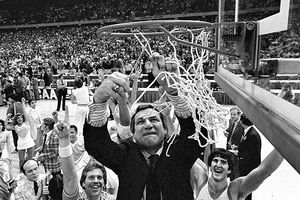 Shown here winning his first of two national championships in 1982, Dean Smith's impact on the game still resonates over 30 years later, even on those who never stood in his presence. (Photo courtesy of ESPN)
Many people have asked me over the years just why it is that I am a fan of the University of North Carolina.
In fact, if I had a dollar for all the people that have asked that question over my 28-plus years of life, I would be able to afford a few steak dinners at Peter Luger.
It all began on April 5, 1993.
Four months and seventeen days away from turning seven, that night was the night in which I watched a 40-minute college basketball game, from the opening tip to the final buzzer, for the first time. On the floor inside the Superdome in New Orleans was the University of Michigan, and the "Fab Five" recruited by Steve Fisher; a roster featuring the likes of Chris Webber, Jalen Rose, Juwan Howard, Ray Jackson and Jimmy King. Their opponent that night was the University of North Carolina.
Of course, North Carolina won the game, and the national championship, and Webber became forever known as the guy who called a timeout he didn't have. In the process, a six-year-old boy in Woodhaven, New York became a fan of the winning team and followed their exploits for the next several years, with several contributing factors.
Maybe it was the uniforms. Maybe it was the fact that Michael Jordan played there before I was born. Maybe it was the giant-like presence of Eric Montross, the hustle of George Lynch, the undying clutch spirit in Donald Williams. Most of it, however, was attributed to the calm, nurturing style of the man who coached all these players, the man whose unconditional love for the game and the young men who sat alongside him made him appear grandfatherly, a quality not lost on a little boy who met neither his mother's nor his father's fathers, as both of whom sadly passed away before my parents even got married.
Yes, at six years old going on seven, part of me looked at Dean Smith on April 5, 1993 as somewhat of a grandpa of sorts with the way he treated his players and made sure that nothing would ever happen to them.
As the years went on, so too did my background knowledge on Coach Smith. I soon learned of the family atmosphere that he fostered over his 36 years in Chapel Hill, how someone who played for him in the 1960s would still have as strong a bond as one who had sat under his learning tree during four of his latter years. Names like Scott, Cunningham, Brown, Karl, Ford, Worthy, Perkins, Jordan and Daugherty before my time; joined by a new list such as Lynch, Montross, Williams, Stackhouse, Wallace, Calabria, McInnis, Capel, Cota, Carter and Jamison. When Coach Smith retired in 1997, to be replaced by his longtime right-hand man, Bill Guthridge, I felt empty-hearted in a way, despite never having met the man responsible for bringing a second, and third 11 years later, national championship to Chapel Hill. Coincidentally, the transition from Smith to Guthridge coincided with my entrance from childhood into adolescence, as I turned 11 in the summer of 1997.
You know how you want to go back to the simpler times in your life, when you could do no wrong in anyone's eyes and not grow up, if only for a moment in time? Well, the Carolina fan in me felt that during three years of Matt Doherty, a man I still refer to; and those who know me well can attest to this, as "he who must not be named," much like the character of Lord Voldemort in the Harry Potter novels. The early 2000s, especially that 8-20 season, (NEVER FORGET) made me want to develop a time machine and return to the days where kindly old Coach Smith would make everything alright, and guide the Tar Heels deep into March on an annual basis.
Now, here I am today, a member of the college basketball media, albeit one who still gets passionate about certain teams. One of them is the University of North Carolina, and if I so happen to watch the Tar Heels from a monitor on press row, yes, a three-pointer from Marcus Paige will still elicit a fist pump. I'm not going to lie to you. All of that can be traced back to Dean Smith. He was just so easy to root for, from his persona, to his coaching talent, to his beliefs off the court, and most of all, his ability to remember stories and game situations from the John F. Kennedy administration some four decades later.
That last part, especially for someone like me who has prided himself on his memory over the years, hit home. It made me feel like I knew Dean Smith, when the closest I ever came to him was watching a North Carolina game on CBS or ESPN.
That is why this morning was something I have a hard time putting into words.
My day, which consisted of a trip to New Jersey to cover Manhattan College, a program for whom I have been blessed to chronicle for this website; as well as to fill in as its backup play-by-play announcer, against Rider University, started out as any other game day normally would: A commute in which I would catch up on sports news and other happenings via Twitter. Then, a little after 9 a.m., I came across this tweet from the North Carolina basketball account:
Sad news to report: former UNC head coach Dean Smith passed away on Saturday night at age 83. http://t.co/FwokJKkPVR pic.twitter.com/zXaFYlnuIe
— Carolina Basketball (@UNC_Basketball) February 8, 2015
At that moment, in the middle of Brooklyn on the way to catching the A train going to Penn Station, I almost broke down. Dean Smith, a major reason why I am who I am as a college basketball fan; the biggest reason why I became a North Carolina fan, was gone, having passed away late Saturday evening from complications of the Alzheimer's disease he had been diagnosed with several years ago, leaving this world just three weeks shy of his 84th birthday.
It was something that was bound to happen, especially after Coach Smith had so tragically begun slipping away from the man he will forever be remembered as, a shell of his former self. Still, no one, fan of his or not, fan of his program or not, expected this. Not now, not so soon.
Nearly 15 hours later, I still write this in a state of shock. I never knew Dean Smith, like some friends of mine in the business have, or in some cases; like Monmouth head coach King Rice, to whom I have never spoken about Coach Smith but someday will, got to grow up under his everlasting guidance. Yet, just by watching him conduct himself and his basketball program, by seeing him go about his business, I feel as if I did. Some people just really know how to make you feel like you are part of the family.
Coach Smith did for millions of fans, particularly this one.
There will never be enough words for anyone, much less a kid from New York whose only connections to 879 career wins and two national championships are the hundreds of games he watched on television and his exhibit at the Basketball Hall of Fame, to which I was able to pay visits two in each of the last two years when the MAAC Tournament was held in Springfield, to cover all of what Dean Smith meant; not just to them personally, but to college basketball, and to an extent, sports in general.
But if we could all strive to live just one percent as well as he did, be just one percent as influential as he was; no,
IS
, then we will all be better at life because of it.
Eternal rest grant unto thee, Coach Smith. May the peace that was taken from you in your latter stages return to you safe and sound, and may you know once and for all, that your greatest impact was not on the players you coached or the colleagues you worked with, but rather on those who observed your greatness from a distance.
That is what I will remember most about Dean Smith, and quite frankly, I would have it no other way.
Rest in peace, Coach.
(Photo courtesy of the University of North Carolina)