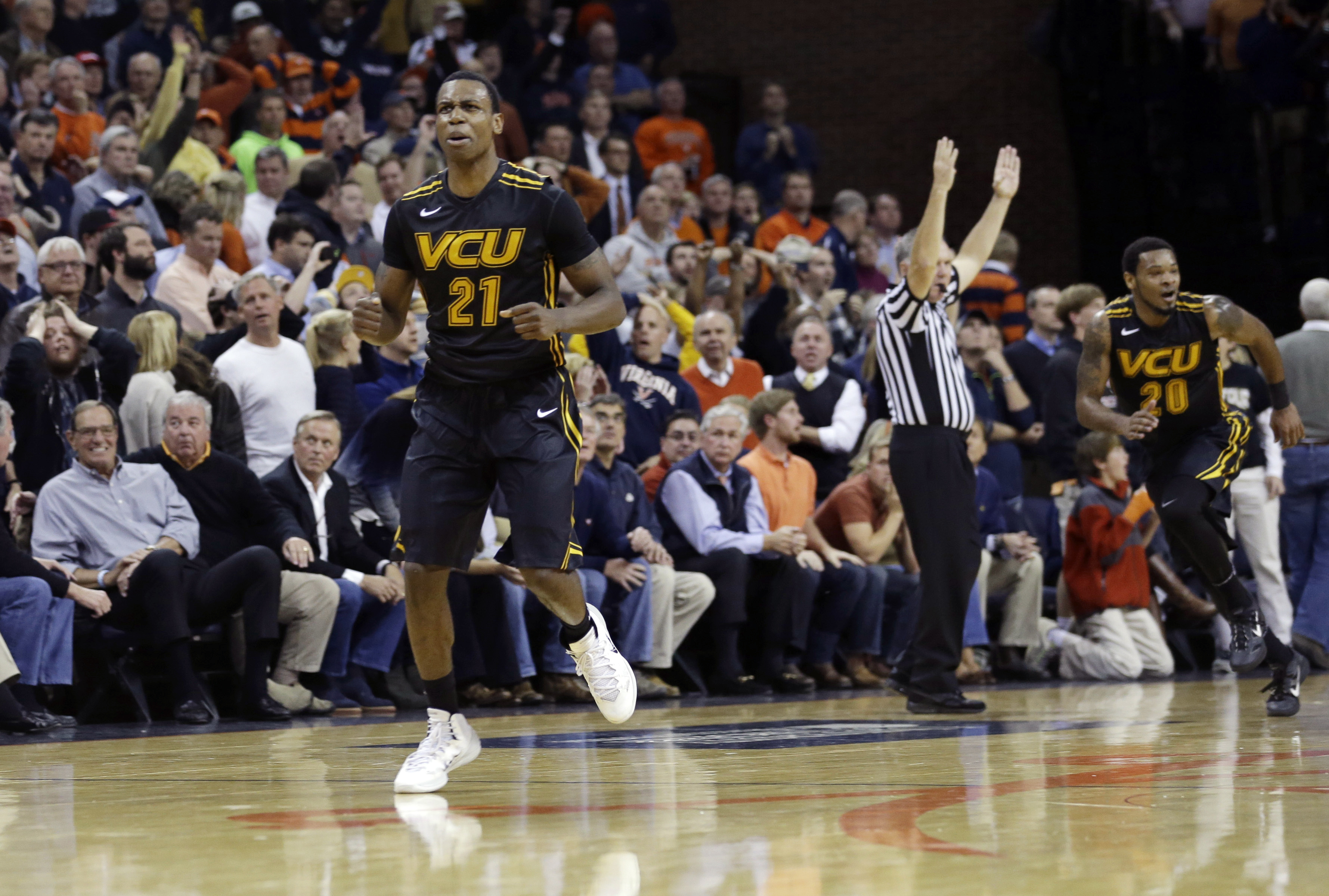 As he enters his senior season, VCU's Treveon Graham is the widespread choice of prognosticators for Atlantic 10 Player of the Year honors. (Photo courtesy of the Washington Times)
With Atlantic 10 media day taking place tomorrow, we set the table for the festivities in Brooklyn with the first of two pieces highlighting what to expect from one of the best mid-major conferences in the nation. A preview with predictions for every team will follow, but until then we bring you a roundtable discussion, similar to the one we conducted last year for the Big East, which had to be broken into two parts due to its myriad of information. Regrettably, we were unable to get representatives from Saint Louis, Dayton, La Salle and Davidson in time, but our Jaden Daly serves as moderator for ten other media members representing the schools they cover, and they are:
Duquesne: Steve DiMiceli, WeWearTheRing.com (Twitter: @SteveDiMiceli)
Fordham: Donnie Dwyer, The Sports Cycle/WICZ (Twitter: @DonnieDwyerWICZ)
George Mason: Alan Kelly, MasonHoops.com (Twitter: @MasonFanatic)
George Washington: Patrick Stevens, D1scourse.com (Twitter: @D1scourse)
Massachusetts: Phil Kasiecki, Hoopville (Twitter: @PhilKasiecki)
Rhode Island: Dave Ascoli, Rhody Rampage (Twitter: @RhodyRampage)
Richmond: Spider Bandwagon (Twitter: @SpiderBandwagon)
St. Bonaventure: Ray Floriani, CollegeChalktalk.com (Twitter: @rfloriani)
Saint Joseph's: James Hill, Philahoops.com (Twitter: @jrhill17)
VCU: Mike Litos, VCU radio color analyst (Twitter: @VCULitos)
1) Who is the likely A-10 champion, and why?
Steve DiMiceli: VCU. In September, the Rams are going to look the best on paper from now until who knows when. They have the flashiest recruiting, they seem to reload rather than rebuild every year and they have the coach with the best brand in the league. I actually doubt they'll win the Atlantic 10 tournament, but until teams actually start playing the games, I have no clue who will better to put at the top.
Donnie Dwyer: This is probably the hardest year to pick a winner. Every team is relatively young with a lot of new faces coming in. I am going to go with VCU because they have are the most athletic team in the conference every single year. They could play 60 minutes straight and their defense is always top in the conference. Plus, Shaka Smart is one of the best young coaches in the game. But watch out for UMass, they could make a big run this year with their size and experience.
Alan Kelly:
George Washington. The Colonials were on a serious roll until Kevin Larsen's injury last season, and Shaka Smart still hasn't won a regular season conference title.
Patrick Stevens:
Virginia Commonwealth.
The Rams were one of the top two or three teams in the league last year, bring back legitimate conference player of the year candidate Treveon Graham and have generally capitalized on their Final Four run of four seasons ago (has it been that long already?) with an influx of talent. Shaka Smart's bunch begins the year as a rightful favorite.
Phil Kasiecki: VCU. A year ago, many picked the Rams to win the conference, and while they had a fine season, they fell off the radar mainly because Saint Louis went on an incredible run. The Rams lost a couple of key players in Juvonte Reddic and Rob Brandenberg, but Treveon Graham can flat-out score, Briante Weber is perfect for their style of play, and a terrific recruiting class will only add to what they already have.
Dave Ascoli: It has to be VCU. Unanimously... right? Shaka's crew figures to be a preseason Top 25 team, and he has finally recruited Atlantic 10-level talent. They were already pretty good before. But now? Sweet 16 feels like a safe bet.
Spider Bandwagon: VCU. For all the reasons everyone already knows about. Shaka's best team... Loaded recruiting class... Hostile home court... Mo Says No... Yawn. Of course, that's the regular season. Brooklyn is another matter, and A-10 teams are very good at being better - and closing the gap on favorites - at the end of the year.
Ray Floriani: VCU. A formidable returning cast, led by Treveon Graham, is on hand. Add to that the man on the bench. Shaka Smart is simply one of the best coaches in the country, yes country. Motivation will be plenty. The last two seasons the Rams were defeated in the Atlantic Ten Championship. The past March also saw an earlier than expected exit, a upset at the hands of Stephen F. Austin, from the big dance. Talent, coaching and incentive all spell a championship for VCU.
James Hill:
VCU.
I wanted to go with a less obvious pick here, but no one else comes anywhere close on paper. The Rams return six of their top eight players from last year's 26-win team and claim ESPN's 14th best recruiting class.
Shaka's
doing
alright
for himself.
Mike Litos:
VCU. Shaka Smart has a level of depth he didn't have last season, and he's replacing a couple experienced players with a couple new pieces that played significant minutes last season. The Rams have experience. Plus, they won't shoot any worse so the offense will improve and you know what you're getting with their defense. Add to that a freshman class good enough to push for playing time, and you have the squad with the least number of holes.
2) Who are the most overrated and underrated teams in your opinion?
SD: While I'm completely drinking the Kool-Aid, I'm not sure what Rhode Island has done to deserve a nearly universal top six preseason rating besides recruit over their head. I rated them 6th myself in our We Wear the Ring blogger poll and I honestly couldn't give you a good reason why they should finish there besides someone has to.
I think Richmond is a real dark horse candidate to win big in Brooklyn. I love Terry Allen, and I'm buying the potential of ShawnDre' Jones. I doubt they finish in the top three of the regular season standings, but come tournament time, they're a bad matchup for a lot of the league.
DD:
Overrated team this year would be Saint Louis. I love Jim Crews and their defensive mindset but they only have two seniors on the team and are welcoming six freshmen on campus. Achraf Yacoubou, a transfer from Villanova, could be huge, but we shall see how he fits in this system.
Underrated team I would say is LaSalle. I think they had a lot of bad luck last year and were close in every single game. The Explorers have a lot of experience and Jerrell Wright is going to be an All-Conference player, and is probably the best post player in the league. I expect LaSalle to be a lot better than 15-16 from last year.
AK:
Overrated: Dayton. They've lost more pieces than outsiders realize.
Underrated
: Duquesne. They have a lot of talent and Micah Mason is a stud.
PS:
MOST OVERRATED:
Massachusetts.
The Minutemen lost a lot of production with the departures of Chaz Williams, Sampson Carter and Raphiael Putney. It doesn't mean they can't finish in the top third of the league, but last year's RPI darlings might be due a bigger dip than anticipated.
MOST UNDERRATED:
Saint Louis.
No, the Billikens are not going to match their average victory total from the last three years (27). But they ARE going to defend. That end of the floor won't be quite as efficient as last year, but Saint Louis should win enough low-scoring games to land better than tenth
in the conference standings even after graduation wiped out its starting lineup.
PK:
Saint Louis will get the nod in the former category, mainly because much will be expected based on last season's team. But this team won't be nearly as good given heavy personnel losses starting with two first team All-Atlantic 10 players, one of them the Player of the Year last season. That said, there isn't really a team that appears to be getting more buzz than is warranted; the Billikens are just the team that I think most will expect a little too much from.
For the most underrated team, Richmond flies under many people's radars, but the Spiders have a nice cast returning after a quietly good season last year.
DA:
I guess it depends on who you read in terms of which teams are being rated where. I will say that Saint Louis seems to be getting the benefit of the doubt based on their reputation alone, but I'm not sure I buy it. The Billikens lost... like, everybody. This year looks more like a rebuilding year and less like a "top six in the conference" year.

As for a team that's being underrated, I think it's fair to put Duquesne in that category. Looking at their finish last year and it's not hard to see why folks are picking them so low, but I'm buying into Jim Ferry and Co. this year. As I've said before, they remind me of Rhode Island, just a year behind in the rebuilding process.
SB:
Am I allowed to say VCU is most overrated? Yes, they're rightly the prohibitive favorites to win the league and will be very good, but it's starting to feel like people are ready to call the season a foregone conclusion. I'm not ready to put them in the A-10 Pantheon with Jameer Nelson's Hawks, Camby's Minutemen, etc just yet. And they're not re-inventing basketball, despite what the Havoc PR machine says.
As for most underrated: Saint Louis. There are ranges of predictions for most teams (hello, URI), and the middle of the league is ultra wide open. But the next person to say the Billikens will be outside of the lower half of the league will be the first. I think that program, and Crews, is stronger than that at this point. Plus, defense is much more regression-proof than offense, and Saint Louis plays defense.
RF:
Overrated – UMass. A good ballclub, but replacing Chaz Williams will be tougher than many prognosticators believe. Williams not only provided points, but a 'lift me up' spark and sound leadership.
Underrated – Duquesne. The Dukes have had some rough times and not played in the NCAA Tournament since the Norm Nixon days of the late Seventies. They lost several close games and did upset Saint Louis on the road last season. If things fall in place, Jim Ferry's club could be poised for a breakout.
JH:
Overrated: Dayton – I was never really sold on Dayton last season, though admittedly my judgment of them is based largely on the three games of theirs that I covered: three losses to St. Joe's.
After losing leaders in Devin Oliver,
Vee
Sanford, and Matt
Kavanaugh
, I'll be watching their non-conference performance
s
closely to see if they can really be a contender.
Underrated:
St. Bonaventure – I don't think they'll contend, but Olean is always one of the toughest places to visit in the conference, regardless of the home team's record. Mark Schmidt always has a tough, gritty team.
ML:
The most underrated team should be your official Mark Schmidt Award--that guy can coach. I'll go with Richmond, though. Chris Mooney's big men are now upperclassmen, and don't underestimate the impact of TJ Cline passing out of the high post. Key stat: number of Kendall Anthony field goal attempts. He shouldn't have to hoist the rock 23 times.
Overrated? Hard to say. This conference is so deep I'm really picking "teams with the most question marks." Rhode Island certainly has all that talent but if they finish fifth or eighth is that really a damning difference? (No.) Where are your expectations for Dayton--second or third? Ditto UMass. But I won't duck your question. I'll take UMass. I think they will miss Chaz Williams less for what he did for them, and more for what others did not do. What I mean is that pretty much every basketball situation--from the under 16 media timeout in the first half to the final possession of a game--the ball was in his hands. Somebody else has to do a lot of things with the ball in his hands, and I don't know who that is. That's exposure.
3) What is the early "game of the year" contender in the A-10?
SD: February 28,

Dayton at VCU. When it comes to the regular season title and the top seed in Brooklyn, I don't think there is a single late season game that could have more of an impact than this one.
DD:

It's way too easy to pick one but right now I would love to see

February 14

on ESPN 2 between VCU and George Washington at the Smith Center in D.C. Both teams play up tempo and high scoring games. It should be a battle of runs between the Rams and the Colonials.
AK:
VCU at George Mason, February 4. Will Shaka Smart get his first win in Fairfax?
PS:
Dayton at Virginia Commonwealth, February 28.
The Flyers and Rams meet for the only time on the penultimate Saturday of the regular season. Chances are, there will be implications for the top seed in the conference tournament as a team that reached the Elite Eight last year pays a visit to the league favorite.
PK:
You could choose either of the Richmond-VCU matchups given the rivalry angle and the fact that both teams will be good. But the call here is a week before the regular season ends as Dayton visits VCU on February 28. A lot could be on the line in that one.
DA: Let's go with Saint Louis at Duquesne on Feburary 25, if only because it'll be a good measuring stick for my overrated / underrated picks.
SB: Davidson's first A-10 game, hosting Richmond, will be a good one to keep an eye on (and a sneaky tough game for the Spiders). Saint Louis hosting URI will be a good litmus test for both teams. Dayton's trip to St. Bonaventure will be tougher than it looks. Then VCU at URI might be as good a shot as anyone has at drawing blood against the favorites.
RF: George Washington at VCU. Though it comes in late January, the 27th to be exact, this game will tell us a great deal. VCU defeated GW in the A-10 semis last March in Brooklyn. How serious a contender the Colonials are will be revealed in this game. For VCU, it is a challenge meeting a contender with a March memory while ensuring the defense of the 'home turf.'
JH:
Richmond at VCU, January 31:
Both these teams should be near the top of the Atlantic 10 standings all season. Throw in the proximity, the city bragging rights
on the line
, and the collective talent level, and this one should be a must-watch.
ML:
Nearly impossible to pick one game, but take a look at the week of
January 24-31.
We're going to start separating top from middle from bottom that week, and I'm looking at Dayton/Richmond, LaSalle/St. Joe's, VCU/GW, UMass/Dayton, VCU/Richmond. And Duquesne/Richmond that week interests me--Jim Ferry's bunch is worth watching.

4) What is the likely number of NCAA Tournament bids for the A-10?
SD: Four - VCU, Dayton, GW and one from the field
DD:
I think only four teams will make it this year. Last year was a 6 team conference. I see a lot of teams making big upsets nationally with other conferences but I think this year especially, everyone beats up on each other and the standings are more balanced.
AK: Three

(I want to say 3.5 but won't complicate things)
PS:
Four (Dayton, George Washington, Richmond, VCU). But plenty of league teams are shrewd in nonconference scheduling, and it would come as a far greater surprise if only three A-10 teams earned NCAA invitations than if five did.
PK:
VCU, George Washington and Dayton look like solid selections here. There are more with potential to get there, like Richmond, Saint Louis and UMass, and La Salle and Rhode Island are sleepers. The best guess here is four - the three solid ones and one more out of the remaining contenders.
DA:
I'll say three, with a chance that it could climb as high as five. I'm thinking the three locks are VCU, George Washington, and Dayton. But I do think that two of these three: UMass, Rhode Island, and Richmond, could potentially sneak in. No guarantees for any of them though, and I'm certainly not ready to predict that any of those three will make the Dance. It's never too early to start the bubble watch, though.
SB:
Four feels about right. VCU is a certainty. I really like GW. Then I think two from the Dayton, UMass, URI, Richmond level make it in. If forced to pick right now: URI and Dayton, by a hair.
RF:
Five. VCU and Dayton are virtual locks. George Washington is also in that enviable position. Among the group of URI, UMASS, LaSalle and a possible surprise as Duquesne and/or Richmond, two should get in.
JH: Four.
ML:
My Vegas over/under is 3.5. I think three is an easy call, and we will need another three teams to have stellar nonconference seasons. Because the league is so deep and balanced, there will be blood in January and February. Multiple teams are going to have to shine prior to Christmas.
5) Who are your votes for A-10 Player, Rookie and Coach of the Year?
SD:
A-10 Player - Kendall Anthony, Richmond
Rookie - Eric Paschall, Fordham
Coach of the Year - Not Jim Crews
DD:
A-10 Player of the Year – Treveon Graham of VCU – 15.8 PPG, 7 RPG and 2 AST and shoots 43% from the field. Best senior and player in the conference.
Rookie: I would say Eric Paschall from Fordham because he gets the most minutes, but VCU's Terry Larrier is a Top 50 recruit in the nation and he is a swingman just like Paschall, and this award is won by players making the difference in the standings and I think Larrier will be very, very good.
Coach - I think Shaka Smart wins it based on his team being the best but I wouldn't be surprised if Archie Miller and his Dayton team helps him win that award. He was ranked 26th best coach in the country on an ESPN poll.
AK:
POTY: Treveon Graham, VCU
ROTY
: Jared Terrell, Rhode Island
COTY: Mike Lonergan, George
Washington
PS: A-10 Preseason Player of the Year: Treveon Graham, VCU
A-10 Preseason Rookie of the Year: Jared Terrell, Rhode Island
A-10 Preseason Coach of the Year: Shaka Smart, VCU (kind of tough to do this, so go with the coach of the team picked No. 1)
PK: Player of the Year: Treveon Graham, VCU
Rookie of the Year: Eric Paschall, Fordham
Coach of the Year: Dan Hurley, Rhode Island
DA: Player: Treveon Graham, VCU
Rookie: Jared Terrell, Rhode Island
Coach: Mike Lonergan, George Washington
SB:
POY: Treveon Graham, VCU. Best player on the best team.
ROY: I have no idea....
COY: In all likelihood, Shaka Smart, especially if the Rams do indeed go 14-2 or better. If URI dances, Hurley will deserve it.
RF: Player of the Year – Patricio Garino, George Washington. After the A-10 semifinal win over St. Bonaventure, Phil Martelli of Saint Joseph's broke down his possible final opponent. Speaking of George Washington, Martelli spent a good time singing the praises of the 6-4 junior swingman. For good reason. Garino missed several games due to injury yet came on strong. He can score but is a rare type who prefers to play defense. He led the Colonials in steals while blocking 22 shots. A versatile performer who idolizes the Spurs Manu Ginobili, Garino is poised for a breakout year.
Rookie of the Year – If you look at a pure rookie, a freshman, the call goes to Darrell Davis. Dayton coach Archie Miller showed Sean is not the only Miller who can recruit, by securing the services of Michigan's 'Mr. Basketball'. The 6-4 guard should have an immediate impact with the Flyers.
A 'newcomer' with experience and rookie per se is Jordan Price, a sophomore guard. Price transferred from Auburn and should benefit playing for coach John Giannini, who works well with transfers entering his program.
Coach of the Year - Tough call, but Mike Lonergan of George Washington is the pick. If the Colonials get to the NCAAs, Lonergan is the choice. Even if they barely miss it, strong consideration must be given for the rebuilding job he's done with this program.
JH:
POY: Jon Severe, Fordham
ROY:
James
Demery
, Saint Joseph's
COY:
Mike
Lonergan
,
GW
ML:
I honestly believe this is the year for Shaka Smart and VCU. So, I'll go with Treveon Graham as the leading scorer on the number one seed as the POY. Smart will earn coach of the year for winning the regular season. Darkhorse pick is the same as my sleeper. Chris Mooney, if he can get Richmond to #2, will absolutely earn votes. Rookie of the year is Eric Paschall from Fordham. He will play 30 minutes and produce for Tom Pecora.
6) Word association (one word, if possible, to describe every team in the conference)
SD: VCU - Talented
Dayton - Depth
George Washington - Upside
UMass - Athletic
Richmond - Dark horse
URI - Hype
St. Joe's - Young
Saint Louis - Decimated
Duquesne - Close
St Bonaventure - Limited
George Mason - Fading
Davidson - Over matched
Fordham - Hamster Wheel
DD:
Fordham – International
GW – Efficient
Dayton – Experienced
LaSalle – Best Frontcourt
VCU – Dominant
Saint Louis – Defense
Richmond – Fast
St. Bonaventure – Big
Rhode Island – Balanced
St. Joe's – Rebound
UMass – Physical
Duquesne – Guard heavy
George Mason – Improved
Davidson - New
AK:
GW: Breakout
VCU: Machine
Dayton: Hunted
Richmond: Pesky
Duquesne: Sneaky
Rhode Island: Ambush
UMass: Chazless
St. Bona: Adjusting
Davidson: Surprise
La Salle: Sputter
Mason: Unknown
Fordham: Youthful
SLU: Restart
St. Joe's: Empty
PS: Davidson: Adjustment
Dayton: Balanced
Duquesne: Improving
Fordham: Rebuilding
George Mason: Inconsistent
George Washington: Juniors
La Salle: Doctor
Massachusetts: Tempo
Rhode Island: Hyped
Richmond: Tough
St. Bonaventure: Maximize
Saint Joseph's: Martelli
Saint Louis: Defense
Virginia Commonwealth: Panic-inducing
PK:
Davidson: Newcomers
George Washington: Growing
St. Bonaventure: Promising
Saint Joseph's: Retooling
George Washington: Experienced
La Salle: Wildcard
Rhode Island: Rising
Richmond: Talented
VCU: Proven
SB: St.
Bonaventure: Sneaky
Davidson: the right Charlotte-area team
UMass: PC? (Post-Chaz, obviously)
VCU: HAVOC (It's Pavlovian at this point.)
RF: Davidson- McKillop
George Washington – contender
St. Bonaventure - incentive
VCU- Smart
JH:
Davidson:
New kids
Massachusetts:
The Challenger
Saint Bonaventure:
Gritty
VCU:
Havoc
ML:
VCU: Not using that word.
Saint Louis: Nice to meet you.
Saint Joseph's: Bembry's Boys.
Davidson: Welcome. Good luck.
George Washington: Balance.
St. Bonaventure: Underrated.
7) Shameless plug (what fans can expect from the team you cover)
SD:
While I think there is potential for a mild surprise from Duquesne this season, I still believe they're a year away from seriously competing with the top teams in the conference. There are some similarities between Duquesne now and GW heading into last season, but I wouldn't expect the Dukes to dance even in the best case scenario. A good season for me would be a return to the pre - realignment / Ron Everhart era mediocrity and a CBI appearance with a chance to make huge strides next year. A great one would be the NIT. I think people overlook the deep hole Jim Ferry had to build out of when TJ McConnell left and simply blame the struggles of the last two seasons on "same old Duquesne." There was a dearth of talent but in just three recruiting classes, I think Ferry has the players in place including transfers Rene Castro and MarQywell Jackson to get the Dukes over the hump and back into the tournament very soon. While the current Dukes might not impress in the win column, they should have plenty of great stories to follow including Derrick Colter's return from lymphoma and Micah Mason's quest to repeat as the nation's three point shooting king.
DD:
Expect this Fordham team to be the most talented roster in the Rose Hill Gym since March 2008. Eric Paschal will be a lot like Chris Gaston and be a huge player for Fordham but everyone needs to come to play in order for this team to compete. This team is still young but has a lot of players with experience on the roster (Canty, Smith, Rhoomes, Thomas) that have had significant minutes in the league. The Rams have battled through the A-10 and they have a chance to either shock the world or as wait for another year to build a contender. Making it past 15 wins would be huge and making any type of post season tournament would be the most success since 2007 when they won 18 games.
AK:
Paul Hewitt adds six new faces to the rotation this season, and the sky is the limit if his players can gel into a cohesive unit by the time conference play starts. A summer trip to Spain should have helped build team chemistry, but if not, it could be a long winter in Fairfax. In his fourth year of a five year deal, this may be Hewitt's last best chance to prove that he can be the guy to move the Patriots forward. All of the players he inherited are gone. The time is now. It's not realistic to expect Mason to contend, but incremental progress should be evident.
PS:
The Colonials won't be quite as stout inside without Isaiah Armwood, and the departure of the streaky Maurice Creek means it isn't plainly obvious who will get a shot on a crucial possession. But coach Mike Lonergan has a stellar junior class (Patricio Garino, Kevin Larsen, Joe McDonald and Kethan Savage) to build around the next two seasons.
Garino is a do-everything wing who will be an all-league contender. Larsen became a more prominent presence as last year unfolded. McDonald's simply steady. And a healthy Savage, who took a massive leap last year before suffering a broken foot, will be a difference-maker for the Colonials.
Finding a fifth starter (maybe senior John Kopriva?) and developing the freshmen likely to fill out the rest of the rotation is critical, but the core four are good enough to keep George Washington in NCAA tournament contention.
PK: The Minutemen will be tough to figure in 2014-15. While they bring a lot back, they lost an incredible amount with Chaz Williams' graduation. He made this team go and was the locker room presence. The Minutemen replace him with a capable player in Jabarie Hinds, but no one expects that he will match Williams.
Cady Lalanne has always had the talent to be an all-conference player, and he started realizing some of his potential last season. Now UMass needs him to do it again this year on a higher level. Maxie Esho will need to be more than just an "energy" guy, and Derrick Gordon, who is a flat-out winner, is the other key holdover. Trey Davis will probably need to shoulder more of the load at the point as well.
UMass has the potential to reach the NCAA Tournament once again, but they will need some pieces to emerge behind the main options. They won't have a player who will carry the load that Williams did for them, even in a different form, so they need multiple players to each pick some of that up, starting with Hinds since he will play Williams' position.
DA:
Okay, shameless Rhode Island plug: In a league that saw a lot of star power graduate last season, the Rams have a new and rising star ready to step into the vacant spotlight: E.C. Matthews. But the reigning co-freshman of the year won't have to carry this team alone. Dan Hurley has assembled a solid supporting cast that includes fellow all-freshman Hassan Martin, highly-touted rookie Jared Terrell, and big man Jordan Hare, who missed all of last season due to a personal matter. Rhody may have some questions at point guard, although they hope that junior Biggie Minnis and freshman Jarvis Garrett can answer them. If they step up, URI is poised to make a big jump in the A-10, and could find themselves making noise in Brooklyn after a top five finish.
SB:
This year is a big season for the Spiders. The 2011 Sweet Sixteen is starting to feel like a long time ago. The recruiting class that came in on the heels of that run is now fully of age: Kendall Anthony is the lone senior this year, with Alonzo Nelson-Ododa and Trey Davis redshirt juniors. It's time to make another serious run. This season actually started last February for UR after Cedrick Lindsay's injury and Derrick Williams'....departure. That extended preseason should benefit chemistry and young players like ShawnDre' Jones - straight out of the Anthony mold - in the early going. There's no question Anthony can score, but the Spiders need him to replicate Lindsay's calming influence (and ball control) when momentum shifts against UR. The other primary ball handler/s figure to be freshman: Khwan Fore and/or Kadeem Smithen, which is risky. The biggest area of improvement for UR will be upfront. Nelson-Ododa should really contribute on offense, in addition to his defense. And transfer T.J. Cline will stretch defenses and re-establish the high-post outlet play that Mooney loves. This squad should be Mooney's best since the KA and Harper days, and maybe even more athletic top-to-bottom than those teams. Is there enough maturity (and size) in the backcourt and improvement from Terry Allen and Trey Davis, paired with ANO and Cline, in the frontcourt to dance again? TBD.
RF: St. Bonaventure lost three dependable veterans in Charlon Kloof, Marquise Simmons and Matthew Wright. Consequently, the Bonnies are picked deep in the second division, just the situation coach Mark Schmidt loves to use to his advantage. Schmidt sells his team on the small school, underdog challenge and playing all out with nothing to lose. He doesn't mind the spotlight being dimmed or pointed in another direction so to speak. In effect, the talent cupboard is far from bare. Seniors Jordan Gathers and Andell Cumberbatch return at guard while another senior, Youssou Ndoye, anchors the front court. The second division pick is understood. Still, this is a team opponents must prepare and be wary of.
JH:
Five of the Hawks' top seven contributors from last year are gone.
DeAndre
Bembry
, Chris Wilson, and West Virginia transfer Aaron Brown face a tall order in having to lead a team filled with rookies and other youn
g guys taking on larger roles. But o
nce the rookies get through some growing pains early on, the Hawks could be a tough out come
conference time
and might even make another run in Brooklyn toward the Dance.
It should be exciting to watch all the young talent on Hawk Hill.
ML:
I refuse to use the H-word, but you know it. Mo Alie-Cox is worth the price of admission, and I'm just as interested to see these freshmen play as you are. Expect more of the same from VCU. It's DNA at this point.