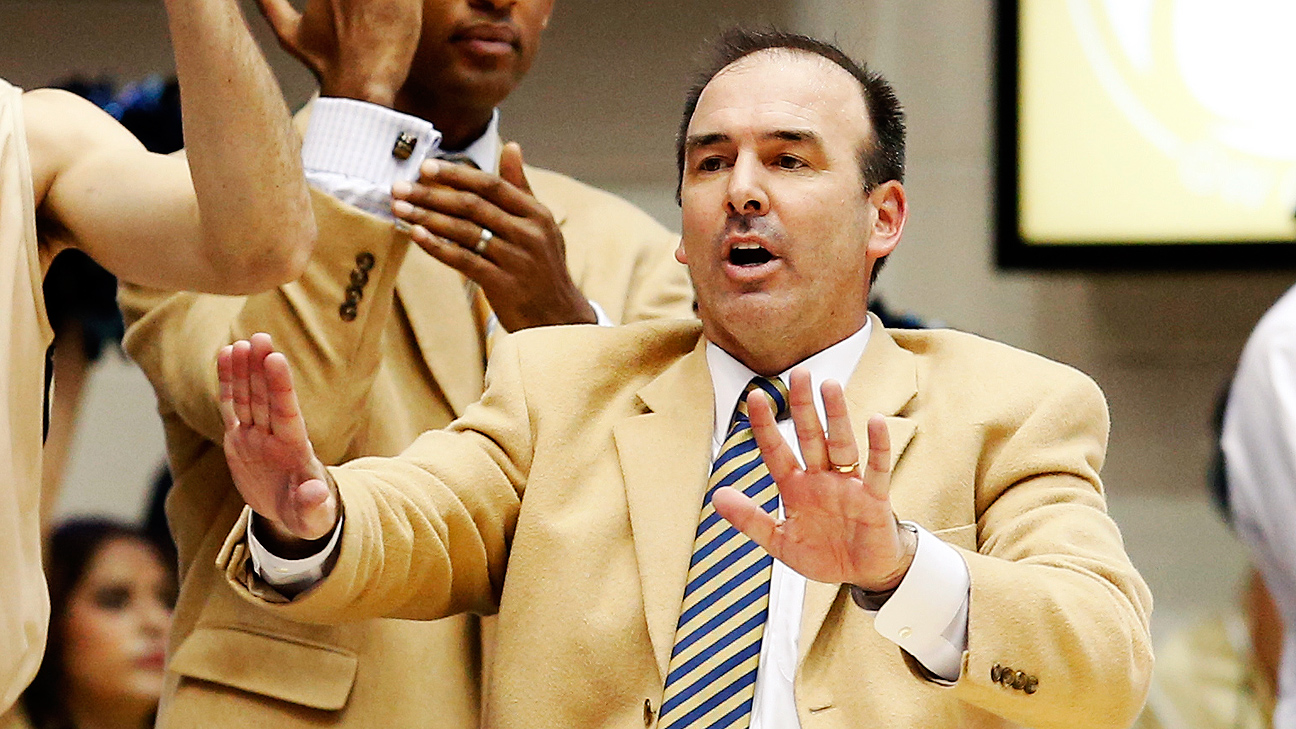 While most critics favor VCU in Atlantic 10 this season, Mike Lonergan and George Washington are among Rams' biggest threats coming off appearance in NCAA Tournament. (Photo courtesy of ESPN)
Atlantic 10 media day takes place tomorrow at Brooklyn's Barclays Center, where it is expected that Virginia Commonwealth University will find itself the consensus choice to win the conference in a poll as determined by the league's fourteen coaches.
While the Rams are no doubt the class of the A-10, (nine out of ten panelists in our A-10 roundtable selected Shaka Smart's team as well) there are a couple of other candidates that catch the eye of some experts as dark horse candidates. Our complete order of finish is as follows:
1) VCU - Make no mistake, the Rams bring their strongest contingent to the floor this year as they look to erase two consecutive runner-up finishes; both regular season and postseason, in their first two A-10 campaigns. Led by seniors Treveon Graham and Briante Weber, who will now serve as the faces of the roster in the absence of Juvonte Reddic and Rob Brandenberg, VCU also returns junior sharpshooter Melvin Johnson and burgeoning backcourt star JeQuan Lewis to a front line that carries the league's most intimidating shot blocker in Mo Alie-Cox. Jordan Burgess, whose brother Bradford was an integral part of the Rams' 2011 Final Four run, is back as well; and with the best recruiting class to arrive in Richmond headed by the likes of forwards Terry Larrier, Michael Gilmore and Justin Tillman, not to mention Richmond native Jonathan Williams, the road to a conference championship will likely be paved in black and gold.
2) George Washington - Isaiah Armwood and Maurice Creek are gone, but that has not stopped Mike Lonergan from retooling in the nation's capital for what could be the best season for the Colonials since another Mike, former head coach Jarvis, led GW to success in the 1990s alongside John Calipari's Massachusetts teams. This year's incarnation of the Colonials will once again feature junior swingman Patricio Garino, who; when healthy, is one of the best players in the A-10, as is junior guard Kethan Savage, who is back for the full season after a broken foot sacrificed him for the stretch run. Joe McDonald will reprise his role as the point guard and Savage's accomplice in the backcourt while Garino gets a huge assist in the form of 6-10 Danish import Kevin Larsen, who was one of only two players to start every game last season. Lonergan may need to find a fifth starter fast, and it could come from a multitude of options that include senior forward John Kopriva, or if he elects to play small, incoming freshman Paul Jorgensen, who turned down several high-major offers to take his talents to Foggy Bottom.
3) Richmond - Over the years, it seems like Chris Mooney has never gotten enough credit for the job he has done keeping the Spiders near the top of the A-10 since he arrived in Virginia's state capital. Warrior guard Cedrick Lindsay has graduated, but former A-10 Rookie of the Year Kendall Anthony returns to lead the Princeton offense installed by Mooney, who remains one of the most underrated head men in the nation. Sophomore ShawnDre' Jones, who demonstrated his marksmanship off the bench as a freshman last season, will be on the precipice of a breakout sophomore campaign as he blossoms into a full-time starter, and the Spiders have perhaps the best player half the nation has not yet heard of in 6-8 junior forward Terry Allen, who will come close to averaging a double-double in his third season. T.J. Cline, who sat out last season after transferring from Niagara, will inject the front line with an extra dose of height alongside the imposing defensive presence of both Alonzo Nelson-Ododa and Deion Taylor.
4) Rhode Island - When Dan Hurley arrived in the Ocean State after a meteoric two-year rise at Wagner, it was not a question of if the son of Hall of Famer Bob Hurley could get the job done, but rather one of when. After two seasons with a grand total of 22 wins, it would not be the least bit surprising to see the Rams match that this year, with only Xavier Munford leaving a rotation that ranks as one of the A-10's best from top to bottom. Sophomore shooting guard E.C. Matthews gets the benefit of two highly touted freshmen to join him in the backcourt in the form of Jared Terrell and Jarvis Garrett, the latest examples of Hurley's recruiting prowess, while senior T.J. Buchanan remains the steady anchor to the backcourt. Up front, Staten Islander Hassan Martin is primed for an even bigger campaign than his impressive freshman season, and the return of Jordan Hare will only enhance the productivity of Rutgers expatriate Gilvydas Biruta, a legitimate all A-10 candidate.
5) Saint Joseph's - The reigning champions have a massive hole to fill in the backcourt with the loss of marksman Langston Galloway, and an even bigger chasm up front after both Ronald Roberts and Halil Kanacevic graduated. Regardless, Phil Martelli has a strong roster on Hawk Hill, with sophomore DeAndre Bembry a legitimate Player of the Year contender if the swingman resembles anything close to his rookie season. Senior Chris Wilson, now in his second year as the replacement to Carl Jones at point guard, will have West Virginia transfer Aaron Brown alongside him this season, while Isaiah Miles and freshman James Demery solidify the wings. A concern for the Hawks will be their interior depth now that Papa Ndao is out for the season, but St. Joe's will almost certainly be one team to watch for on Selection Sunday.
6) Dayton - Archie Miller raises the curtain for an encore to a sensational run through March that culminated with the Flyers' first-ever appearance in the Elite Eight, and returns leading scorer Jordan Sibert one season after the Ohio State castoff shot a blistering 43 percent from three-point range one year ago. Canadian junior wing Dyshawn Pierre will be relied upon increasingly this season in the absence of Devin Oliver and Matt Kavanaugh, while Jalen Robinson and Devon Scott will be expected to pick up the slack up front. Sophomore Scoochie Smith should have an increase in his offensive numbers this season, and if the early praise deflected toward freshman Darrell Davis is any indication, Dayton will be a factor down the stretch once more.
7) Massachusetts - Life after Chaz Williams begins now for Derek Kellogg and the Minutemen, but the good news in Amherst is that West Virginia transfer Jabarie Hinds is there to step right in alongside Derrick Gordon. Trey Davis will be the third guard for UMass, and could very well average around 15 points per game if his outside shooting remains constant. The biggest key this season will be the loss of production on the wings now that Sampson Carter and Raphiael Putney have graduated, which places the onus on high-energy reserve Maxie Esho to contribute at a higher level as he enters the starting five against walking double-double Cady Lalanne.
8) La Salle - The rebuild continues for Dr. John Giannini in his second year removed from the "Southwest Philly floater" that sent his Explorers to the Sweet 16 in 2013. The man who made that shot, Tyrone Garland, has graduated; as have Tyreek Duren and Sam Mills, leaving senior D.J. Peterson and junior Khalid Lewis as the lone incumbents in a backcourt that should see immediate results from redshirt freshman Amar Stukes and Auburn transfer Jordan Price. As La Salle's guards go, so too will the team, no matter how much the Explorers get out of their returning forward duo of Steve Zack and Jerrell Wright, who combined to average 22 points and 16 rebounds per game last season.
9) Saint Louis - The two-time defending regular season champions lose the core of last year's team, and fifth-leading scorer Austin McBroom is the team's top returning player as head coach Jim Crews now places his own stamp on a team loaded with the late Rick Majerus' influence. Forward Grandy Glaze and 6-11 senior John Manning will more than likely double their minutes this season in the absence of Rob Loe and Dwayne Evans, while former Villanova rotation mainstay Achraf Yacoubou comes to the Billikens with a high ceiling that could see him earn all-A-10 honors at the end of the year. The suffocating defense will remain, but unless Saint Louis can score to match their stingy efforts on the other side of the ball, fans in the Gateway City could be in for a long year.
10) Duquesne - Jim Ferry, who is no stranger to these parts after serving as the architect of the LIU Brooklyn championship dynasty, is slowly rebuilding the Dukes in the same vein as he did the Blackbirds before their three consecutive Northeast Conference crowns. Junior point guard Derrick Colter, who is just like Jason Brickman was to Ferry at LIU, only a better scorer, is back to lead the way alongside the nation's best three-point shooter in Micah Mason, who shot from beyond the arc at an eye-popping 56 percent rate. Senior forward Dominique McKoy will reprise his role as Duquesne's top rebounder, with Jeremiah Jones acting as the third backcourt option. Sophomore Desmond Ridenour only enhances a deceptively strong backcourt corps that will compete with the best in the league on a nightly basis.
11) Fordham - Four years and only 34 wins later, Tom Pecora has admitted that he enters his fifth go-round at Rose Hill on a hotter seat than he has ever occupied since making the trek over the Whitestone Bridge from Hofstra in 2010. This season might be harder on paper with the loss of Branden Frazier, but in all actuality, the arrival of Dobbs Ferry product Eric Paschall will give the Rams an interior scorer they have desperately craved for years, and one who will team with Jon Severe in an attempt to lead Fordham out of a two-decade morass and back to respectability. Mandell Thomas and Bryan Smith will be third and fourth options for incoming freshman point guard Nemanja Zarkovic, who is one of seven newcomers to the Bronx, including redshirts Antwoine Anderson and Manny Suarez, not to mention German import Christian Sengfelder, whom Pecora was extremely high on after the Rams' undefeated tour of Canada in August.
12) St. Bonaventure - While the Bonnies may come and go near the top of the conference, they are never counted out because of the relentless coaching of Mark Schmidt, who never gets anywhere near the credit he deserves for not only attracting top-notch talent to Olean, but also for keeping his players there and allowing them to thrive. This season will be challenging for the 2012 A-10 champions, as they will navigate the league without Charlon Kloof, Marquise Simmons and Matthew Wright, but they retain seven-footer Youssou Ndoye to fend off opposing advances in the paint. Junior forward Dion Wright also returns, and the two-headed backcourt monster of Andell Cumberbatch and Jordan Gathers; the nephew of the late Loyola Marymount star Hank that just so happened to hit the buzzer-beating three-pointer that eliminated Saint Louis from last year's conference tournament, will be much stronger than their stats may let on.
13) George Mason - Just as the pressure is mounting on Tom Pecora at Fordham, the same can be said of Paul Hewitt as he enters his fourth season in Fairfax still searching for the ingredient that will allow the Patriots to return to their past glory under Jim Larranaga. Seniors Sherrod Wright and Bryon Allen, George Mason's lone double-figure scorers last season, have both graduated, leaving Patrick Holloway to anchor the guards alongside Marko Gujanicic and Christ the King product Corey Edwards, not to mention one-time Hofstra commit Marquise Moore. Up front, the Patriots will see a solid jump from sophomore Jalen Jenkins from his rookie season, but the key will be getting as much as they can in the paint from Erik Copes as he enters his senior campaign.
14) Davidson - Bob McKillop and the Wildcats make the move from the Southern Conference into the A-10, and do so with a young roster featuring just one senior in guard Tyler Kalinoski, who shot 46 percent from three-point range a year ago. His backcourt partner Brian Sullivan will carry an equal amount of the offensive responsibilities for Davidson, who will rely heavily on junior Jake Belford and sophomore Andrew McAuliffe to lead an undersized front line.