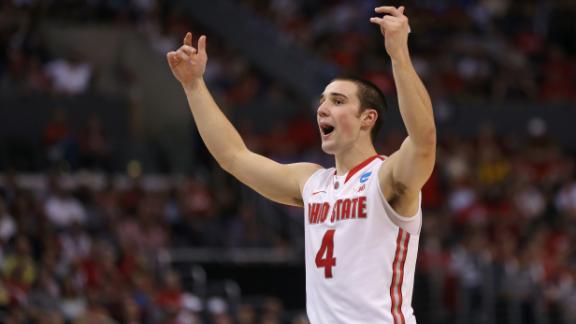 Perhaps Aaron Craft's greatest trait is his mental makeup that has taken Ohio State deep into March over each of his three years. (Photo courtesy of ESPN)
By Patrick McCormack
Aaron Craft has shown what it means to be a winner
for
Ohio State.
The senior point guard has made three Sweet Sixteens, two Elite Eights and a Final Four in his career, and his third-ranked Buckeyes showed their winning culture Saturday night when they came back from eight down with 1:15 left in regulation to beat the N
otre Dame Fighting Irish 64-61, improving to 12-0.
Craft may have made the big
gest defensive play of the game as well
. With the Buckeyes up 61-60, he stripped Notre Dame guard
Jerian
Grant. The ball hit off of Grant and gave Ohio State possession.
"They were calling it pretty tight," Craft commented, recalling the play. "I was trying to keep my hands off of him. He is a great player. He hit some in my face and hit that three. I was fortunate enough to get a hand in there and it hit off of his body, and (we) got the ball back."
The 2013 Big Ten Tournament's Most Outstanding Player didn't remember much of the final minute of play, but he does remember his teammates making big plays.
"I
don't really know," the senior point guard said. "It was a big blur, but I give our guys a lot of credit
,
they never stopped and they never gave up. I can see Shannon
(Scott)
running around like he is crazy out
there,
getting
deflections and getting tipped balls and
things like
that.
That was the main thing, guys making free throws down the stretch. Shannon made two big ones and we made five or six in
a row that put us over the top,
"
Craft said.
Craft
, who had 10 points and three assists
, saw
his
team's intensity
picking up
as they made their comeback.
"It
was kind of what we should have been doing the whole game," he said. "Not
picking up the full court trap,
but the intensity, the sense of urgency. The guys made some plays, and the ball rolled our w
ay a couple of times too. It is definitely a whirlwind. We're going to go back and watch this, and we've got to be excited with the win. Obviously, Notre Dame is a great team. They will do well the rest of the year."
The senior leader saw the
team's
lack of offense affecting their defense.
"I don't think we
were trusting
the system as much as we needed to," Craft said. "It was something we definitely talked about going into the game.
They change defenses a lot and we had to recognize it and move on from it. We did a great job of that today. We took some bad shots,
didn't attack
very much.
The
worst
part
was missing
offensively affected us defensively. The two ends were tied together tonight, and that is not what great teams do. Give them (Notre Dame) credit, they made some big shots, but if we are not making shots on offense, we need to tighten up our play defensively."
Craft sees this test one they can learn from and go forward with.
"Hopefully
we can learn from it," he said. "We can enjoy it. Notre Dame is a good team, but we have a long way to go. We have one game left until the Big Ten season. You cannot take any game lightly. We will enjoy this one until we get home and
then we
will work to get better."
The Buckeyes have one more non-league game remaining against Louisiana-Monroe before they start league play at Purdue on New Year's Eve. Craft, who made the All-Big Ten Defensive Team twice, said the team needs to guard if they want to win games.
"I think for this team to be the best we need to be, we need to hang around on defense," he said. "
We're going to have nights
where
we're going to
hit shots,
but if we want to beat great teams and make a run in the Big Ten
season, we
have to play defense. The best part is these guys have been around. They see what it takes, and it takes defense. "
Ohio State head coach Thad
Matta
said Craft's play for the Buckeyes is far more than he expected when he brought him in.
"Aaron has
definitely exceeded
my expectations since he has got here," Matta said. "I date back to the second game of the season (his freshman year) against Florida. The two top teams in the country. After that game, I realized I have something special here. From that moment on, he has been terrific."
Craft showed his leadership and ability to make big plays tonight. This was a good test
for his
team. The next test will come on January 7th,
when the Buckeyes travel to East Lansing to square off against fifth-ranked Michigan State. If Ohio State wants to be successful, Craft will need to continue to lead the team to the top of the Big Ten.