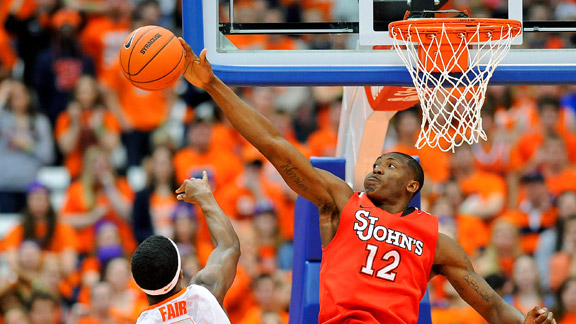 Despite playing St. John's close each of last two years, Fordham will have its hands full with sophomore shot blocking sensation Chris Obekpa, who set school record with 11 rejections against Rams last year. (Photo courtesy of ESPN)
At 4-2 on the season, Fordham is enjoying a solid start to a campaign many envision to be the start of something big after Tom Pecora spent his first three years at the helm in Rose Hill digging the program out from the morass in which Dereck Whittenburg had it entrenched.
Behind exceptional, and sometimes heroic, play from their backcourt trio of Branden Frazier, Mandell Thomas and Jon Severe, Fordham has managed to stay afloat after what could have been a major setback in an 85-73 loss to Sacred Heart, scoring a resounding road upset against Manhattan before the Rams' 31-point thrashing of Furman this past Wednesday.
Next up is what could be one of the biggest tests of the year for the Bronx boys, as they return to Madison Square Garden for a third consecutive season to lock horns with St. John's in the Holiday Festival. The three-year anniversary of Fordham's upset at Rose Hill Gym is next Wednesday, and Pecora will be looking to even his record against the Red Storm since taking over the Ram program in 2010. As we do for every game, we welcome a special guest for our traditional pregame Q&A, with today's honoree being our friend Norman Rose, who does spectacular work covering St. John's for Rumble In The Garden, along with the rest of his team, including the one and only Quinn Rochford.
Jaden Daly: Two of St. John's last three wins have seen the Red Storm overcome significant deficits in the second half to emerge victorious. For a team still learning to play fundamentally sound basketball while looking to reach their first NCAA Tournament together, how vital are the Bucknell and Georgia Tech games now, and how much more so will they be later in the year?
Norman Rose: It's been a trying road. It's hard to write about a team that makes offensive plays that seem so fruitless. So yes, every game is vital for this team to remember to take each possession seriously, to figure out how to play together and to develop confidence in each other. Some level of cohesion is lacking in the Red Storm; the best offensive stretches come from defense or a singular player finding his groove, and the Johnnies need to be more consistent offensively to keep themselves in position to make a run.
JD: Phil Greene has had a rejuvenating junior campaign through the first month of it. Is he St. John's MVP right now considering that both JaKarr Sampson and D'Angelo Harrison have struggled at times this year?
NR: MVP is strong, though PGIV has been very effective offensively - and more efficient, scoring in bunches while taking fewer shots. "Fewer shots" is a necessity, and maybe "fewer minutes" has been a help too. Many of his points come from isolation play, and that takes a certain amount of energy. As for the MVP of the team, I direct you to the answer to your next question.
JD: Chris Obekpa has come under fire from some for not being able to score as well as he blocks shots. Against a smaller Fordham lineup that will enable him to show off his full skill set, should we expect him to put up a few points aside a block total that could approach the 11 he had against the Rams last year?
NR: By "some", do you mean "me" (as in you, Jaden)?
Chris Obekpa is really good, very efficient, and slamming the ball home when he has a chance. I'd love to see him in transition more, but with this team and this scheme, that's more likely to happen with better defense. But other than not getting many offensive touches (and being rudimentary, still, in his low block offense), he is awesome.
I quantified it [http://www.rumbleinthegarden.com/2013/12/4/5174028/chris-obekpa-st-johns-shot-blocking-effect-seven-games] just for you!
Against a smaller Fordham team, he should have his chances. The Rams are terrible at protecting their defensive boards, allowing teams to grab a little below 37% of their own misses. St. John's, admittedly, misses a lot. We could see Double-Figures Obekpa on Saturday afternoon. Does he have a D`Angelo Harrison-style primal scream for when he dunks and gets fouled? Let's find out!
JD: Steve Lavin is not afraid to say he's still figuring his team out in terms of trying to find the right combinations to put on the floor. Seeing as how Manhattan rotated their deep bench in and out of a losing effort against Fordham's seven-man rotation last week, is there any concern about Lavin perhaps over-substituting, and maybe keeping Fordham within closer reach than most fans would like?
NR: I don't think there's a risk of over-substituting, really; though Lavin really liked Max Hooper's contributions on the floor, and Hooper's defensive pressure is... lacking. At best. So there's a risk of Lavin sticking with a hand that's hot on only one end. If the Johnnies come out pressing effectively, though, the combinations will work just right against the undermanned AND undersized Rams.
JD: St. John's has played Fordham close in each of the last two years following the Rams' upset win at Rose Hill Gym in 2010. Based on what we've seen through the first seven games, do you expect that trend to continue?
NR: Yes. There's some kryptonite in the Rams unis. Tom Pecora game plans like hell for this game, looking for the signature win he can take .mpegs of into local living rooms. He wants it, and the Rams love to play tough against the higher-profile but perennially vulnerable Johnnies.