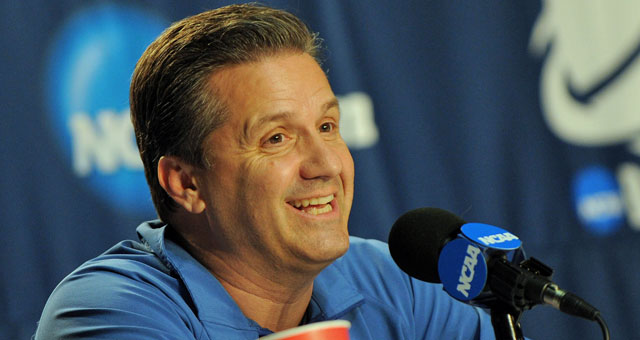 (Photo courtesy of CBS Sports)
Kentucky head coach John Calipari on what Kentucky learned in victory:
"Well, the thing that's happened is the people that have watched us, we haven't had the intensity of playing, we haven't sustained effort, we've stopped on plays, and today, we did better. I don't know if you understand, Aaron Harrison is the one that changed the game, because he went in and guarded Cotton in the second half. He wanted to guard him. Andrew (Harrison) couldn't guard him, he kept stopping, getting caught up on screens. Aaron went in and just said 'I'm guarding him.' Now, Willie (Cauley-Stein) was great, James (Young) made his plays, I thought little Dominique Wilkins...did I just say Dominique Wilkins? I'm wondering if he was still in the league when I was coaching in the league. Oh, my gosh...Dominique Hawkins, went in, and he plays with confidence. He plays with defensive confidence, he plays with offensive confidence, he's not as talented as some of the guys, but I feel very comfortable putting him in the game."
On James Young, Aaron Harrison and Kentucky's efficiency:
"We didn't shoot as many threes. I told them Doron Lamb was the best three-point shooter that I've coached, and the most he would take is five. These guys are trying to get up eight threes. We can't play that way. The second thing we did is, Kenny Payne has been all over me because I keep saying this is the best post-up team I've coached, and he said 'well, jam it in versus zone, quit doing all this fancy stuff, just throw it in there,' and that's what we've been working on and that's why we shot such a high percentage, and then what happened was they, our guards now have gaps to drive, they have kickouts for open shots. I still think Julius (Randle) is getting roughed up a little bit, but he's so physical, I think they just say 'hey, he's too big, we're not calling that.' I thought he did well, and then Willie. Like you say, 'well, what is Willie doing different?' He's playing harder longer. He's never played this many minutes, never played that hard this many minutes, but he's practicing that way. He's pushing himself, he's pushing through comfort levels, and that's what I'm trying to get all these guys to do. We made a step up today. This was a good step, and we needed to. There were still plays where we were up 10 or 11 where it should have been 18, and then you turn around and it's four. That's what freshmen do, but I was pleased overall. What they (Providence) did: 18 offensive rebounds. They make their free throws and they don't turn it over, so you better shoot a high percentage, or you're going to lose. They didn't turn it over much, they got 18 offensive rebounds, and kept us off the glass, but one of the reasons we didn't rebound offensively, we made all the shots. There weren't a whole lot of misses, so we didn't have a whole lot of opportunities for offensive rebounds."
On potential to grow as a team and make a run in March:
"I don't know if they will, but I'll tell you, if they do that, I'm happy as heck and I'll live with the result. I didn't look up at the score probably for the first 12 minutes of the game because I can't worry about winning and losing right now. I just have to worry about these guys playing the right way and playing with intensity, and not stopping and talking and coming up with balls that they should. I'm trying to zero in on that and not worry so much about winning and losing, and I told them this. One of my faults, because I've been at so many programs, you just expect to win them, and you want to win them; and not only do you want to win them, you want to win by 30, and if you don't shut out the other team, you're mad at them because they didn't shut them out. That's the stupid part of me, but like I told these guys, we've got great kids, we really do. They've all responded and I'm on them, they're responding, they don't have attitudes, we don't have any of that, and I think they also know that we could be special if we get this right. I loved how we ended the game today. We ground it out like a team that's been doing it for two years. We ground it out and made the plays, and got fouled. I was so proud of them and how they finished those last four minutes. We've got a chance."
On Kentucky's upcoming schedule and how it will prepare them for March:
"Well, we've done everything to kind of ramp it up from the beginning if you take out Michigan State, who we should not have played that early in the year with the young team that we have, but now you're talking Baylor, Belmont, Boise State, North Carolina on the road, Louisville. You can lose them all, they're teams you can lose every game to, and what we're trying to do is keep throwing a little bit more at these guys each time and see what they're coming up with, and I'm learning about our team and how we have to play. I still haven't figured this team out. Our practices with this team have gone back to 8th-grade stuff. We do wall sits. Remember when you were at camp and they told you to go sit on the wall for 10 minutes until your legs shook? Instead of talking to my team in the film room, they go against the wall and they sit, and they have a 50-pound bag that they move down, there's two of them that come to the middle. Why would I do that? Because I can't get them to get into a defensive stance, I can't get them to get down, so at least for seven minutes in the game, I know they're down. Then you have lane slides. Remember when you were taught to defend with your hands behind your back? Remember that? That's what we're doing now, and they think this is like an 'A-ha!' moment, they're like 'Coach, this is the greatest thing, it's making me move---' No one ever did this to you? What, did you play zone your whole life? We're doing stuff like that, which is 8th-grade stuff. So what? That's where we are. I went way too fast early. We are where we are right now, but the good news is they're taking it, they're getting better. We're doing all this teaching to get these guys to understand these five or eight things you must do to be able to play this game."
On rumors surrounding his future and potential return to the NBA:
"I don't listen to any of it, and I don't think my team does. Every year I've ever coached, if there was a college job open, I was going there, a pro job, a high school job, I was taking every job. I just don't buy into it. The greatest thing for me was it took 20 years for me to get a job like Kentucky when guys had jobs for 20 years, and then to get the job and all of a sudden; we're doing great academically, we had a 3.4 grade point average last term. For three years, we've been a B average as a team. We graduated ten players, ten, in four years, so it's not at the expense of academics, but we had 17 players drafted, nine in the first round, two No. 1 overall picks. I'm able to do that, help families, win games, do what the university wants me to do, and all I want to do is be about players first, and I want to challenge them and not be afraid to challenge them, put them on a stage. This is like you're putting them on, I'd say Carnegie Hall, but it's the stage you want to be on, and I'm able to say 'okay, go.'"
"I'm proud of Willie Cauley. No one knew Willie Cauley! 'Well, he only gets one-and-done guys.' NO ONE knew Willie Cauley! Look at Eric Bledsoe. All of a sudden, what's happened is they come here and they're able to reach their dreams. They say this all the time about kids being the first college graduates in their families. Well, we have a chance to rectify that all of a sudden. You have generational poverty, their families have been in poverty their entire existence, and all of a sudden that all changes, and I have an opportunity to do that more than any place I've ever been, and I loved working at UMass, working at Memphis. This is a different deal on a lot of fronts. It took me 20 years to get this job, and I'll say this, I don't know how long I can stay in this seat and live, I'll be honest with that one, but right now, I'm having fun doing it."
"Everybody says our fans are crazy. Our fans are crazy, but they don't expect us to win every game, they don't expect us to win the championship. They want us to be in the hunt. We've won eight in 110 years. We haven't won 100 in 110 years, we won eight, so yeah, they want you in the hunt. They want you in the hunt for recruits and all that, and we are. I think we've got the greatest fans. How about this one? Cleveland State has us and plays a good game. Do you know our fans gave them a standing ovation when they left the court? Gave them a standing ovation. Didn't boo them, standing ovation, and that's why I say this is a unique place. I'm going to run it out, have some fun with it, and hopefully do some great things for kids, and the university's happy with what's happening for them."
On Willie Cauley-Stein fulfilling his role as a shot blocker:
"He's in good enough shape that he can continue to play. There have been times before where he would let the guy drive in and hold on to his guy. Now he knows he can go get it, and the second thing is we're doing a better job, if he does leave to block out, of cracking down and taking his man. To have nine blocks in a game like this? Big time, and then to play the way he did and run like a gazelle? Did you see him run the court? Oh, my gosh! We're able to run and just throw it at the rim. I'm proud of him, he's come a long way."
On progress of this year's freshman class compared to his others:
"My first year, we had Patrick Patterson and a couple of veterans. The second year, we had Darius Miller and DeAndre Liggins, and some freshmen, Josh Harrellson, who hadn't played the year before. The next year, we had Terrence, (Jones) Doron, (Lamb) Darius, (Miller) we had three really good veterans who were the heart of the team. This is a freshman team. Willie played behind Nerlens (Noel) until Nerlens got hurt, and you've got Alex, (Poythress) who's still coming and going, he's not like the guy, and so we're doing it basically with all freshmen. I've never done this before. One of the things I'm trying to tell them, and it's also me, 'what got you here won't get you there.' In other words, all the stuff that you did to get you where you are, to Kentucky, that stuff is not going to work now because they're just as big as you, they're just as quick as you, they're just as long and they're just as skilled. Now, what are you going to do to help you get to where you're going? Well, the same with me: What got me the Kentucky job is not playing all freshmen and doing what we're doing right now, so I'm having to change and do different things. That's what I'm trying to do, I'm trying to learn about my team as we go."