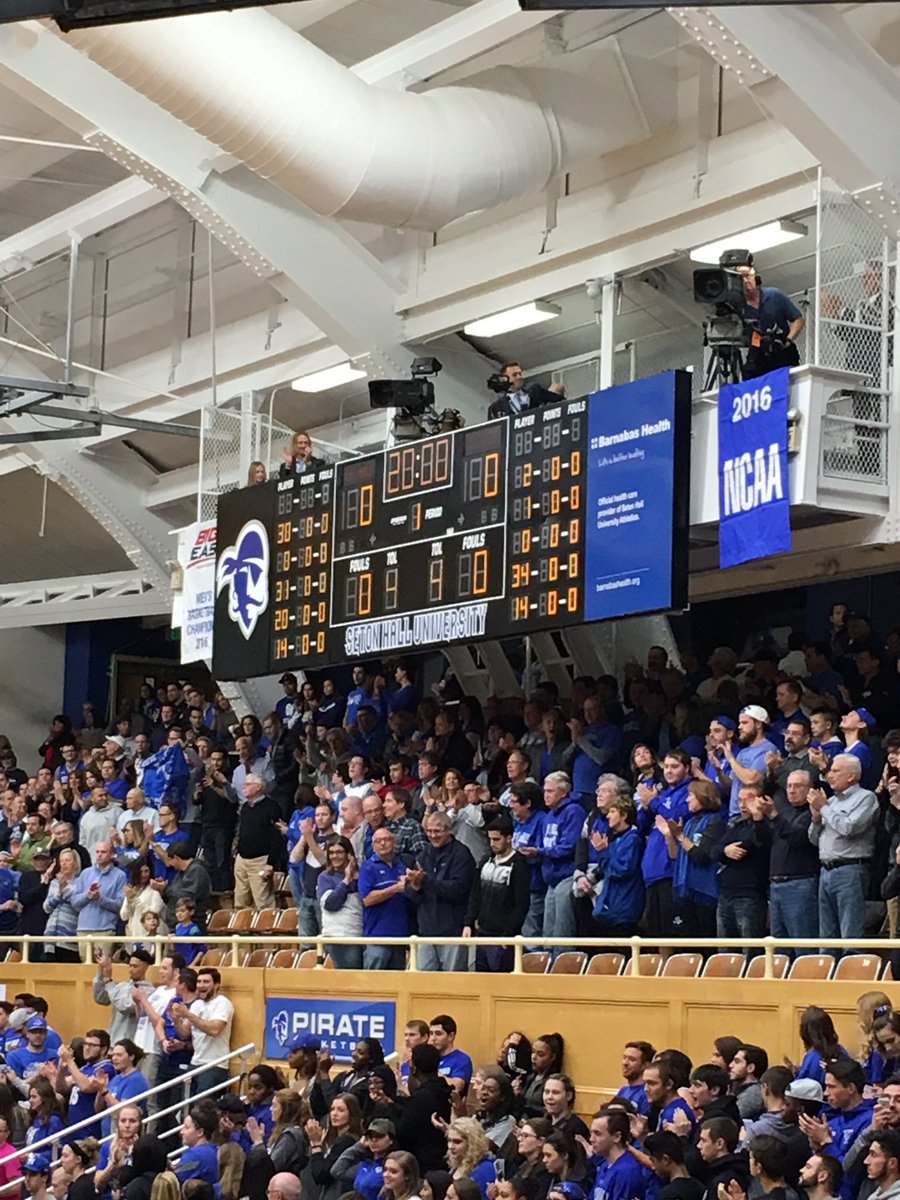 Big East championship and NCAA Tournament banner unveilings were two of many highlights for Seton Hall, who rolled past Fairleigh Dickinson in season opener. (Photo by Jason Guerette/Daly Dose Of Hoops)
SOUTH ORANGE, NJ -- Banner night turned into a banner win for Seton Hall.
Honoring last season's Big East championship squad in a pregame ceremony, the Pirates proceeded to pick up where they left off last March, emerging from a hard-fought first half to cruise to a season-opening 91-70 victory over in-state rival Fairleigh Dickinson inside Walsh Gymnasium.
"We just tried to come out and prove to everybody that we were good," said Khadeen Carrington, who tied a career-high with 27 points to lead Seton Hall in the winning effort. "This year, we still have something to prove early. A lot of people think we're not good since Isaiah (Whitehead) left, so we still have something to prove."
Following a defensive struggle in the opening stanza that saw the Pirates take a tenuous 33-28 lead into the locker room at halftime, both teams proceeded to torch the nets after the intermission, the Hall doing so to the tune of 79 percent (22-for-28) over the final 20 minutes. While Angel Delgado (22 points, 14 rebounds) and Desi Rodriguez (12 points, 10 rebounds) both posted double-doubles, it was Carrington in particular who took the game over down the stretch, quietly racking up basket upon basket as he and his teammates fed off a sellout crowd in their on-campus gym.
"We were rushing," Carrington said of the first half inefficiency, even though the Pirates held FDU to just 29 percent (10-for-34) shooting before halftime. "I had a conversation with Sha (assistant coach Shaheen Holloway) and he told me I was rushing. I just tried to take what the defense gave me, hit all my open shots, regular things I always work on. That's what I tried to do."
Playing without Earl Potts Jr., the most valuable player in last season's Northeast Conference tournament who continues to recover from a foot injury, FDU fought valiantly, but proved to be no match for a bigger and more physical Seton Hall team. The Pirates outmuscled the visiting Knights by a 52-18 margin in the paint, while outrebounding them 43-30. Despite the glaring disparities, the contest proved to be a positive in the big picture.
"I was really very proud of our team," FDU head coach Greg Herenda admitted. "I thought we withstood a lot of runs, but we competed. It took a lot of energy to play against that basketball team in a tough environment, and in the second half, Delgado was just a man. I just didn't think we had enough to combat those guys, and the score represents that."
Darian Anderson paced the Knights with 27 points, matching Carrington for the game high, further solidifying the confidence gained by the reigning NEC champions.
"I don't like accruing confidence from failure, but you have to," Herenda revealed. "That's college basketball. I have a lot of confidence coming out of this game. In totality, I'm very happy with my team. I saw a lot of things that we can build upon."
Seton Hall will raise two more banners to the rafters on Sunday, as they return to the Prudential Center to host Central Connecticut State in a 2 p.m. tipoff from Newark.