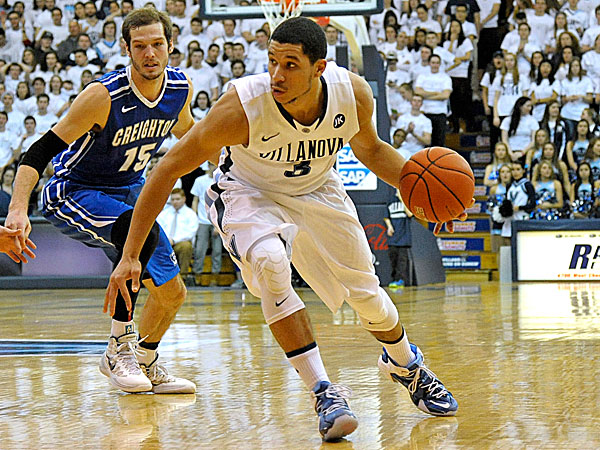 Josh Hart led Villanova with 15 points and 10 rebounds as fourth-ranked Wildcats squeaked by Seton Hall at Prudential Center. (Photo courtesy of USA Today Sports Images)
NEWARK, NJ -- Jay Wright took several occasions during his postgame press conference to remark on how physical his team's contest Wednesday night was. After 40 minutes had transpired, the finished product between Villanova and Seton Hall proved him right, at times resembling a heavyweight championship fight just as much as it did a Big East basketball game.
At the end of the day, the fourth-ranked Wildcats (17-2, 7-0 Big East) managed to win their 22nd consecutive league affair, but not before needing to scrape by Seton Hall (13-5, 3-3 Big East) in a 72-71 war that came down to the final seconds at the Prudential Center.
"I hope it wasn't a surprise to anybody what kind of a game that was," said Wright after Villanova, whose 10-for-19 effort from three-point range was instrumental in building an early first half lead before Seton Hall matched the Wildcats shot for shot down the stretch. "It was just two really good defensive teams, I think. Seton Hall played better defensively most of the game, and then I thought we played better defensively down the stretch. We just had some great stops down the stretch."
Everyone to see the floor for Villanova scored, led by the 15-point, 10-rebound double-double of Josh Hart, whose free throw in the final seconds proved to be the difference maker. For Seton Hall, only five players appeared in the point column, but four of them ended the night in double figures, paced by a game-high 21 from Isaiah Whitehead.
"I have a lot of confidence in Isaiah and Khadeen, (Carrington) Willard reaffirmed, standing by his sophomore backcourt even when it appeared that Whitehead fell victim to questionable shot selection that may have cost the Pirates a potentially huge upset. "Although they're sophomores, I'm going to try to let them make plays towards the end of the game, and they know that. I'm going to let them do what they do best, and that's play."
Scoring 17 points on the night, it was Carrington who was largely responsible for bringing Seton Hall back into a game that Villanova easily could have run away with in the opening stanza, given their hot outside shooting. Trailing 27-17 with 7:43 to play before halftime, the Brooklyn native drained four consecutive shots, the first two coming on layups before knocking down a pair of three-pointers, for ten straight points in the midst of a 12-3 Pirate run that brought the home team within one point before they went to the locker room trailing by two, 35-33.
When Carrington's layup with 10:10 remaining in regulation cut Villanova's lead to four points, at 58-54, the lead for either side would not grow any larger for the remainder of the half. The Wildcats would hold at four points heading into the final media timeout, before Whitehead ripped off six unanswered points to regain the lead for Seton Hall, swinging the advantage back into the Pirates' favor on a three-pointer in the right corner with 2:28 showing on the clock.
Villanova refused to go away, though, tying the score on a layup by Daniel Ochefu, whose return to the Prudential Center after posting a career-high 24 rebounds in the building a year ago was largely hampered by foul trouble. Following two stops on the defensive end, the Wildcats retook the lead with 32 seconds left, as Ryan Arcidiacono found his way through the lane to lay it in, making the score 71-69. After coming up empty as Derrick Gordon's game-tying layup attempt was blocked by Ochefu, the door was left open for the Pirates after the Wildcat big man missed both foul shots.
With a new lease on life, Whitehead attempted to knot the score again, but was denied as Mikal Bridges secured the rebound. However, Villanova was unable to hold on to the ball as freshman Jalen Brunson turned it back over to Seton Hall. Triggering the inbounds pass, Gordon handed off to Whitehead, but he too was unable to maintain possession, forcing the Pirates to foul Hart, who sank the first of two attempts at the charity stripe, but missed the second.
Whitehead picked up the rebound off Hart's missed free throw, and was fouled as Wright elected to send Seton Hall to the line rather than give up a potentially equalizing three. The sophomore guard made both free throws, draining the second when perhaps attempting to intentionally miss and garner a tip-in. Villanova's outlet pass on the ensuing inbounds was intercepted by Angel Delgado, who took two dribbles before an errant heave sailed left at the horn.
Despite the close loss, Seton Hall was praised by Wright, who proclaimed the Pirates an NCAA Tournament team. "Hell yeah," the coach said when asked of Seton Hall's chances of being announced as part of the field of 68. "They've got all the answers."
Still two months away from Selection Sunday, Seton Hall will now search for another testimonial this weekend, when they face Xavier on the road on the heels of a game the Pirates' coach praised more than he criticized.
"This is a game that you've got to take a lot of positives from," Willard admitted. "I thought our effort was great, I thought we really battled and stayed in it. There are so many positives to take away from it, so that's what we'll focus on. We'll learn from things we didn't do well, especially towards the end of the game and we'll learn from that. We'll play the way we play, and we'll be good."