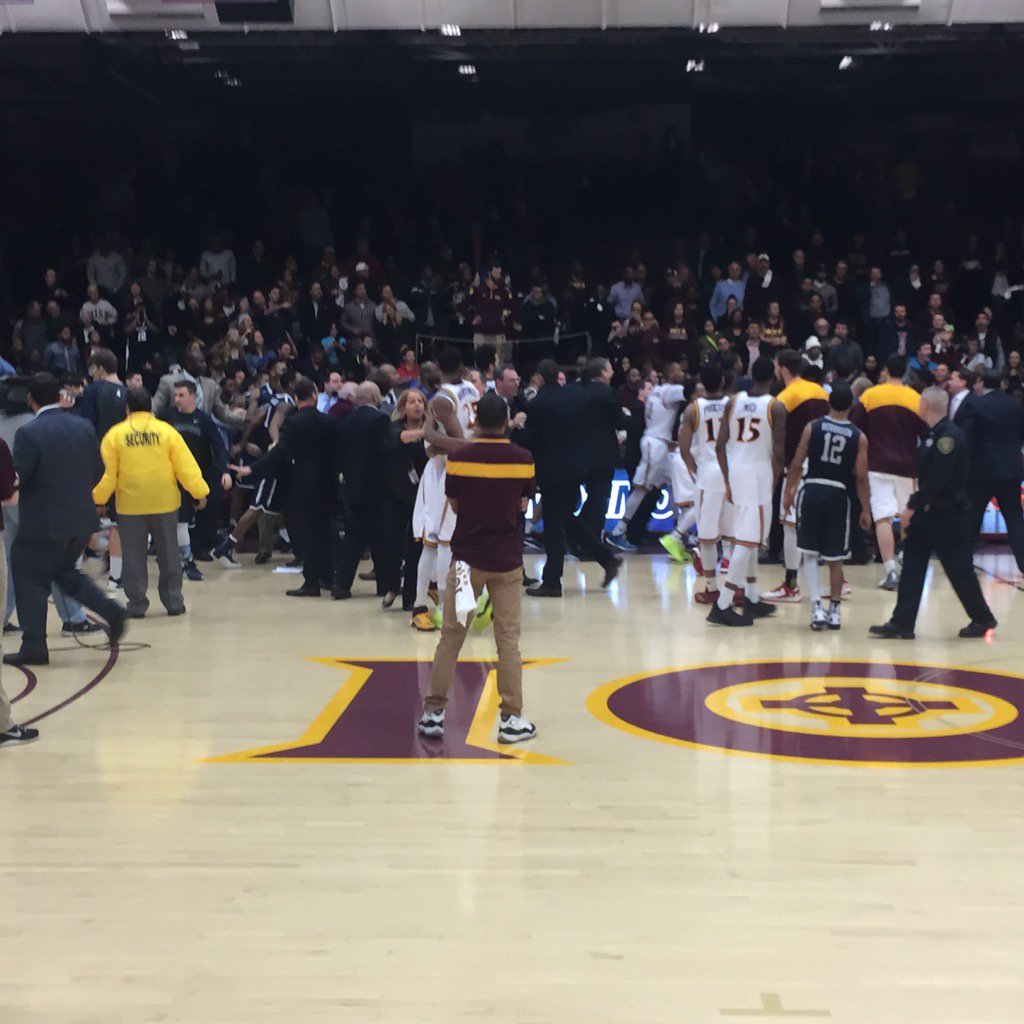 Monmouth and Iona needed to be separated by coaches and officials in postgame altercation Friday night, following Hawks' 110-102 victory over Gaels. (Photo courtesy of Adam Zagoria)
NEW ROCHELLE, NY -- What will go down as, arguably, the best game to date in this Metro Atlantic Athletic Conference season, is sadly overshadowed by the events that took place after the buzzer sounded.
People will still be talking about Monmouth and Iona this morning, and rightfully so, after the Hawks (13-4, 5-1 MAAC) picked up a statement victory in league play to complement their assortment of non-conference upsets. However, the Hawks ending Iona's 26-game home winning streak with a 110-102 takedown of the Gaels (9-7, 6-1 MAAC) was tainted by the incident that occurred during a normally routine postgame handshake line.
Following the horn, players from both sides appeared to exchange words before the situation escalated. Although it remains unclear exactly which side played the role of instigator, what can be observed in the video below is Iona's Jordan Washington appearing to slap Chris Brady of Monmouth in the face. (video footage courtesy of Ray Curren via Big Apple Buckets)
— Ray Curren (@currenrr) January 16, 2016
"Very unfortunate to end the game like that," Monmouth head coach King Rice began his postgame press conference, addressing the melee that took place before both teams could retreat to their respective locker rooms. "It was a little bit chippy throughout the game, both teams probably saying more than they should have. There were kids on both teams that did things. I saw a couple of them, and I'm not happy about it."
Lost in the shuffle of the extracurriculars was a scintillating performance by the visiting Hawks, who placed five players in double figures in the point column of the box score; led by a career-high 29 from junior point guard Justin Robinson, as Monmouth handed Iona their first loss at the Hynes Athletics Center in nearly two years, and just the eighth overall in Tim Cluess' five-plus seasons at the helm.
By the end of Friday's much-publicized affair, Monmouth wound up with a 58 percent (36-for-62) shooting effort from the floor and 59 percent (13-for-22) mark from three-point range, effectively beating the Gaels at their own vaunted, uptempo game that has come to define the style Iona has ridden to 20-win seasons in each of the past five years.
"Tonight, we had advantages in a few areas," Rice admitted. "We didn't make any changes, we just played Monmouth basketball."
Trailing 45-44 at halftime after nine straight Iona points to end the opening stanza, the last seven of which were scored by A.J. English, whose 45-point game was his second effort of 40 or more this season after registering 46 against Fairfield on December 1, Monmouth came out of the locker room and proceeded to torch the nets in the early stages of the second half. The Hawks made a staggering 14 of their first 16 field goal attempts after the intermission, including a stretch of nine straight wherein the last five of that outburst were three-pointers; four in a row by Collin Stewart (12 points) and one by Micah Seaborn, (15 points, 6 assists) to open up a 16-point advantage that ballooned to as many as 20 markers with 9:25 remaining in regulation, when Monmouth led 86-66.
To their credit, though, Iona fought valiantly, and with 5:39 to play, it seemed as though the Gaels might have been able to completely flip the script when Brady was whistled for both flagrant-1 and technical fouls against freshman Jahaad Proctor. Trailing 92-78 at that juncture, Proctor calmly sank each of his four free throw attempts to bring Iona within just ten points. Monmouth maintained their double-digit lead, though, warding the home team off until the final 90 seconds arrived. In that span, Iona ripped off a 12-2 run to draw within five, cutting Monmouth's lead to 107-102, but would get no closer as Austin Tilghman and Robinson hit foul shots to provide the final margin of victory.
While mostly everyone's attention was fixated on the postgame fracas, with Rice even commenting that Washington "should try MMA" when alerted to his scrum with Brady, the fact remains that both teams contributed to an instant classic that now has mounds of story lines for its February 19 rematch, one of which is the Hawks' impressive performance over 40 minutes against a team that had not tasted defeat on its home floor since January 17, 2014.
"If you want to be the best," said Robinson, perhaps channeling legendary wrestler Ric Flair, "you've got to beat the best. For us to come in here and win in a gym not many teams are going to win in, it's huge for us."
UPDATE: MAAC commissioner Rich Ensor took to Twitter shortly after the game concluded to address its ugly aftermath. "The post-game incident between Monmouth & Iona teams last night in New Rochelle, is under league review and expect no announcement tonight," he tweeted. "Great game tarnished by poor post game behavior that is inconsistent with MAAC core values of sportsmanship & safety for student-athletes," was how the commissioner concluded his social media statement. Ensor mentioned he was in the process of receiving the game tape from ESPN, reports from game officials and statements from all parties involved, and said he would review all available reports and video upon his return to the league office Saturday morning.