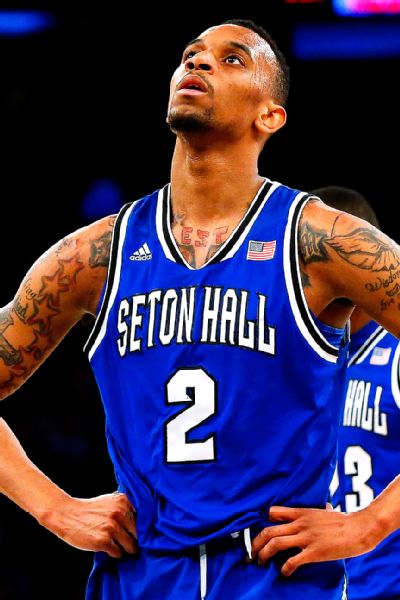 Brandon Mobley scored 14 of his 19 points in second half en route to Seton Hall's 63-47 win over Mercer. (Photo courtesy of ESPN)
For all the hype surrounding Kevin Willard's incoming freshman class, two of his more established, well-traveled players made sure Seton Hall started their season with a win.
Brandon Mobley and Sterling Gibbs, two of the Pirates' three upperclassmen, combined for 36 points, 14 rebounds and 8 assists to overcome the struggles of highly touted newcomers Isaiah Whitehead and Khadeen Carrington, guiding Seton Hall (1-0) to a 63-47 victory over Mercer, the mid-major who defeated them in double overtime last season before gaining greater headlines for their NCAA Tournament upset of Duke, before an announced crowd of 7,075 at the Prudential Center.
"This was everything I envisioned he could do," Willard said of Mobley, whose 19 points and nine rebounds on 7-of-9 shooting paced the Pirates. "I think now, he understands it's his time to be the man."
"We've been waiting for Brandon to come out," Gibbs continued about his senior teammate. "The fact that he stepped to the plate today was big for us. We needed his scoring, we needed his rebounding."
Mobley and Gibbs, who added 17 points to complement a five-assist, zero-turnover outing, put the game away for The Hall by accounting for all but one of the Pirates' nine field goals in the second half, a stanza in which Seton Hall clamped down on defense and ball control, forcing nine Mercer turnovers while committing only three of their own.
The Bears took advantage of a Seton Hall cold spell midway through the first half to take a 22-19 lead before Carrington and Whitehead scored their only baskets to give the Pirates a 23-22 lead that would not be relinquished for the remainder of the afternoon. All told, The Hall slammed the door going into the locker room, with Haralds Karlis' buzzer-beating three from the right corner punctuating a 16-2 run that the Pirates took into the intermission, leading 35-24 at halftime.
Mercer pulled to within five with 8:59 remaining in regulation on a three-pointer from Ike Nwamu, whose 20 points led all scorers, but it was as close as they would get, as Mobley and Gibbs accounted for all of the next 14 Pirate points to seal the outcome.
"We were hoping for an overtime, (and) we didn't get one," Mercer coach Bob Hoffman glumly stated after his bid for a second straight upset was foiled. "I think they're going to be a special team once Coach Willard gets them where they want to be."
While Whitehead and Carrington struggled, going 1-for-10 and 1-for-6 from the field, respectively, not every freshman had a rough debut. Angel Delgado, one of the more overshadowed rookies, contributed an impressive 8-point, 12-rebound stat line to the cause, and made several plays that went a long way toward endearing himself to the Seton Hall fans over the course of his 31 minutes.
"He's Dennis Rodman," Willard said of his Dominican import, whose nose for the ball and presence in the eye of the storm on the offensive glass helped the Pirates keep Mercer at bay. "I've said that before. He keeps balls alive, he's got great skill. I don't know any coach who wouldn't love a guy that just loves to go out there and rebound."
Seton Hall heads to the Virgin Islands at the end of this week for three games in the Paradise Jam, the first of which comes on Friday against Nevada at 4 p.m. Eastern time.