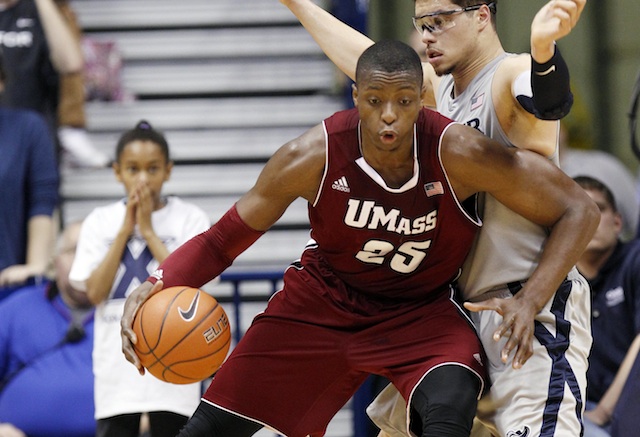 Without Chaz Williams, double-double machine Cady Lalanne becomes biggest key to stopping UMass. (Photo courtesy of CBS Sports)
Only two days removed from a valiant showing against Florida State in a losing effort Saturday afternoon, Manhattan returns to the court Tuesday morning for their first appearance in ESPN's 24-hour college basketball marathon, landing the 11 a.m. slot against Massachusetts at the Mullins Center in Amherst.
The Jaspers will be the second of three MAAC teams UMass will face, having defeated Siena in their season opener Friday night, Already 2-0 after a nine-point victory yesterday against Boston College, Derek Kellogg's Minutemen have adjusted well to life without all-world point guard Chaz Williams, leaning on forwards Cady Lalanne and Maxie Esho to shepherd a burgeoning backcourt that includes two former transfers in Derrick Gordon and Jabarie Hinds.
Rebounding has been something Steve Masiello has stressed frequently in the weeks leading up to the start of the season, and the lack of hustle by sophomore forward Jermaine Lawrence in both Manhattan's exhibition win against LIU Post and his 1-of-6 showing against Florida State, performances that yielded a grand total of two caroms from the Queens native, led his coach to bench him for extended stretches on both occasions, most notably the entire second half against the Seminoles. Against Esho and Lalanne, who have combined to average 35 points and 19 rebounds in UMass' first two games, the battle of the boards will be a war that the Jaspers must win.
The challenge in the paint against a physically imposing UMass front line serves as our segue into today's pregame question and answer session. In it, we welcome back our friend Phil Kasiecki of Hoopville.com to profile the Minutemen in much the same fashion that he did in our preseason roundtable panel of the Atlantic 10. Phil was on hand at TD Garden to watch the Minutemen defeat Boston College on Sunday, and offered these observations in advance of the Tuesday brunch showdown in Amherst:
Jaden Daly: Through their first two games, what has been the strongest impression that UMass has left in their victories over Siena and Boston College?
Phil Kasiecki: What stands out is that UMass can score, but will do it differently. They can turn a game quickly with their press, although against Boston College it was neutralized in the first half because they struggled to score. Right now, they may need to score more in transition because thus far no one has emerged as the guy who can get other players shots, though Jabarie Hinds and even Donte Clark showed a hint of that potential against BC.
JD: Chaz Williams is gone, but Derrick Gordon, and Jabarie Hinds to a lesser extent, are more than just capable replacements. What has been the biggest difference in UMass without Williams, and what do Gordon and Hinds bring to the table that Chaz may not have provided?
PK: The biggest difference without Williams is that UMass doesn't yet have a guy who by himself can get shots for himself or other guys easily. Hinds and/or Clark may emerge as such, but both come off the bench right now and are trying to find their niche with this team. I don't look at Gordon as a playmaker as much as he is simply a winner - he competes and is constantly in plays at both ends of the floor. He's a playmaker in the sense that he knows how to impact a game without scoring. He turned Sunday's game against Boston College around in the second half.
JD: Each team has a standout deep threat: For UMass, it's Trey Davis, while Manhattan has Shane Richards. What has made Davis such a prolific shooter over the years, and can we already see an improvement from 2013-14?
PK: The most noticeable thing about Davis now is that he probably has more of a green light and will be counted on for more. He's the only thing resembling a long range threat right now, so perhaps he might not get the same quality of looks he got in past years, especially without Williams to draw defensive attention.
JD: UMass has two forwards in Cady Lalanne and Maxie Esho that are capable of double-doubles on any given night. How often will Derek Kellogg call their numbers against Manhattan's physical front line?
PK: I think the Minutemen are going to rely on Esho and Lalanne a lot, as they have done that thus far. Esho is finding more ways he can score, while Lalanne is also a key defensively in the press when he's the last man back, as he blocked several BC attempts after breaking the press.
JD: The Minutemen have already proven adept at drawing fouls in their first two contests. Considering how Steve Masiello's physical style leads to foul trouble more often than not for Manhattan, how critical will free throws be for a UMass team that is already shooting 71 percent at the stripe?
PK: UMass stayed in Sunday's game against BC in part by going 16-for-24 from the line in the first half. Kellogg wants them attacking, and they are doing just that - they didn't even attempt a single three-point shot in the second half. This UMass team doesn't have as many three-point threats as recent teams, and they have a lot of guys who know how to get in the lane and get chances near the basket, so they'll be more reliant on driving and getting fouled if they don't finish, at least until they get better at making shots.
JD: Besides drawing fouls, what are the other keys to victory for UMass?
PK: Since UMass will be more dependent on pressing and getting baskets from it, making shots to get into the press is a big key. They can't get into it otherwise. Another key will be getting rebounds from players outside the post. Boston College had a 43-34 rebounding edge, with 16 offensive rebounds, on Sunday. Lalanne had 10, Esho had nine and Gordon had four; no other player had more than two.

JD: Finally, with most of their NCAA Tournament team returning this season, are the Minutemen a good bet to return to the field of 68? Also, where do you see them finishing in the Atlantic 10?
PK: UMass is a tough team to figure at first glance. They lost three significant starters in Williams, Raphiael Putney and Sampson Carter. There is still good talent, and this team seems to fit Derek Kellogg's desire to play fast and press very well, but there will surely be growing pains, especially as they try to develop depth. I think they look like a bubble team, but if they grow up fast and get a couple of good non-conference wins, we could see them back there since they should get a few good wins in Atlantic 10 play. I project they finish anywhere from 3rd to 6th in the Atlantic 10, leaning more towards the high side of that as this team has good upside.