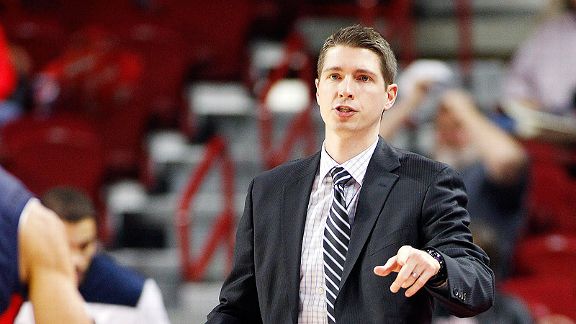 At 8-1, Andy Toole has Robert Morris atop the NEC thanks to Colonials' efficiency on both ends of floor. (Photo courtesy of ESPN)
Where did the time go? It seems like early November was just upon us with
the season tipping off. Now, Valentine's Day is around the corner and in less
than a month, some teams will have ended their 2013-­14 campaign.
At this point, we take a tempo-free look at the NEC (conference
games only in order of efficiency margin: (offense minus defense
efficiency)
Record EM
1. Robert Morris 8­-1
13
2. Bryant 7-­2
12
3. St. Francis Brooklyn 6­-3 10
4. Wagner 5-­4
5
5. Mount St. Mary's 6-­3 4
6. FDU 4-­5 -3
7. St. Francis(PA) 4-­5 -4­
8. Central Connecticut State 2­-7 -
12
9. LIU 2-­7 -
12
10. Sacred Heart 1-­8 -
14
Best Offenses:
1. Bryant 116
2. Robert Morris 113
3. St. Francis Brooklyn 111
Best Defenses:
1.Wagner 97
2. Robert Morris 100
3. St. Francis Brooklyn 101
No surprise seeing conference leader Robert Morris near the top
in both categories. The Colonials have the total package on both ends of
the floor as the numbers illustrate.
Extremes in the West:
The NEC's fastest tempo is the 74 of Mount St.
Mary's. The most deliberate is shared by St. Francis (PA) and Robert
Morris at 67. That number put up by the latter is significant. It tells us
Andy Toole's club does a great job controlling tempo, and there is a limit
on possessions or opportunities to stage a comeback against them if you
are trailing.
A 100 efficiency is the cutoff on the offensive end. That number or
greater is desired. At this point only Sacred Heart (99) and Central
Connecticut State (96) are under the century mark for offensive efficiency.
A good reason for Bryant's outstanding efficiency is a white-hot 57% eFG
percentage. That number is a clear pace setter for the conference. At the
bottom of the NEC is Sacred Heart with an eFG mark of 45%, which
explains a lot regarding their struggles on the offensive end.