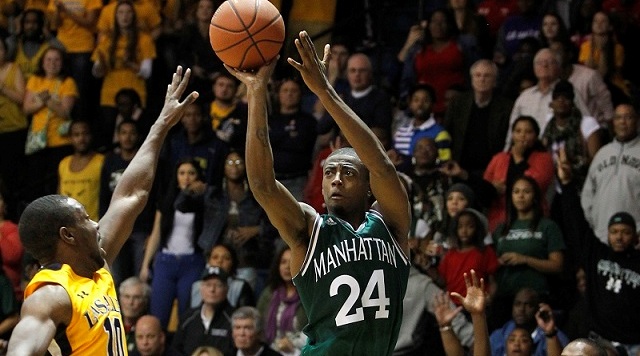 George Beamon set tone early and often en route to 31-point effort as Manhattan handily defeated Monmouth 75-61 for sixth straight win. (Photo courtesy of CollegeInsider.com)
Only three days after Billy Baron set a single game MAAC scoring high with 40 points in Canisius' triple-overtime win over Siena, one of the other, possibly forgotten, men in the race for conference Player of the Year honors decided to give him a run for his money.
Unleashing an offensive fury with 24 points in the first half, including a perfect 6-for-6 three-point performance in the opening stanza, it was George Beamon and then everyone else, as his 31 points led all scorers going away as Manhattan (20-6, 13-4 MAAC) proved to be stronger than the storm they faced from Monmouth tonight, defeating the Hawks (10-18, 4-13 MAAC) 75-61 for their sixth straight win.
"I thought George came out and set the tone for us," head coach Steve Masiello stated after the game. "He came out in an aggressive mindset, but we were really unselfish early, did a good job of sharing the basketball. A lot of teams have come in here and really struggled to play well."
Manhattan struck first in West Long Branch on a Beamon three 49 seconds into the game and never looked back, leading wire-to-wire with an advantage of as many as 23 points midway through the second half. However, to Monmouth's credit, a 15-2 run cut the Jasper cushion down to 10 points, prompting a well-deserved round of praise from Masiello toward his counterpart for the evening.
"I think King (Rice) should be up for Coach of the Year," Masiello declared. "I think he should be in the conversation, I think he's done a terrific job. He's got his brand, they play hard, they play through mistakes. I'm impressed with King, I'm a really big fan."
Rice's Hawks were led by freshman point guard Josh James, whose 15 points paced three double-figure scoring nights, with Deon Jones and Andrew Nicholas accounting for 14 and 11, respectively. Aside from Beamon, Rhamel Brown and Emmy Andujar chipped in with 12 points each, with Brown contributing eight rebounds as well for the Jaspers, who take their six-game winning streak to Siena on Friday night in what will serve as Manhattan's final regular season road game.
"I think most young people look ahead, and you see Iona and Canisius (at) one and two in the conference and you get excited about that," Masiello said with regard to Manhattan's stretch run, which concludes with home games against the Gaels and Golden Griffins next weekend after a week off following Friday's game against Siena. "We wanted them excited about this, and they were. We want them excited about Friday, and then they'll get excited about next week. That'll take care of itself. This is where you win a conference championship, or more importantly, lose a conference championship, if you don't take care of business."